Apple's iPad Mini released, analysts predict slow burner
10in refresh hits stores too
Apple's iPad Mini and the fourth-generation refresh of its bigger brother hit stores today as analysts forecast lower than usual sales - for the opening weekend, at least.
In a note to investors, Piper Jaffray analyst Gene Munster said he expects between 1 and 1.5 million iPad Minis will sell during the gadget's first weekend on shop shelves, a figure half that of Apple's previous iPad launch.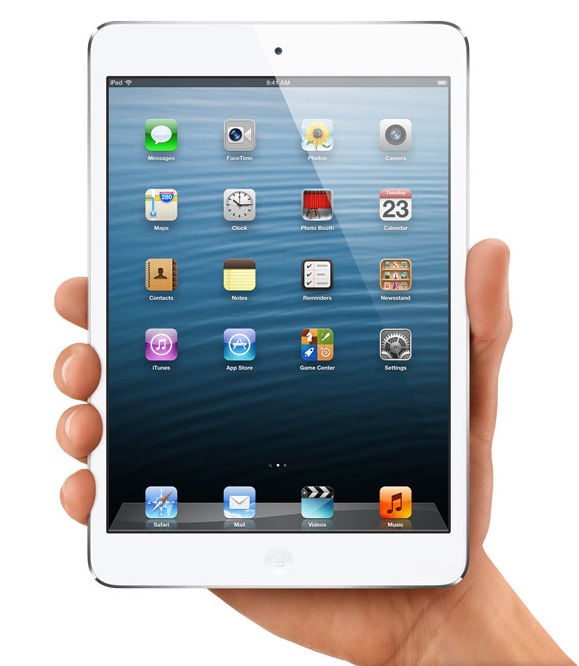 Initial reports today indicate Munster could be close to the mark, after the UK iPad Mini launch failed to draw the typical round-the-block queues outside Apple stores.
Due to Hurricane Sandy devastation, Kindle Fire and Nexus 7 competition, and the fact that customers may wait for the 4G LTE version of the iPad Mini to surface, today's release is expected to be a quieter-than-usual affair Stateside too.
But sales will apparently be a slow burner for some time. Munster reckons things should pick up in time for Christmas and gain traction beyond as more consumers veer towards smaller tablets.
"We believe that over time that will change, and consumers will gradually realise the benefits of the smaller form-factor iPad, which will drive adoption," he said.
The Wi-Fi versions of the iPad Mini and the iPad 4 are available from today, starting at £269 and £399 respectively. 3G models are set to follow in late November. ®
COMMENTS
A seniors delight
Yes sir I'll buy because as a seventy year old geek I find reading on my iPad Touch getting harder considering my eye "Floaters" getting in the way of my reading which means I will add an iPad mini with LTE to the list of Apple Inc products purchased over the last quarter century. (I have every operating system since the Apple II plus days - why - I really don't know. Great memories I guess.)
http://www.theregister.co.uk/Design/graphics/icons/comment/angel_32.png
My mother
Much as I dislike the idea of an iPad mini I have recommended one to my mother.
She is in her 70s and wants something to Skype my brother in Spain and I had recommended an iPad 2 but she finds full size iPads a bit heavyso the mini, at nearly half the weight, seems ideal. Android may be good, but an iPad will just work without her having to do anything (once I've installed a wifi router and connected it, of course) so, while I am not the target demographic, I believe my mother might be.
I hate to agree, but I do
Apple's target demographic is the "common man", looking for an appliance instead of a computing device.
iDevices are lookers, and their "computing device"ness is well hidden, below the simple (or simplistic) interface and between the high walls of the Garden of Apple. So they sell. and sell.
The ipad has become the word for this type of computing device, the fondleslab, if you will. I can attest to having overheard phrases such as the Samsung iPad, the Google iPad, etc.
Anyway. Target demographic will buy the minipad, it's got the Apple logo on it, after all. But it will mostly be the wallet decision kind, rather than a "shiny shiny me want one" kind. After all, it'll probably be stacked next to, and shadowed by, the real deal. It won't be the runaway success of the iPad 9.7, but it definitely won't be the flop like the Apple G4 Cube.
As for me, I prefer the honest, inexpensive, unassuming yet well made Nexus 7. But then I'm not in the target demographic.