iPad Mini's quite a handful
Accelerometer could use some extra speed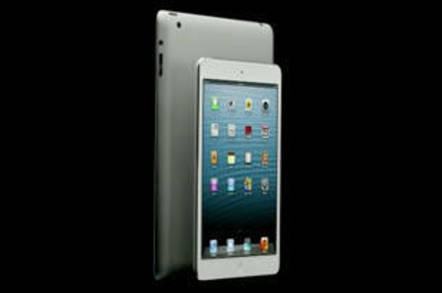 First Fondle Apple's iPad Mini is not easy to hold in one hand.
The Reg's antipodean outpost took advantage of Australia's time zone and popped into a local Apple store to fondle the new slab. We found the mini is everything one would expect of an Apple product: sleek, pretty and simple.
But a couple of issues quickly became apparent.
One was that the accelerometer seems rather lazy: a good second passed before the Min realised it had been tilted from portrait to landscape mode, or vice versa. This issue was apparent on three Minis we handled in the Apple store.
A second issue is that the Mini is quite a handful, if you use one hand to hold it in portrait mode. Your corresponded is, at 190 cm, a hefty chap who requires XL-sized cycling gloves.
Holding the Mini in a single hand as depicted below was not entirely pleasant and isn't something you'd want to do for long if ploughing through a ripping-page turner. The device is light enough to hold by pinching a corner or edge, but that just didn't feel right.
An iPad Mini held in one hand in portrait mode
In landscape mode the Mini's far easier to handle with just one paw.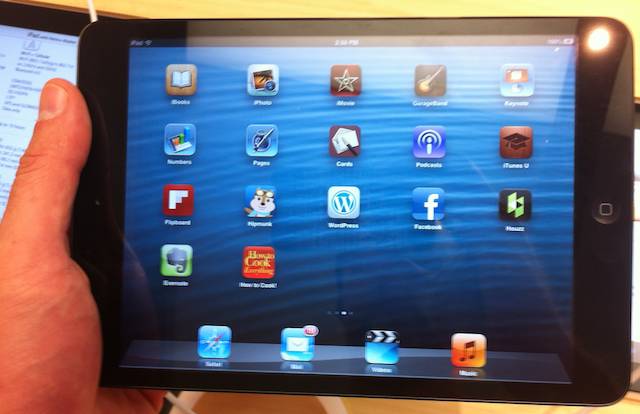 An iPad mini held one-handed in landscape mode
We put the fondleslab through its paces by playing a side-scrolling game and can report smooth video and impressive sound. Movies were crisp and bright, but the sole supplied flick (Cars 2), occupied only a fraction of the screen in either landscape or portrait mode. Quite a lot of pixels weren't troubled by Pixar's poorest effort. iBooks were no harder to read than on any other iDevice.
Overall, the iPad Mini does what it says on the can: offer a smaller iPad. That's not a problem inasmuch as there's clearly a market for smaller tablets.
It may become an issue if one considers that the essence of the iOS experience has now remained unchanged for several years. That leaves the Mini impressive, but hardly likely to excite or set new agendas. That's something new Apple devices used to do single-handedly. ®
Sponsored: Minds Mastering Machines - Call for papers now open