Sony promotes Vita with QUAD-JUBBED WOMAN
Over-endowed French femme proves quite an Eiffel
Sony has begun advertising the PlayStation Vita in French magazines by comparing the device to a woman with four breasts.
"Deux faces tactiles, deux fois plus de sensations," breathes the Gallic ad - photographed and posted on Twitter - to promote of the handheld's front touchscreen and rear touchpad. Translation: two touchable sides, twice the sensations.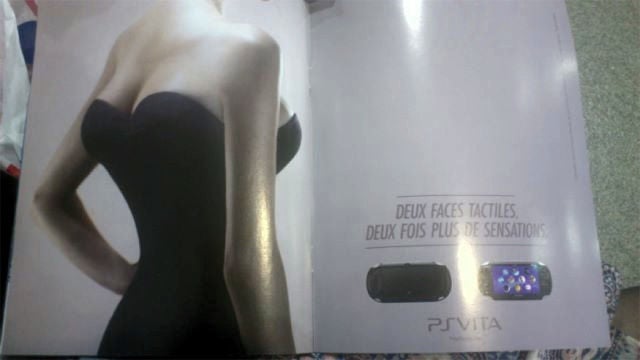 Source: @Goldengreg at Twitter
Fortunately, a stiff-upper-lipped Sony UK rep calmed upset British sensibilities by revealing the ad was "not something that would necessarily be considered for the UK market".
I guess for some people the image could be rather shocking. I nearly had a stroke myself. Ahem. ®
COMMENTS
She may not be much to look at but I'll be she's great to dance with.
Re: Dude
thanks mate for replacing a humorous quip that can be easily brushed aside with a crystal clear image that I don't want to have.
Agreed
I wasn't sure at first, but now I concur. I four tit through.
Dude
"I nearly had a stroke myself."
Dude, nobody needs to swing by El Reg last thing Thursday afternoon only to be rewarded with the mental image of you rubbing one out whilst thumbing French glossies on the throne. Thanks a lot.
The Real Playstation
That woman is what I call a REAL playstation.