World's tallest tower in massive broadcast FAIL
Tokyo tower is 634 metres high and still can't send a signal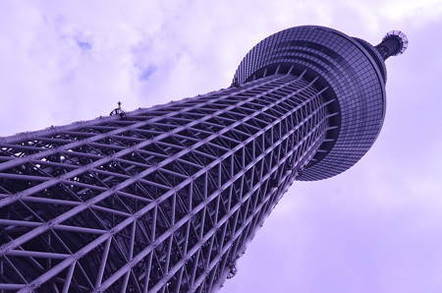 The world's tallest free-standing broadcasting tower has a slight problem – it can't broadcast very well.
The ¥65 billion (£503m) Tokyo Skytree was opened to an awe-struck public in May this year. Standing at an impressive 634 metres (the Eiffel Tower tops out at 324 metres), the idea was that in January 2013 it would take over broadcasting from elderly relative the Tokyo Tower.
Built in 1958, and demolished several times by Godzilla, Tokyo Tower ran into problems more recently as its 333m height was deemed not great enough to support interference-free digital broadcast signals to the entire Kanto region surrounding Tokyo.
Despite being a whopping 300m taller and dwarfing all nearby buildings, Skytree is also having difficulties which will delay the signal switchover from Tokyo Tower for some time, according to local paper the Mainichi (via RocketNews24).
NHK and other broadcasters began test signals in July but found that either because the radio waves were too strong or because the viewers' antennas were in the wrong location, some households received no signal, regardless of which direction or area they were in.
To get a better idea of exactly what the problem is, the radio waves from the Tokyo Tower would have to be suspended completely during peak daytime periods, which would obviously upset more than one or two TV mad locals.
An embarrassed NHK executive told the Mainichi that efforts are being made to rectify the issue by May 2013, although he admitted the extra costs involved have been huge.
Skytree came in for even more stick recently when it emerged that ¥30 million (£232,000) of the ¥11.7 trillion (£91.7bn) allocated to rebuilding after the devastating 2011 tsunami and earthquake was ploughed into promoting the tourist attraction-cum-radio-mast.
In total, a quarter of the budget for reconstruction was apparently spent on other projects, which included the research and production of rare earths, according to AP. ®
Sponsored: Minds Mastering Machines - Call for papers now open