Meet the photographer who brings Google Street View INDOORS
Snapper describes out-of-the-blue recruiting call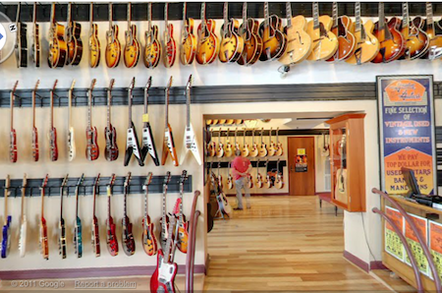 Interview Google Streetview will now venture into your business, at a price, and the Chocolate Factory has been busy signing up local shutterbugs, so El Reg caught up with one of them to find out what it takes to get one's shelves added to Streetview.
Turns out it takes about two hundred quid, depending on the size of one's business, but don't expect to have creative control as your input will be limited to deciding how far the tour should go (including store rooms and/or kitchen?) and tidying up the place before the chap arrives, everything else is decided by Google.
We caught up with Brian McIntosh at an Inverness TechUp meet, where he explained that Google called up, out of the blue, a few months back and he's now spreading the Streetview reach into Highland businesses.
The call wasn't expected. "The first thing the voice said was 'Don't hang up!'" we're told, which shows that Google has obviously had some trouble keeping people on the line long enough to hear the pitch, but that was enough to keep Brian listening and connected to an online Non Disclosure Agreement, which in turn provided details of what Google is offering photographers and businesses.
Some of those details can't be revealed, thanks to that NDA, but we do know that Google provided a very detailed list of equipment that would be necessary to take the photographs; several grand's worth of equipment that would have to be purchased at the photographer's expense, and that the photographer has to agree to spend that cash once the training is completed.
The training is free, and mostly comprised of understanding the rules covering how the photographs are taken: individual panoramas can't be more than 10 feet apart, no more than 30 panoramas per business and a practical minimum of four. The photos are taken with a fish-eye lens, an entire panorama taking four shots each of which is taken at three different apertures to blend out shadows, but the photographer's work ends there as the blending and stitching is all done in Google's cloud.
The only reason to revisit uploaded content is to blur out any faces, or unblur manually if the software plays up - apparently one poor soul snapping a record store had to manually unblur every CD case with a face on it, as pictures of people are to remain unblurred while real people and car plates must be beyond recognition.
Google is very specific on that, along with other aspects including the publicity material used (a PDF is provided, allowing the UK snappers to band together to get thousands printed) and the kind of business Google will allow photographers to recruit.
The emphasis is firmly on local businesses, no chains, and no franchises pretending to be chains (such as MacDonald's et al). Interestingly, show homes used to be excluded, but that restriction has been relaxed lately - though individual houses for sale remain verboten.
In return for all those limitations, Google offers a "Trusted Photographer" status, and drops the photographs taken into Streetview (with a double arrow to show one is entering a building). The photographs are credited, but firmly labelled with a Googleplex copyright message along with the date they were taken, the latter being important for photographers who'll want to remind businesses to update their snaps regularly.
Google will provide a list of likely candidates, but it's up to the photographer to sell the concept and the service to businesses, and to decide how much to charge for the service. Brian McIntosh reckons each panorama takes him 10 or 15 minutes, so 10 of them will cost a couple of ton which seems more than reasonable given he's trying to make back the cost of the Google-mandated kit.
For the business it lets potential customers virtually wander around, which might be of value for a pub or party venue though it's hard to see how it would benefit a corner store. Google is, apparently, working on a system allowing restaurant diners to select a table for dinner, but the integration required is considerable, and until then the indoor Streetview is little more than eye candy.
Not that eye candy is worthless. Businesses who provide photographs have an enhanced appearance in Google Local searches, one of their shots appearing beside the listing, and that alone is probably worth the cost of the snaps if a significant proportion of one's business is coming through there, even if no one ever takes a virtual tour of the premises. ®
Sponsored: Minds Mastering Machines - Call for papers now open