Halo 4 game review
The Master Chief is back but the combat has not evolved
All dust and echoes
The Prometheans do at least make for interesting, challenging adversaries, especially if you've grown accustomed to Covenant tactics. They're hard to beat, and require some observation before you learn how they behave and what the relationships between the different forms are. But for me they lack the personality of the multi-racial Covenant and the sheer scariness and unremittingly unstoppable nature of the Flood, both of which maintained the first game's sense of immersion in a 'real' world. There's none of the light relief we saw from the likes of 343 Guilty Spark and the Covenant 'Run away!' Grunts.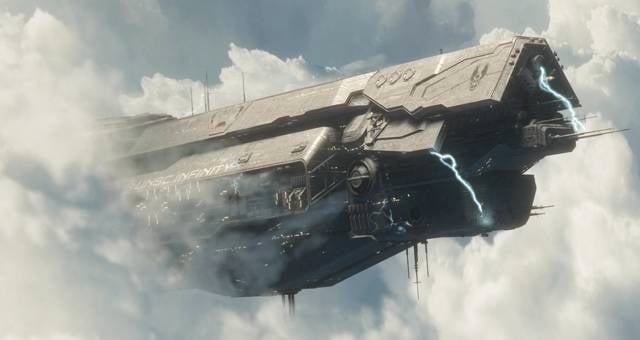 To the Infinity, and beyond
Combat in Halo 4 remains entirely unevolved: it's as much about marksmanship and preserving ammo as it always has. "Remember: short, controlled bursts" - its Aliens again. Beyond the addition of Reach's armour power-ups, there's no substantial change to how you do battle. You still have only two weapons to choose from at any given moment. An assault rifle in your hands and a Covenant Storm Rifle over your should is a reasonable limit, but surely the Master Chief should have figured out by now how to holster a pistol on his thigh too? Couldn't Cortana have helped? She certainly found time to recode the hero's HUD to wrap to the curvature of his one-way visor.
New Promethean weapons extend the list of ordnance options, though like the Covenant kit accrued from ODST and Reach, they're really just alien equivalents of existing kit. Nicely, though, the seem to do more damage to you than to their owners. There are novel additions to the Halo hardware muster, most notably the Mantis, an Avatar-style suit of mechanised armour - what is it with these guys and James Cameron flicks? - that's used to yomp and blast through the cavernous interior of the downed Infinity.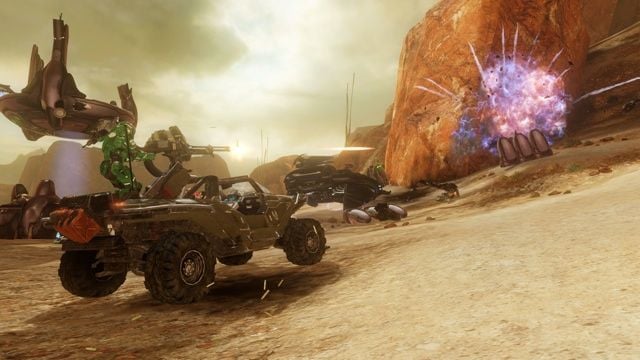 I said 'Warthog' not 'Hogwarts'
The UNSC ship and Requiem are appealingly rendered by Halo 4's new engine, though it's a world that lacks much of the dynamism of Reach. Apart from some waterfalls, there's little going on here that's peripheral to the action: no native lifeforms, no distant lightning or explosions. If Requiem has been seeded with flora, why not fauna? I miss Reach's heavy rain, and Combat Evolved's snow and fog. For me, Reach presented a more real, more atmospheric world that Requiem does. Here, 343's efforts seemingly having gone toward improving the photorealism of the NPCs' faces rather than improving the world they exist in, though their hair is very much of the Lego minifigures' clipped-on-plastic variety.
Still, Halo buffs will enjoy digging into a new chapter in the Master Chief's story, a process which during the game brings out some of the Spartans' less-than-reputable past, messes completely with humanity's established timeline and its ancestry - someone has been watching the Battlestar Galactica remake - acquaints us with a pair of major Forerunner NPCs, one Ying to the other's Yang, and introduces Cortana's "rampancy" - Alzheimer's for AIs, essentially.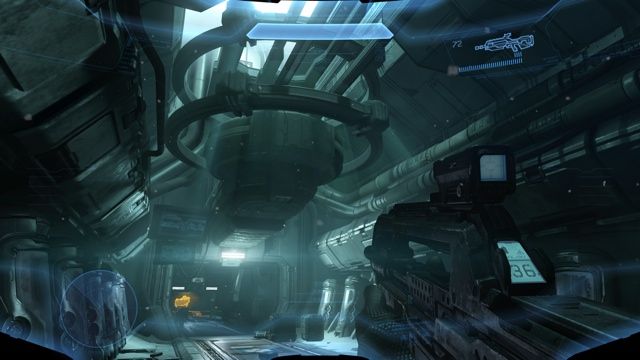 Ship of fuels
Fans of Bungie's Marathon series will have an ideas as to what this is about and should already know more of the seedier side of the Spartan story than gamers who have only played Halo will. There's some attempt here, it feels to me, to tie the two series' storylines together. About time, thank Strauss. Just remember: all roads lead to Sol...
And when you're done playing the linear campaign there's multiplayer, here building on Reach's implementation with a revised 'career' ladder, revamped multiplayer scenarios and joined by 'Spartan Ops', a series of six solo- or co-op scenarios featuring a team of updated Spartans - 4s, geddit?!? - from the Infinity. The notion is, you watch the story then play the scenario. The games are engaging enough, but not meaty enough to stand up alongside the main storyline, or as play-for-the-heck-of-it as the regular multiplayer levels. One for the series' younger fans.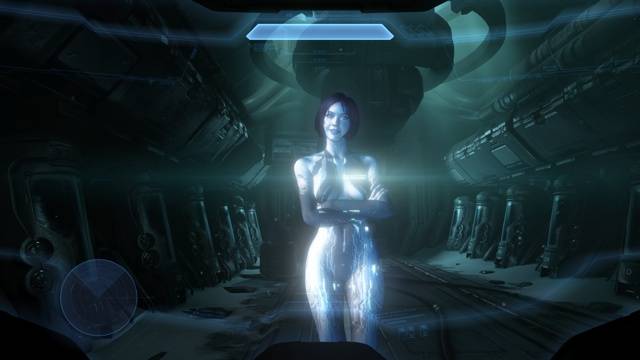 Cooorrr-tana: 'You're looking at my breasts, aren't you?'
Verdict
Has combat evolved over the past eleven years? Not at all. From a gameplay perspective, Halo 4 is Halo with new baddies and better graphics. There's no harm in that - Halo 4 is no less exciting to play, it packs in plenty of gaming and it advances the series' back-story.
Combat Evolved provided a whole new word of eerie interiors and breathtaking landscapes to eye up between battles. FPS gaming wasn't even ten years old then - it was still finding its feet as a genre. Eleven years on, it's time to evolve the now-established format. 343 Industries should really be pushing this kind of game forward, perhaps with multiple outcomes determined by player action, or at least story presentation that's about more than providing breathing space between levels. Halo 4, good though it is, isn't such an game. It's time to give Halo fans a game to engage their brains as well as their trigger fingers. ®
More Games Reviews

World of Warcraft:
Mists of Pandaria
Resident Evil 6
Dishonored
Borderlands 2
Guild Wars 2
Sponsored: Minds Mastering Machines - Call for papers now open

Halo 4 game review
The Master Chief returns in the latest in Microsoft's long line of Halo Xbox exclusives to mix the original's gameplay with smarter graphics.