Dark matter pioneer scoops Oz science prize
Work on underweight galaxies recognised
If you want to know why we're searching for the Universe's pesky dark matter, here's someone who deserves to shoulder at least some of the blame: Professor Ken Freeman of Australia's Mount Stromolo Observatory – and winner of the 2012 Prime Minister's Prize for Science.
You could argue that Professor Freeman has had to wait a long time for this recognition, since his pioneering paper on the topic was penned in 1970s, but don't worry: he's been recognised within the astronomy community for quite some time longer. Back in 1993, he was given a Distinguished Achievement Award by University of California Institutes, and in 2001, ISI ranked him as the number five most-cited Australian scientist.
Still, El Reg thinks it's worth a recap to explain why Professor Freeman has taken the $AU300,000 prize.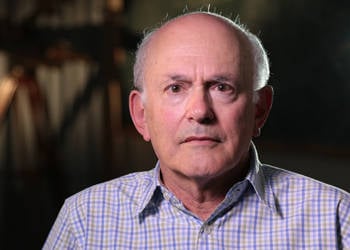 Professor Ken Freeman
It starts – as all good science does – with a question. Working in the 1960s at Mount Stromolo after studying at Cambridge for his PhD and taking a post-doctoral fellowship in Texas, Freeman asked why spiral galaxies were able to maintain their circular rotation.
That rotation needs matter to generate sufficient gravity to hold the galaxies together, or their rotation would scatter them. However, combining observation with calculation, Freeman determined that astronomers hadn't seen enough matter to keep the galaxies together.
This led to the 1970 paper (On the Disks of Spiral and S0 Galaxies) which suggested that galaxies hold more matter than had been observed – a seminal paper in the origin of our understanding of dark matter. Just two years later, Freeman won the Australian Academy of Science's Pawsey Medal.
Other key achievements are the discovery that the brightness of the surface of disk galaxies is the same, independent of their size (dubbed "Freeman's Law" in astronomy circles), and that very distant galaxies which were once part of galactic clusters share a chemical signature that allows astronomers to reconstruct their ancient associations. This latter discovery arose out of work with Professor Joss Bland-Hawthorn, now at the University of Sydney.
This "galactic archaeology" is now part of the astronomical mainstream, with instruments such as the ESA's GAIA telescope (due for launch next year) and the under-construction HERMES instrument at the Australian Astronomical Observatory both being equipped to serve the emerging discipline. ®
Sponsored: Minds Mastering Machines - Call for papers now open