Google Nexus 4 flips finger at Sandy, appears on YouTube
Swedish operator's video spied
Google was to have launched the LG-made Nexus 4 smartphone today, but with Hurricane Sandy shutting down the advertising giant's planned New York announcement, it has been left to Sweden's Three network - it has been claimed - to reveal the handset in all its glory.
Of course, the specs are already out, thanks to the UK's very own Carphone Warehouse, but the Three video, posted on YouTube, shows the gadget running Android 4.2, including the OS' new quick settings menu for oft-accessed preferences like Bluetooth and Flight Mode.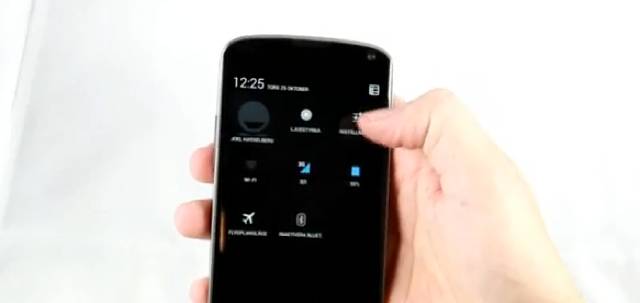 The video is marked 'private' on YouTube, but Swedish-language Android fansite Swedroid has it embedded for viewing.
Inside the Nexus 4: a 1.5GHz quad-core Qualcomm Snapdragon S4 CPU, 2GB of Ram, 8GB of Flash, an 8Mp camera, 3G HSPA connectivity, Wi-Fi and Bluetooth. ®
COMMENTS
One day old, a generation ahead...
I can't help but feel the iPhone 5 has aged massively in the past 24 hours, particularly in the area that it used to hold most dear - user interface. Where android was only just keeping up with iPhone a few years ago, it feels almost an entire release ahead now.
Jelly Bean has really made big advances in UI, and Google Now seems like a lot of great ideas brought together in one area - plus widgets have reached a point where they feel like an important part of the interface, rather than an add-on. Android finally integrates all of Google's services in a smooth way.
Windows Phone 8, for all its flaws, has a UI that brings a lot of information to the front page, without clutter - live tiles make getting information easy, is very customisable, and feels intuitive (based on experiences with WP7.5, from all reports, things are even better with WP8).
iPhone5 has..... an extra row of icons. The UI hasn't really changed for generations, and simply can't convey information in the same way that the competition does.
Ironically, a lot of the new UI features that WP8 and JB4.2 have were probably a side-effect of Apple's litigious nature - they've searched for vastly different approaches to UI, and both come up with something better than what Apple has so vicously protected for the last 6 years.
I'll be getting a 16GB Nexus 4 on release (upgrading from an old Dual core LG 3D phone, can't remember what its called), the lack of an SD card slot irks me, but for $400 I'm willing to deal with it.
Curious...
Apple ban El Reg from their events and gets months of pre and post launch coverage.
Google, as far as I know, haven't banned El Reg, but cancelled their event for sensible safety reasons, and have still announced the products they were going to unveil at the cancelled event.
El Reg's coverage, bugger all.
Even the BBC have managed to cover it before you!
http://www.bbc.co.uk/news/technology-20127135
Hang your moth-eaten vulture head in shame!
http://googleblog.blogspot.co.uk/2012/10/nexus-best-of-google-now-in-three-sizes.html
Re: 8GB?
No microSD, no sale.
8GB?
Seriously? And no uUSB card?
A wee bit spartan surely?
280 quid seriously?!
Very tempted to trade my iPhone 4S in and buy this if it's available for 280 quid for the 16gb version. The lack of micro SD is baffling though don't understand that at all