British IT consultant talks of his three years as an Iraqi hostage
Days of PlayStation, systems design and mock executions
Let the Wookie win
In May 2009 coalition forces released Laith Al Khazlli, the milita's second in command, in exchange for the bodies of two of the British guards. Khazlli then came to visit Moore a month later, who remonstrated with him about the conditions he was suffering in comparison to those the militia leader had been released from.
Khazlli agreed and his conditions improved from that point he explained, with occasional access to a Sony PlayStation with a FIFA football game and couple of shooting titles. He was also allowed to watch TV with the guards, catching up on NCIS, CSI and Prison Break. Moore said he found the latter program choice to be particularly annoying given his circumstances. He even got a cake with a candle on it for his birthday.
Under the more relaxed rules Moore was able to pick up a little Arabic and help the guards with their English. They also played board games together, which Moore said he'd occasionally deliberately lose to make the guards feel good, saying he mentally channeled the thought "Let the Wookie win."
Finally the League of the Righteous agreed to release Moore on condition that their leader Qais Al Khazlli was freed. The British government was criticized for not doing enough to secure Moore's freedom, but he said he disagreed with the decision to sanction both his exchange, and the decision to release over a hundred of the militia's members in exchange for the bodies of the other hostages.
"It was not a good trade. I would not have done it if I was in charge. I would not have exchanged myself for the militia leader either," he said.
Freedom and Lady Gaga
Moore was dropped off at the British embassy in Baghdad and said the first thing he saw on television was Lady Gaga, and had to have who she was explained to him by his handlers. He was then debriefed, fed at the staff canteen and checked out by doctors and psychologists.
Medically his long incarceration has left him with leg and back problems that still need medical attention and he has an interesting collection of physical scars. Mentally he's been cleared of post-traumatic stress disorder but said the incident has left him with psychological issues.
"I usually only get flashbacks a couple of times a day now, whereas it used to two or three times a minute," he said. "It seems to happen when I am just sat on my own doing nothing. Suddenly memories appear and I think about the things I wanted to do to them at the time. My heart will start to pound faster and sometimes I will walk around the room, but once I know it is happening I can seem to control it and think of happier thoughts which calm me down."
His employer BearingPoint went bust while he was still a hostage but the division he was working for was bought out by another company. It continued to pay him his full salary and he was even given pay rises and promotions by his employer. This came to $270,000 for the time of his employment, although the US taxman has taken his cut.
Moore did also have hostage insurance, which would have provided a sum of money to pay off ransom demands. But he explained this was useless, since the militia weren't interested in money, but wanted its members released from coalition custody.
The experience has left him a changed man, he said. Before the abduction he had been a workaholic, but now he works a few months of the year to pay the bills and spends the rest of the time on holiday. He's currently riding his beloved 2007 Honda ST 1300 across all fifty US states with a friend as part of a three-month holiday.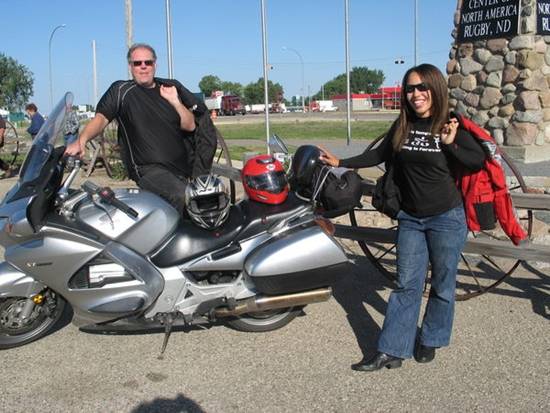 Moore and a friend are now on the open road. Credit: Pierce County Tribune.
Moore says that he doesn't hold a grudge against the group that took him hostage, although he disagrees with their tactics. The UK and US were doing the same thing as the Iraqi militias he said, in incarcerating people without trial and not telling them when, or if, they would be released.
"I would be interesting in meeting the group - which is now a political party within the Iraqi government," he said. "Not sure I would go to Iraq to meet them though, I feel more likely I would meet them at a UN meeting in New York or somewhere similar."
Sponsored: Minds Mastering Machines - Call for papers now open