LSI puts on brave smile, blames sales droop on 'soft' PC biz
Don't panic, it's nabbed a social network as a customer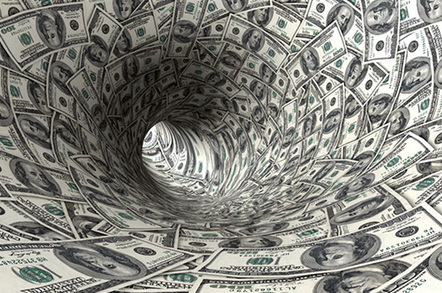 LSI's revenues and profits were both higher in Q3 2012 than in the same period in 2011 - but lower than the figures for the previous quarter this year.
Revenues for the storage electronics biz in the third quarter, ended 30 September, were $623.9m, down 5.5 per cent on last quarter but 14 per cent higher than a year ago. Net profit was $39.7m, 32.5 per cent less than last quarter, but 35 per cent more than the year-ago quarter.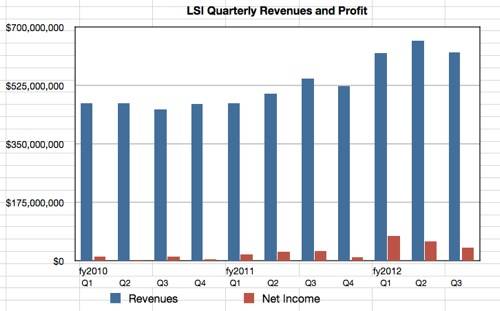 Why the sequential drop? Everything was going so well three months ago. CEO and president Abhi Talwalkar said today: "Revenue was within our guidance range but below our midpoint, driven largely by a weak PC market leading to declines in our hard disk drive (HDD) business."
Year-on-year revenue growth was due to sales of new products, we're told, but the outlook for the next quarter this year is another drop: revenues may slip to somewhere between $570m and $610m.
"Our guidance for Q4 reflects a cautious outlook due to uncertainties in the macro environment and softness in PC demand," Talwalkar. "While we did see reductions in our HDD business in Q3, we expect further reductions in component shipments in Q4 tied to ongoing softness in the PC end market.
"We also expect reductions in both our custom and standard product, flash storage processors in Q4. This is driven by several factors including ongoing weakness in the PC market, elevated shipments in Q3 in support of new product launches, and SSD PC enabled rollouts being lower than previous expectations."
It's the economy, stupid, and a weak PC market: there's no Windows 8 bounce for LSI.
But Talwalkar insisted in earnings call: "We expect to have a number-one share in flash storage processors this year, emerging as the number-two player in merchant PCIe flash adapters. We continue to expect our total flash revenues to grow over 200 per cent year-over-year in 2012, well ahead of market growth rates."
He added LSI is doing better than its competitors: "Even with the revenue softness in the second half, we expect to grow over 20 per cent year-over-year in 2012 while the semiconductor market and many peers are expected to decline." This confidence is driven by things like this: "As we look ahead, we expect to benefit from new product cycle ramps, including PCIe flash adapters at Oracle, Cisco, IBM and a new win at a leading social networking company." Could this be Twitter, maybe? Facebook?
Talwalkar added that Oracle's Exadata systems will use LSI's Nytro flash acceleration technology, and his company is testing its high-availability direct-attached storage with Microsoft Windows Server 2012.
"In hard disk drives, we saw declines of over 20 per cent sequentially driven by lower PC sales," he added. "We expect demand to remain soft due to weakness in the PC market segment resulting in lower component shipments in Q4 and this is reflected on our guidance." ®
Sponsored: Minds Mastering Machines - Call for papers now open