Facebook's stock rally may be shortlived: Small advertisers enraged
These fake bisexual girls aren't helping my business!
Facebook users are complaining that Facebook has intentionally downgraded services for owners of Pages on its social network platform because it wants them to pay for the reach they used to receive for free.
In what users have called a "bait-and-switch" scheme, Page owners - from small shops to blogs to brands – have reported that Facebook's roll-out of "promoted posts" has coincided with a dramatic reduction in the reach of any given page.
Following on from Facebook's perky third quarter results, there has a been a groundswell of discontent.
The gist of complaints is that Facebook has made the service noticeably worse in the past few months, and is now charging people to have it return to the levels it was before.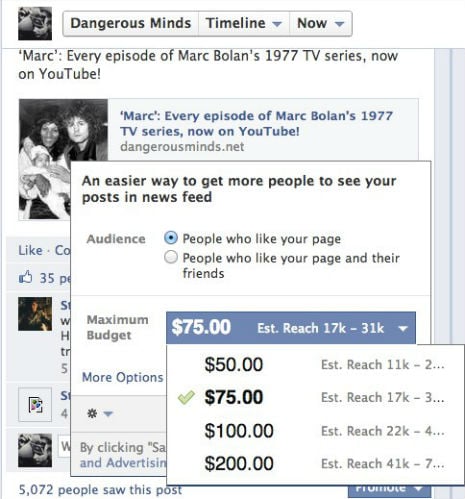 The cost of promoting a blog post to your 50,000 fans - $200. Credit Dangerous Minds
Where updates to a Page used to reach a majority of the Page's "fans", that percentage has been pushed right down, Page owners allege. The NY Observer quotes Facebook's ads director, Gokul Rajaram, in an AdExchanger interview from September, as saying that the "organic" reach of a page will mean that any given post will reach 15 per cent to 20 per cent of its fans, but "in order to reach the remaining 80 to 85 per cent, sponsoring posts is important".
Get more Facebook fans! And then pay us more to reach them!
The charge is not just that Facebook is trying to make more money, but that the model pits Facebook's interests against the interests of users advertising on the platform. There is little reason for brands to push to get more "fans" on Facebook if it means that they are just going to have to pay more to reach them.
It's impossible to definitively say what, if any, algorithm-twiddling is going on behind the scenes. But the user complaints all sound similar:
The blogger on Dangerous Minds told his own story:
When we first noticed the problem, our blog had about 29,000 Facebook "likes". Our traffic was growing 20% month over month, but our Facebook fans grew at a far faster pace. As I write this, our Facebook fans now number over 53,000 […] So why is it that our pageviews coming from Facebook shares are off by half to two-thirds when the number of new "likes" has risen so dramatically during this same time period?!?!
Added to "fake like" syndrome is a sharp decline in the usefulness of Facebook. And there's a disincentive for people to pay to reach people who may not even be real. Chloe Eulady, commenting on the blogpost, adds her own experience:
I have a modest 5,000+ fans on my business page. Our average views dropped from around 25% to less than 5% over the past few months. Around the same time I noticed a huge increase in fake users *liking* our page. You know the ones -- they all look like extras from Jersey Shore, work at huge corporations like Nike, Google, and Nutella (?), and attended colleges that don't exist. Also, all the females are bisexual.
And then there's the pricing problem: promotion costs vary according to the reach of your page, the location of your business, but not how much money you're making. And you get penalised the more popular you are.
While it might be fine for McDonalds to pay $200 to reach 50,000 users with a photo of a hamburger, it's not a viable option for a small but popular blog. Or a small local restaurant. And for the average user browsing their Facebook stream? It means they're going to be getting a lot more stories about McDonalds and Coca-Cola, and fewer from small businesses.
And it's not just an issue for small businesses with fanpages. Facebook seems to be rolling their promotional posts idea to individual Facebook users too. Normal Facebook users now get asked whether they want to "promote" photos of their breakfast. Facebook itself suggests that you, the individual, might want to pay it so the less-popular among you can FORCE your friends see what you say: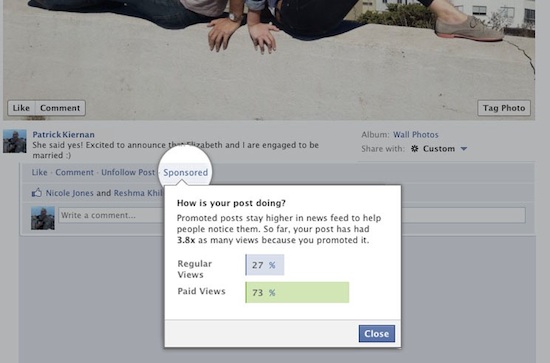 Girl just said yes? Why not splash out on a Facebook promotion so that your friends can "like" it?
®
Sponsored: Minds Mastering Machines - Call for papers now open