Can a 'one-trick' software firm survive in era of converged engorgement?
Staff-owned software SAN appliance firm DataCore on why it's the last man standing
RAID and mirrors? The structures will become figures of speech
What about convergence, virtual storage appliances, flash-accelerated servers, and the cloud? DataCore will tweak, tune, optimise and develop SANsymphony to take account of them all and deliver what it has been focused on all along; a virtualised pool of SAN storage delivering data to servers in a fast and protected manner. Read how SANsymphony 9.0 responds to the cloud here.
A virtual storage appliance is a storage controller running as a virtual machine. SANsymphony can do that and provides a wider set of features than some VSAs which are limited in their functionality. The cloud is another storage tier or tiers and SANsymphony can deal with that. The company also has a cloud service provider program with providers renting the SW instead of buying it.
A converged system combines storage, server, networking and hypervisor in one overall system. DataCore has no alliances with mainstream vendors to take part in things like EMC Vblock and VSPEX systems or NetApp/Cisco FlexPods or the HDS UCP. This is a challenge yet to be taken up by the company but it will obviously play nice with any vendor os system integrator that wanted to build a converged stack.
Flash-accelerated servers use either a flash cache, which a DataCore SAN can feed with data, or a networked flash array which sits logically in front of any disk-based SAN. It is the disk-based SAN which is the heart of DataCore's turf. Having a separate flash array in front of that SAN is putting a separate storage silo in place and DataCore says its system builder program provides a way for its capacity storage to be combined with flash storage. SANsymphony auto-tiering can move data to/from flash storage and its DRAM caching can spit data out to servers fast.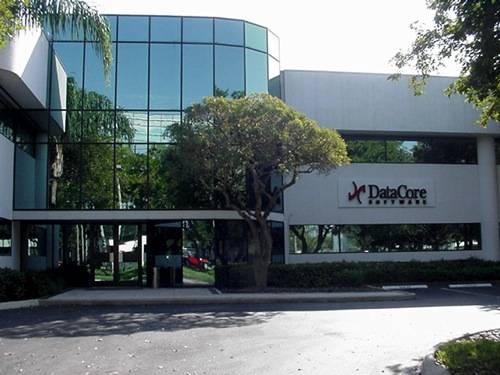 In fact, the company says, if DataCore's SW runs in the flash-accelerated server then its DRAM caching makes the machine go faster.
Product feature and storage futures
Aral said DataCore has no intention of adding deduplication to SANsymphony, as it requires resource-sucking indices. Clustering will expand from the four supported nodes now to eight or 16 later this year and then go higher. We might see 128 nodes revealed as a target next year.
He thinks that Big Data is going to have to prompt a major change in storage: "We are looking at breaking the structures - volumes, LUNs, virtual disks, etc. - we are at the limits already. All of that has to go away. … We will have to go to "one big disk" and probably stop calling it a disk. It will be part solid, part spinning, part local and part remote."
Aral thinks there will be a series of innovations in the next three years to answer this need: "We will not see single disk drives." Protection will move away from RAID and mirrors and "the structures will become figures of speech."
RAID may get replaced by erasure coding. "Eventually we'll be able to do mirrors that are based on CDP instead of real mirrors, compressible queues of CDP data stamps," and "we could add asynchronous deduplication to [such a] mirror."
He isn't sanguine about the future of object storage, saying: "It won't be a commercial success without major new innovation." He doesn't see it becoming the third leg of the storage stool alongside file and block.
The move to direct-attach storage (DAS) is a retrograde step with one issue being speed-matching of DRAM, SDDs and disk. DataCore SW must run locally on the servers, like the hypervisor, as well as on the SAN.
SANsymphony v9.1 will come out probably in the first quarter of next year and provide more scaling, reporting and management. A Windows 2012 release candidate will be available by the end of November with Windows 2012 support ready in the first 2013 quarter.
Where does all this leave us? DataCore is heading towards 25,000 licences and has track-record of sticking to its multi-vendor SAN virtualisation knitting and delivering cost-effective and full-featured software that is better than major vendors – SAN virtualising products for its customers.
There is no reason at all to suppose it won't carry on doing exactly what it has been doing, which is growing revenues at 30 per cent a year , hitting $100m in annual revenues around 2015/2016, and staging an IPO –, no reason at all that is, unless converged system sales take off like a rocket at all levels of business and blow multi-vendor, best-of-breed component sales out of the water. No, we can't see it either. ®
Sponsored: Learn how to transform your data into a strategic asset for your business by using the cloud to accelerate innovation with NetApp