Look behind you, WD: Seagate's turned up, and it has 3 biz drives
Fashionably late to the 4TB party - who is that stranger?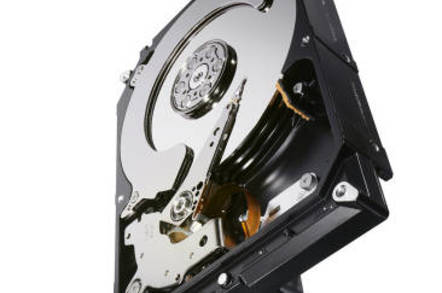 Seagate is playing catch-up in the enterprise space with its announcement of two new 3.5-inch drives for 24x7 operations and a new 2.5-inch Savvio drive optimised for performance and power-efficiency.
The 3.5-inchers are Constellation drives, positioned as an enterprise value drive, the Constellation CS, and an enterprise capacity drive, the Constellation ES.3. The new Savvio drive has the same capacity points as the current Savvio 10K.5, which is intriguing.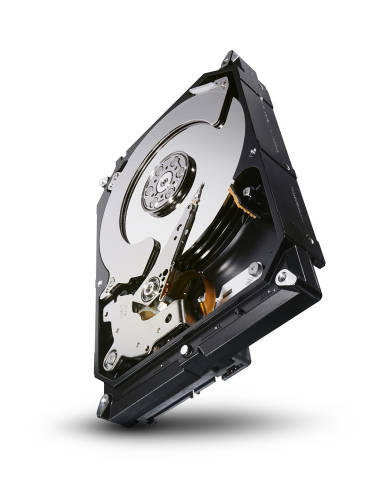 Constellation CS
Constellation CS
Seagate has had a line of 7,200rpm Constellation ES drives for some time, and they store up to 3TB with the ES.2 version. These are now joined by a Concellation CS, also storing 1, 2 or 3TB of data on 1, 2 or 3 platters, and having the same 7.200rpm spin speed. Seagate says the new drive is for continuous operations in data centres and there is a Secure Erase version,rendering data unrecoverable in a second. There is a 6Gbit/s SATA interface, a 64MB cache and a 600MB/sec burst transfer peak with a 180MB/sec sustained transfer rate.
Constellation ES.3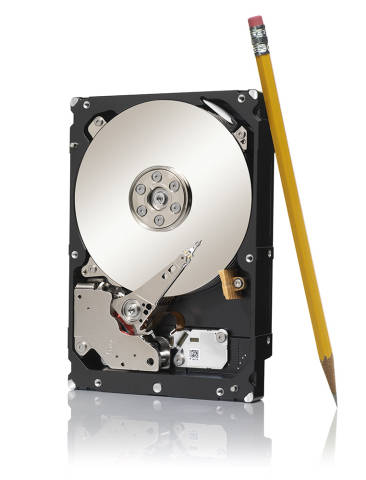 Constellation ES.3
The ES.3 bumps ES capacity up another terabyte to 4TB; Seagate's first 4TB internal fit drive. There has been a 4TB external GoFlex drive for just over a year. The ES.3 spins at 7,200rpm again, and has 6Gbit/s SATA or SAS interfaces. Unlike the CS with its 800,000 hours mean time before failure (MTBF), this drive has a 1.4 million hours MTBF rating. There is an instant secure erase option, plus a self-encryption option and FIPS security technology.
The ES.2 needs five platters to get to 3TB. This ES.3 product has not had its platter count revealed by Seagate in its datasheet (pdf) but we're going to plump for 1TB platters and up to four of them.
The little hot job
Seagate is not giving much away about its forthcoming Savvio 10K.6. The current Savvio 10K.5, announced in March last year, holds up to 900GB of data on three platters spinning at 10,000rpm, has a 64MB cache, 6Gbit/s SAS or SATA or 4Gbit/s Fibre Channel interfaces, a self-encryption option and a 2 million hours mean time before failure rating.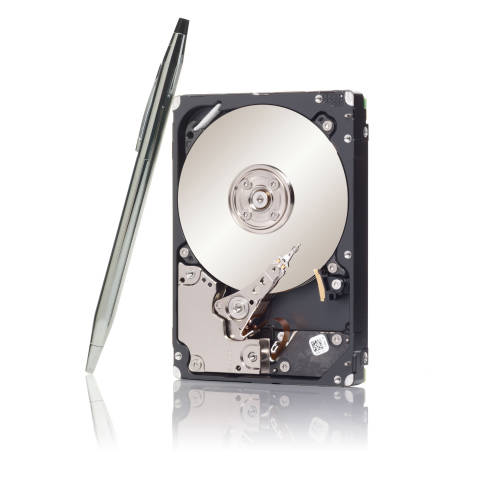 Savvio 10K.6
We're told the Savvio 10K.6 holds up 300, 450, 600 or 900GB, no change there then, spins at 10,000rpm, delivers up to 21 per cent more performance than the 10K.5, having a 600MB/sec burst transfer rate, and uses 14 per cent less power than the 10K.5. Like the new Constellations it has the instant, secure erase feature. It is currently in review with the US National Institute of Standards and Technology (NIST) for FIPS 140-2 Level-2 certification.
Savvio has three platters at the 900GB level, one at the 300GB capacity point and two at the in-between capacities. There is a 6Gbit/s SAS interface – the Fibre Channel option seems to have gone away – and a 64MB cache as before. The drive is expected to be available by mid-2013. Such an availability lead time, more than six months, is odd in the HDD industry. Why not wait and get a higher capacity level?
Seagate is a couple of months late to the 4TB drive party in announcement terms. WD has 4TB RE SAS and SATA Drives, and subsidiary Hitachi GST has a 7,200rpm 4TB Ultrastar drive. There is no Toshiba 4TB drive.
WD's sixth generation Velociraptor spins at 10K and holds a terabyte, 100GB more than Seagate's Savvio 10K.6. The enterprise class WD S25 is a 10K rpm drive holding 900GB like the Savvio. WD's Hitachi GST subsidiary's Ultrastar C10K900 is in the same area.
Seagate didn't release any pricing information. ®
Sponsored: Minds Mastering Machines - Call for papers now open