Sacked British RIM staffers to get minimum legal payout
As bosses scoff foie gras and chips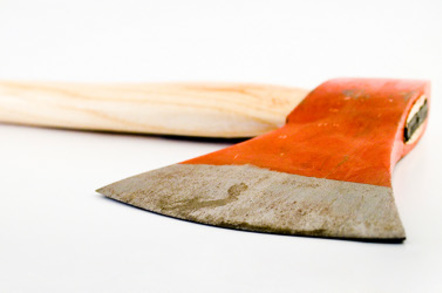 Exclusive Staff at RIM's UK headquarters were upset to see their VP tweeting about foie gras as they learned that the hundreds of them who will lose their jobs by the end of the year will be receiving the bare minimum redundancy payout that the government allows.
A source told The Reg that the staffers who will be out the door before Christmas have only just found out about their payoffs, and they're not particularly happy.
The cuts are part of RIM's cull of 5,000 jobs globally and were announced to UK staff in mid-September. Our source says that "hundreds" of jobs in the UK are going but we don't have any more accurate figures on it.
A RIM spokesperson would not confirm any details about the payouts to staff, or the number of jobs being cut.
PR manager Morgan Evans would only reiterate the statement that RIM gave us in September - a quotation from new boss Heins about "headcount reduction":
Our financial target is to drive at least $1 billion in savings by the end of fiscal 2013, based on our Q4 2012 run rate, and headcount reductions are part of this initiative. RIM has reduced some positions as part of this programme and may continue to do so as the company methodically works through a review of the business.
Given that the marketing department has taken a heavy proportion of the cuts, the tweets of RIM's EMEA marketing VP, Rory O'Neill, on the subject of foie gras last month were not particularly well-received. Our anonymous reader emailed to say that staff were shocked about the job losses, but added:
...at least they can sleep easier knowing that Rory O'Neill their VP of Marketing whose department is taking very heavy casualties is doing his bit to save the company's valuable $2bn cash pile as they sign on. Don't take my word for it though go and check his Tweets of 7th August 2012 and 11th September 2012.

Can't afford a sliced turkey roll? Let them eat Foie Gras!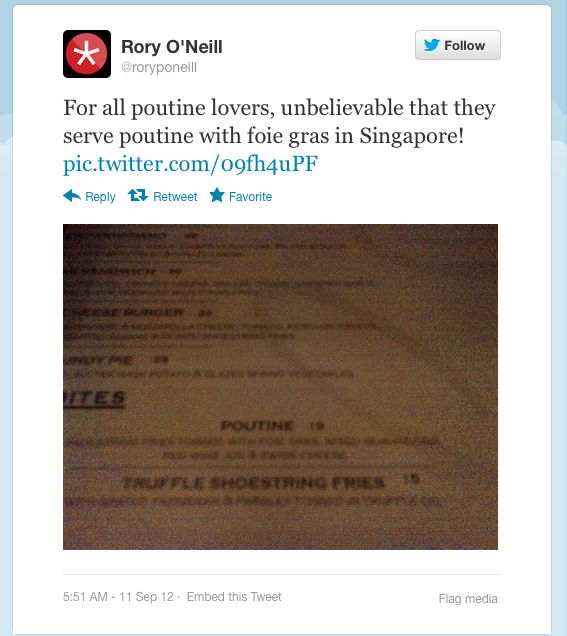 A tweet from RIM's UK VP of marketing
We note that poutine is a Montreal specialty consisting of chips and gravy. Click here for El Reg's very own recipe. ®
Sponsored: Minds Mastering Machines - Call for papers now open