Ocker CANNIBAL DEATH SPIDERS invade Japan!
Red Back in terror march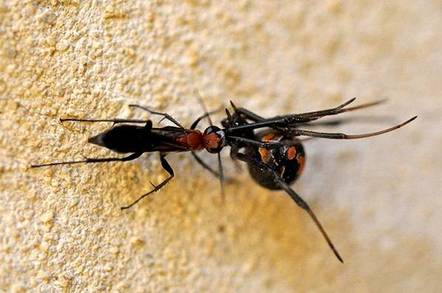 One of Australia's two lethal spiders, the Redback (Latrodectus hasselti), has escaped into Japan and is creating national terror, according to news outlet The Asahi Shimbun.
First spotted in Japan back in 1995, the spider has now reportedly reached 22 prefectures in the country, the site reports. Most of the affected areas are in Western Japan, and near ports.
While venomous – after all, spiders generally are, but usually not so that humans notice – the Red Back is a minor threat. With an effective antivenin widely available, only one death in Australia has been reported (but not confirmed) since 1955.
A relative of America's Black Widow, the Red Back similarly practises cannibalism while mating.
The report states that there have been 63 sightings of the spider since September 28, and that the spider has been reported in Shingo near Fukuoka, Koga, and at the Ground Self-Defense Force Camp Metabaru in Yoshinogari, Saga Prefecture. Additionally, the report states: "in Amagasaki, Hyogo Prefecture, and Kyoto city more than 100 spiders turned up in city parks in September alone, officials said."
The Asahi Shimbun says Japan has failed to keep its antivenin stores up-to-date, and eradication efforts are being hampered by haphazard planning.
El Reg therefore hopes that Australia's real scare-story, the Funnel-Web Spider (Atrax Robustus) never decides to stowaway on board ship… ®
Bootnote
The redback also has a place in Australian culture, thanks to the immortal song 'The redback on the toilet seat' you can listen to below. And yes, it is a country song.
Sponsored: Minds Mastering Machines - Call for papers now open