It's official: Apple will reveal 'a little more' on October 23
iPad mini? 13-inch MacBook Pro with Retina Display? Even a little more?
Apple has sent out invitations to what world+dog assume will be the introductory event for the oft-rumored iPad mini. And as expected, said soirée will be held on October 23.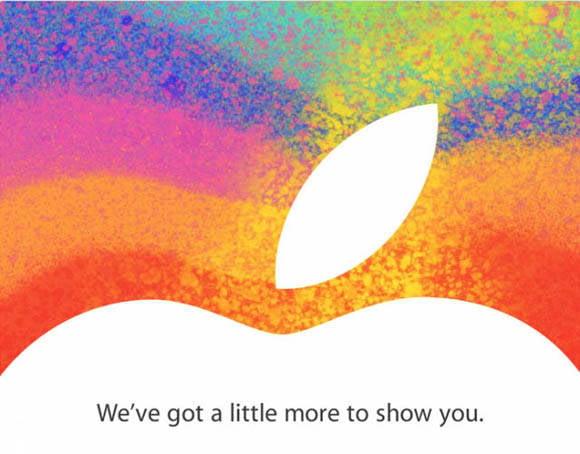 'A little more'? How coy, Cupertino, how coy...
The invitation's tag line certainly hints towards the introduction of the expected 7.85-inch iPad: "We've got a little more to show you."
But after the recently surfaced rumor of a 13-inch MacBook Pro with Retina Display – a shrunken version of the 15-incher released in June – the "little" theme may cover another possibility.
And to stretch the entrail-scrutinization even further, there's also a rumor of a new 21-inch iMac – one with an "epoch-making" design. True, 21 inches isn't exactly "little", but it is smaller than the current top-of-the-line 27-inch iMac, and a hair smaller than that all-in-one's little brother, the 21.5-inch iMac.
We hasten to admit that such tea-leaf reading is quite silly, but parsing Apple's invitation teasers is part and parcel of the art and science of Cupertinian rumor-mongering.
The exclusive event will be held at San José's historic California Theater. Your Reg reporter remembers attending an Apple event introducing the U2 iPod at that venue back in 2004, when he worked at the late, lamented MacAddict.
He won't, however, be attending the October 23 event – Apple is no fan of The Reg, so he wasn't one of the elect. That won't stop The Reg from reporting on the event, however, seeing as how it's sure to be bleated far and wide by a herd of helpful live-bloggers. ®
COMMENTS
Re: Get your money ready sheep
I've never queued for any Apple product (or any product, that I recall), but it's getting quite tempting to do so, simply for the fun of making a certain kind of person so angry.
Re: Get your money ready sheep
But that's an extreme case. They're just lost people looking for a sort of religion.
Personally I'm just a user, I buy what I like and don't let any marketing sway me and reviews these days are pretty rubbish too. Overlooking huge flaws.
Whatever happened to banded ratings?
Performance
Design
Battery Life
Software
etc.
Re: Get your money ready sheep
its a sorry state of affairs that a not insignificant number of apple fans will go out queue up for days in front of a select few shops, even if they have a need for the item or not just to get their hands on one.....
A relative of mine cant help himself. He owns a iPhone 5, 4s and 4, iPad, iPad2 and a new iPad (3) and will go and get the ipod maxi / ipad mini. He has a apple tv box, macbook air, and whatever the fuck the desktop thing is he has.
he take great delight that as soon as he buys something on iTunes it auto syncs across everything.....and the sad git also has a apple logo tattoo....
he is beyond help.... or reason...
If you flip that image upside down, it looks like they're dropping a turd.
Get your money ready sheep
Apple is ready to extract another load from you.