Strike a light
I prefer physical keys with their immediate response, but I'm willing to put up with a touch screen if, in exchange, I get a display I can read when the lights are down low.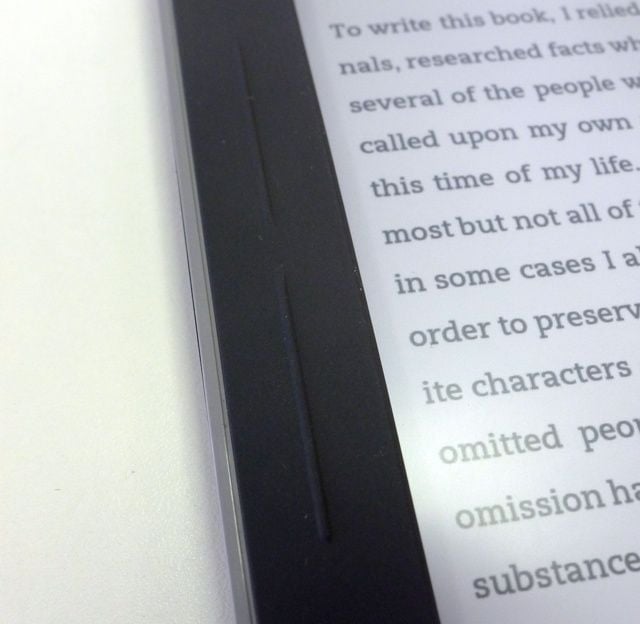 There are two physical page-turn keys on both sides of the touchscreen
Better still, there's no such trade-off here: the Nook has physical page-turn keys too. They're embedded in the face of the bezel, which makes for the wider, less pocket-friendly device - it's a centimetre wider than the vanilla Kindle; 5mm wider than the Kindle Touch - but there they are.
The Glowlight isn't really a backlight. It actually directs the rays from six LEDs down through the display and it's the reflected light that provides the (almost) uniform illumination. It beats clip-on lights, or point light sources integrated into cases. And though initially brighter than it needs to be, the brightness can be turned down for a less harsh level of light that's good for nighttime reading while the lights are off and your bedfellow is snoozing.
Read in the dark...
The Nook provides a comparable reading experience to the Kindle - what differences there are a negligible. The Nook has a broader selection of fonts, for example, but there's little real difference between them. However, I like the fact that you can drag-and-drop your own screensaver pictures onto the desktop-mounted Nook.
B&N claims the Simple Touch will run for a couple of months on a single charge, and I see no reason to dispute that. Using Glowlight will knock that down to 30 days, but I see the Glowlight as an occasional use feature rather than something you'll be running day in, day out.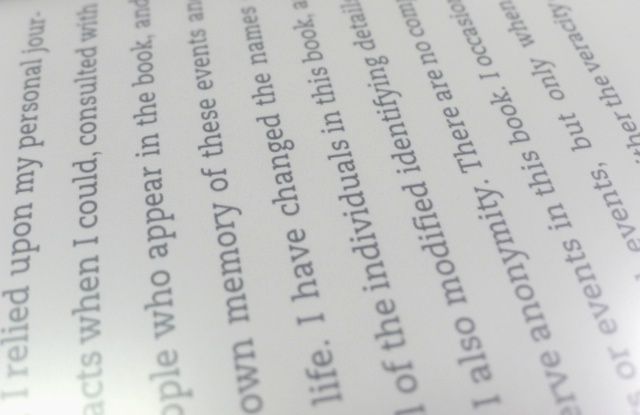 ...or in the light
It's hard then not to recommend the Simple Touch with Glowlight, and if you're after your first e-book reader or you're buying for someone who hasn't got one yet, it's ideal. B&N claims its UK online bookstore - which opens for business later this month - will have 2.5 million items available, more than double the one million items Amazon claims to offer.
A large catalogue is all very well, but not helpful if it doesn't include what you're after. Fortunately, since the Nook uses Adobe's DRM system and ePub format, the reader will happily present books bought from others suppliers who support these technologies: Sony, Waterstones, Blackwell's, Kobo and its partners, for instance.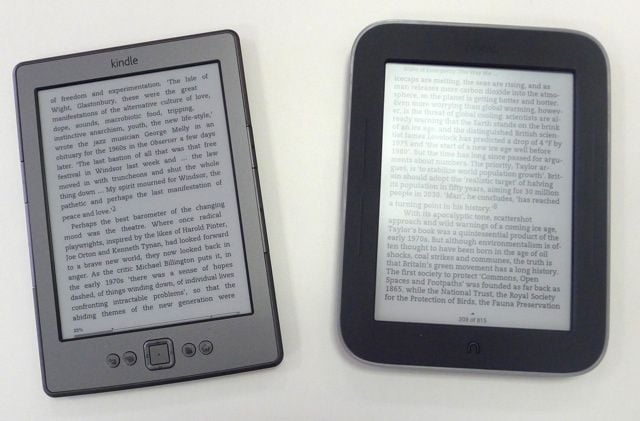 Kindle and Nook
B&N doesn't expect Amazon customers to jump ship, but with Kindle apps available for Android and iOS phones and tablets, there's no reason why you shouldn't swap a Kindle e-book reader for a Nook, or have both, swapping between them according to what you happen to want to read. In any case, Amazon will have a Glowlight-style Kindle out soon enough - in the States it already has.
Verdict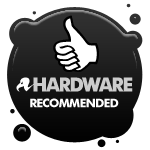 Barnes & Noble's Nook Simple Touch with Glowlight is a darn fine e-book reader. But for the fact that the Kobo Glo delivers the same features for £10 less, I'd recommend the Nook unequivocally. The B&N offering is certainly better - and better value - than the Kindle Touch, but that's of little concern to anyone already tied into the Amazon ecosystem. ®
More E-Reader Reviews

Amazon
Kindle Touch
Google
Nexus 7
Bookeen
Cybook Odyssey
WHSmith
Kobo Vox
Amazon
Kindle 4

Barnes & Noble Nook Simple Touch with Glowlight e-reader review
Nicely priced ePub-based e-book reader with optional built-in night light.
COMMENTS
Odd
Why make comparisons with (non-illuminated) Kindle Touch when the more obvious competitor is the Kindle Paperwhite?
Why say that the Kindle reads only DRMed content when it'll happily read DRM-free .mobi files (as well as .txt, .doc, .pdf, etc.)
Why criticize the Kindle for not being able to read content from, say, Barnes and Noble but not mention that the Nook cannot read content from Amazon?
Now I'm not saying that the Nook is not a fine eReader device, I'm just wondering why The Reg found it necessary to make so many bogus comparison points? Is this the Register Tariff at work?
Tied into Amazon's ecosystem?
But fancy swapping to another reader?
I have heard that its possible to strip the DRM from Amazon purchases - purely for back up purposes of course - and save them in a different ebook format.
Something to do with Calibre and plugins or summit - all over my head anyway and I'm sure it violates pages and pages of the EULA that you sign up to unwittingly each time you buy an ebook....
Re: Better late than never
So great that you had to jailbreak it and install another OS ? .....
Re: New kindle has a light too
Here you go: http://www.reghardware.com/2012/10/12/amazon_prices_up_paperwhite_for_the_uk/
Why buy one?
"If you're an Amazon customer already, there's no reason not to buy one, unless you really feel the need to be able to buy e-books from multiple vendors."
Am I the only person who uses their mobile to read e-books?
If you find the text size too small (I don't), then you can increase the text size. OK, so you have fewer words on a page and have to change page more often, but that's not so bad on a phone display...
The display updates faster, much faster than an e-ink display and you don't have the whole page display purge every 8 pages or so. The resolution of a phone is easily high enough on most models to not be so bad on the eye and the greater colour range and graduation between shades means anti-aliasing becomes more effective. Being able to change colours is nice as well, as white on black or vice-versa can be hard on the eye. Where e-ink really wins though is the low power usage and daylight readability, but does fail a bit in the dark requiring additional lighting, but this isn't a particularly serious engineering challenge and even for devices without it, you can get case with lights embedded in them.
Only one device to carry around - this is one of the biggest advantages there is. I don't carry around a separate MP3 player either, so why carry around a separate e-book reader? Most comical site I've seen, all too often, is somebody playing music on an iPod, reading a kindle and then pulling out their mobile to check text messages occasionally.
Choice of multiple stores and reading apps - want Kindle, B&N or other e-book readers (such as the quite handy fbreader) all on one device? no problem.
In my mind, the outstanding battery life of e-ink readers and their daylight readability are the only positive points - and both are either not an issue or can be worked around using mobile phones as e-book readers.