Big Blue: Future of our sales - and the channel - lies in ... MSPs
'Erm , what exactly do you mean by "MSP"?'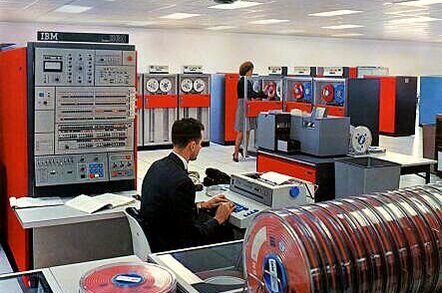 Channels Forum IBM's mid-market boss told the Canalys Channels Forum this week that the share of the vendor's business going through the channel will increase by a quarter in the next couple of years as companies move their IT spending to managed services.
But some of the mega vendor's traditional partners at the event seemed unsure about what their role is likely to be.
Mark Hennessy, Big Blue's general manager for global business partners and midmarket, delivered a keynote speech at this week's Canalys Channels Forum that put a heavy emphasis on the role of its channel, particularly its new key market of managed service partners.
The vendor launched its Managed Service Partner programme last month, to push cloud services into medium sized companies.
Hennessy told the audience there was a shift in channel-buying dynamics, with traditional product sales and professional services set to decline, while management services and application hosting were the biggest growth areas. The managed services market would be worth $18bn in 2015, he said, growing at five times the IT market as a whole.
He said the firm was investing $2bn into its Business Partner Ecosystem, re-engineering incentives and financing around generating ongoing annuity type revenue streams, and that margins of as much as 40 per cent were available for new client acquisition.
Waving margin and an increased role for indirect sales should normally have a room full of dealers dancing in the aisles.
However, the first question thrown at Hennessy after his presentation, was "what exactly is a managed service provider?" Some dealers appeared wary of a business model that seems to blur the lines between providing services and becoming a cloud provider.
Hennessy responded that mid-market firms - those with less than 1,000 employees in IBM's worldview - want varying levels of cloudiness, but that "clients are not so interested in building out the infrastructure".
Simon Porter, VP for mid-market sales in Europe, fleshed out the programme in a subsequent session, saying that the vendor recognised that capturing the sort of annuity revenue streams that characterised managed services could mean it was the reseller, sorry MSP, making the capex commitment by buying the kit to provide cloud-ish services to its clients.
He said it was offering MSPs the option to "pay as you grow" to take the sting out of setting up cloud services. They also had the option to take white box cloud offerings from IBM's own software and cloud offerings.
Asked if MSPs are actually making money, Hennessy insisted: "It's a hot market place." And the vendor needs hot market places, if it's to meet its goals under the "2015" roadmap. Achieving these goals meant IBM had to grow its hardware, software and services businesses, he said.
Hennessy said IBM was already doing 20 per cent of its business through the channel - presumably including MSPs - and this proportion was likely to increase another four or five percentage points by 2015. The mid-market business is entirely channel led.
Porter said the vendor had 1,400 "MSPs" on its books even before it launched the programme, with 400 in Europe.
On the surface it might seem that MSPs in effect become direct clients of IBM, buying kit to build out their own data centres to underpin cloud services, or rebadging the vendor's own service. This might throw a question-mark over the role of distributors.
However, Porter insisted disties would have a key role in the programme. In Western Europe alone there are 7,000 potential MSPs, he said.
"We can't service all those with our own sales team.... we look to distribution to service them." ®
Sponsored: Minds Mastering Machines - Call for papers now open