Western Australia powers up 10 MW solar farm
Pull the switch, Igor!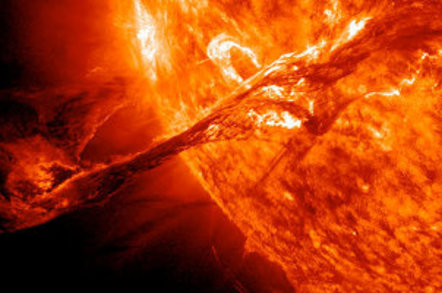 Australia's west is now home to what's described as the country's first utility-scale solar power plant.
The 10 megawatt plant, supported with AUD$20 million of Western Australian government funding, will deliver power equivalent to 3,000 homes. However, its output is committed to powering the state's Binningup water desalination plant, according to the ABC.
The government says it will knock 20,000 tonnes of greenhouse gases off the annual national output – however, given the plant is pre-committed to a single customer, it may be more accurate to describe its output as offsetting future growth in emissions. Earlier this year, the state government decided to sling $AU300 million towards the stage-two expansion of the Binningup desal plant, which is currently operating at full capacity.
With 150,000 thin-film panels provided by First Solar, the Greenough River Solar Farm is a joint project between state-owned power utility Verve Energy and GE Energy Financial Services.
As demand grows, the organisations are reportedly considering expansion of the plant up to as much as 40 megawatts.
The solar farm occupies an 80-hectare site at Walkaway, 50 km south-east of Geraldton. Installation of the panels took six months, having begun in April 2012.
Geraldton, about 400 Km north of Perth, is a good location for solar power: it's relatively remote, and according to the Bureau of Meteorology, it's rain-free about 80 percent of the year. The remote city is also near the home of Australia's contribution to the Square Kilometer Array, which is being constructed at Murchison, about 300 Km to the north-east ("near" is a relative term in WA).
While Australia has around 2 gigawatts of solar installed, most of this comes from the 850,000 domestic rooftop solar installations. ®
Sponsored: Minds Mastering Machines - Call for papers now open