View 21 IPTV Freeview+HD DVR review
iOS telly addicts, look no further
Double vision
The View21's twin tuners mean that two channels can be recorded at the same time, with Chasing Playback supported if you just want to watch stuff on time delay. Recordings can be ploughed through at a rate of knots. Search speed is variable between x2, x4, x8, x16, x 32 and x64. Even with the recorder all tied up, you're still able to take the box online. There's a standard Live Pause feature, with adjustable cache variable between 30-, 50-, 90- and 120-minutes.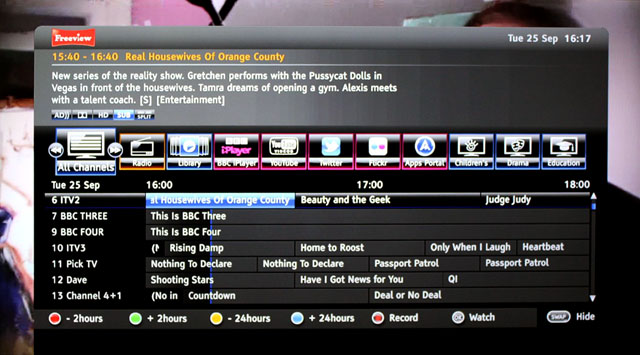 EPG
The View21 on-line offering may be bare bones, but the BBC iPlayer iteration is a treat, with improved navigation and full-screen menu pages (iPlayer with a whiff of XBMC?). The YouTube leanback implementation is also rather dandy.
Providing backup are Flickr and Twitter. I'm not a fan of social media clients on TV, and their inclusion here seems rather token. You can run a Twitter bar across the bottom of the screen, search for topics and users, but you can't post from the set. Fine if you just want to read other people's funnies during X-Factor.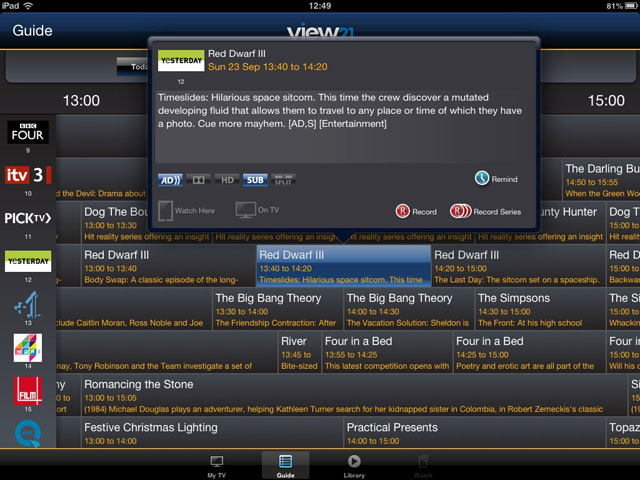 EPG on the iPad
Navigation is nimble enough, and the UI is generally well designed, although the unnecessarily tabbed Main Menu bar does rather clutter TV listings.
Yet to really cut it as a DVR in 2012 you need a USP, and here it's the deck's companion apps. Currently for iOS only, View21 Play and View21 Photo significantly improve the user experience. Of the two, the iPad option is the most compelling. Partnering device and deck is a doddle. Provided your iOS gadget is on the same network as the View21 deck, when you fire up the app, it automatically prompts you to connect.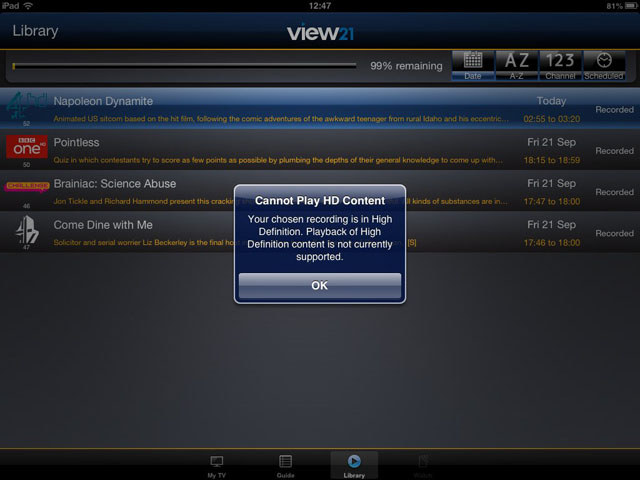 Viewing TV on the iPad works fine, so long as it's not HD content
View21 Photo is used to fling digital still images to the screen; it's simple but effective. View21 Play is where the action really happens. You can second screen the TV guide, looking ahead 8 days to plan recordings or set reminders.
You can also watch live TV on the iPad from one of the deck's two tuners – this proves to be boon if you want a mobile screen in the kitchen or bedroom. Even better, the View21 app will stream recordings direct from the hard drive library to the set top box, although there is a significant caveat – HD recordings are not supported. This is a bit of a bind if you routinely chose to record stuff at the highest resolution.