Mobile phone downloads now a blip on the radar: ABS
From miniscule to a little less miniscule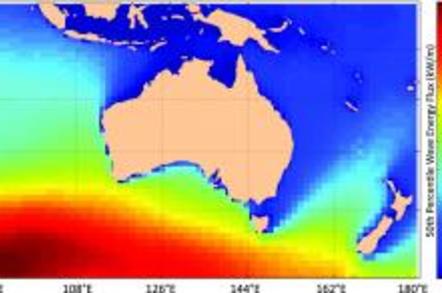 Downloads to handsets are growing fast in Australia – albeit off a tiny base – but still failing to make a dent in the Great Australian Fixed Broadband Data Slurp.
The latest Internet Use, Australia report from the Australian Bureau of Statistics1 seems to demonstrate not a fixed-mobile substitution, but a change in mobile user behaviour. It is, perhaps, best illustrated in the chart below.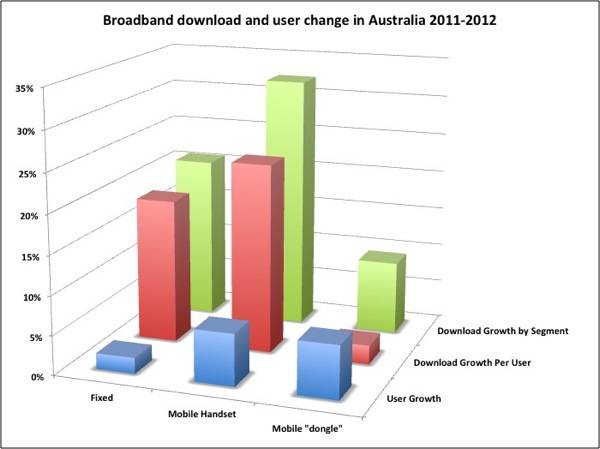 Data: ABS. Graph: Richard Chirgwin, The Register
Although there are nearly three people using a mobile handset for broadband access for every one fixed account, fixed users still account for more than 94 percent of the total downloaded.
That's because iPhone/Android/tablet users consume a trivially small amount of data: a little over 135 megabytes per user, per month, compared to the fixed broadband user's 23 GB average monthly appetite. Even users of mobile "dongles" are hungrier than phone users, consuming around 1.4 GB per month.
However, it's in the mobile data card market that growth is slowing. On a per-user basis, fixed broadband consumption rose 18 percent in the latest survey; phone broadband consumption shot up 24 percent per user; while mobile broadband data card usage rose by just 2 percent2.
It's in the total downloads that the substitution becomes clear. Our 5.6 million fixed broadband users downloaded a staggering 389,130 Terabytes in the three months to June; 16.2 million mobile handset subscribers downloaded 6,610 Terabytes; while 5.9 million mobile data card users downloaded 25,301 Terabytes. However, this latter category's share of total downloads was the only one of the three categories to fall compared to last year. In the December survey, data cards accounted for 6.7 percent of total downloads, falling to 6.1 percent in the current survey.
The fixed broadband share of total downloads rose in the by 0.9 percent in the same period; the mobile handset share rose by 0.14 percent.
What to make of all this?
It seems to The Register that iPhone and Android users are defaulting to fixed broadband connections over WiFi wherever they can. This would account for the extremely low per-user downloads. Someone using a data card, on the other hand, is using it because they must have mobile Internet access wherever it is they're using the device.
At the same time, competition in the mobile market has moderated somewhat this year, chiefly as a result of Vodafone's much-publicised woes. With a less intense battle over bundle inclusions – like downloads – in the mobile data card market, there's less headroom for users to expand their downloads.
The handset market, on the other hand, remains intensely competitive, as carriers try to win iPhone and Android customers with every new release.
As a sidelight to the study: Australia added 15,000 new fibre connections between December 2011 and June 2012. The ABS doesn't identify how many of those are connected to the National Brodband Network, which is a pity. ®
Bootnote: There is a small discrepancy in how the ABS presents the downloads relating to mobile data cards. While the number of users is broken out as a separate line item, downloads are combined with fixed wireless and satellite users. However, that user base represents just 120,000 accounts, compared to the 5.9 million mobile data card users, so its impact on the download data is minimal. ®
Sponsored: Minds Mastering Machines - Call for papers now open