Sony Vaio T13 Ultrabook review
Sony making ultrabooks more affordable? Remarkable!
Battery life is about right, if hardly a barnstormer in our Powermark test. Even with all of Sony's power-saving features enabled, I couldn't squeeze more than 3.5 hours of full-on processor and display thrashing from the battery. Remember, however, that real-world work is usually less intense and you could possibly get twice as long.
PCMark 7 Results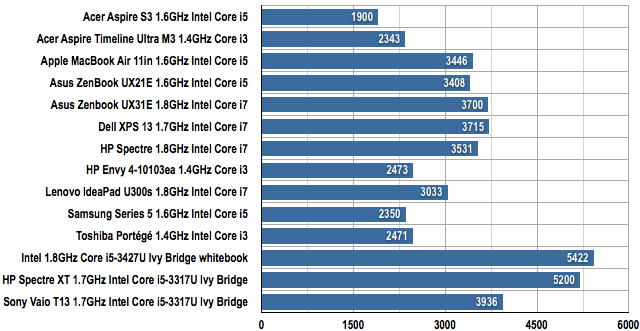 Longer bars are better
The Vaio T13's result in the PCMark 7 benchmark confirms what we should expect from an entry-level Ivy Bridge processor: it beats just about every pre-Ivy Bridge Ultrabook Register Hardware has tested to date, although the HP Spectre XT reviewed recently, puts in a surprisingly high score from the same chippery. Subjectively too, the T13 feels snappy and responsive.
Given all the positives, I assumed this product would cost the usual '£1 less than a grand' – or even more since it's using Intel's latest Ultrabook processor. So it's with some pleasure that I can report it costs some £120 less than expected. In fact, if you're prepared to sacrifice the wake-up speed, you can buy a hard disk (non-SSD) model for £679. That's not much more than you'd pay for a conventional brand-name laptop that's twice the size but half as good.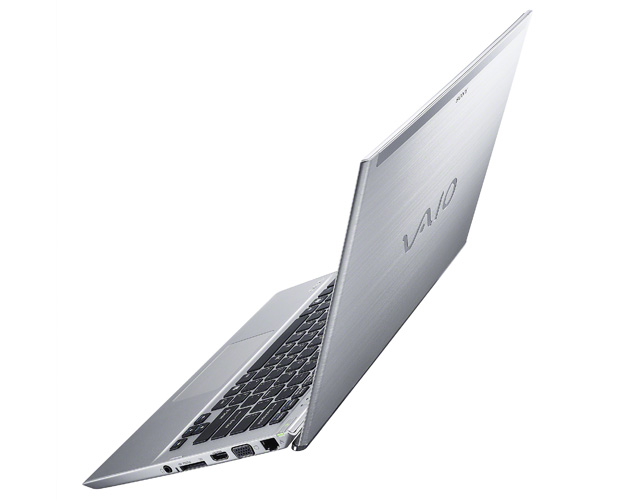 I don't like the angular case design but the T13 is still a damn fine Ultrabook
Of course, therein lies the problem with all true Ultrabooks: flash storage is still sickenly expensive and many users, like myself, won't find 128GB enough – hence all my USB 3.0 external storage devices. An upgrade to 512GB SSD storage will add (holy cow!) £900 to the price. On the other hand, choosing 8GB RAM instead of 4GB should only cost an extra £40, which I think is a bargain for those who want longevity from their Ultrabook purchase.
Verdict
Overall, Sony gets a thumbs-up from me for starting to prise open the Ultrabook market by making it more affordable to people like me. That Sony, of all companies, should being doing this is remarkable. ®
More Ultrabook Reviews

HP
Spectre XT
Acer Aspire
Timeline M3 Ultra
Ivy Bridge
for Ultrabooks
Toshiba
Portégé
Z830-10N
Dell
XPS 13
Sponsored: Minds Mastering Machines - Call for papers now open

Sony Vaio T13 Ultrabook review
After all the scare stories about hugely expensive ultrabooks, it's good to see a premium-brand, latest-tech model set at a mid-range price.
Price:
£779 (128GB SSD), £679 (320GB HDD) RRP