Just how good is Nokia's PureView 41Mp camera tech?
Our pro photographer holidays in Stromboli to find out
Belle view
The Nokia 808 is not currently a stock option handset with any of the usual cellcos, which means that they can't apply data settings remotely. Instead, you have to input them manually. The problem is that providers don't have a clue of how to do that because they don't know the phone yet. Although given it runs Symbian Nokia Belle, you'd think they could read off the script for a Nokia E7.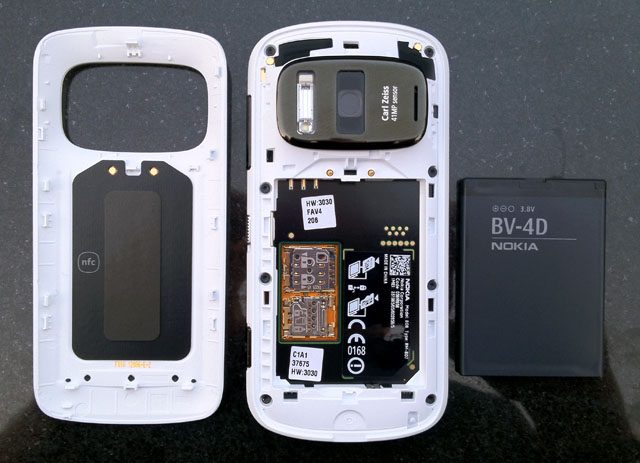 Swappable battery and micro SD storage expansion too
Alas, the mobile data configuration menu on the phone is anything but self explanatory and the Nokia manual does not shed any light on this either. After spending a long time getting the my cellco to spell out all the necessary data settings, that failed to work, I was left with no other option but to contact Nokia to get a step-by-step guide on where to insert the APN, username and the like from its support staff. Good news is that once I finally got there, posting pictures on-line was truly a no-brainer.
As for the Nokia Belle OS, after some getting used to it, I didn't experience extensive problems in general operation and call quality. However, given that handsets are also used as entertainment devices, learning its ways – and dealing with some less than intuitive approaches to simple tasks – did frustrate my having fun with the phone.

Belle ringer: Proof of concept or a platform saviour?
Alas, Nokia Belle also lacks the support of many applications readily available for Android and iOS – Instagram, being one example that photographers and Facebookers alike will certainly miss. On the positive side, Nokia Maps is exemplary, very useful, efficient and user-friendly. The 808's battery life also outperforms my iPhone by a large margin, at least when it's in battery saving mode.
Verdict
So what's the bottom line here? I have to say that despite its photographic excellence as a phonecam, I will not be rushing to trade in my iPhone nor my camera for a Nokia 808 PureView just yet. The camera and the PureView technology are very attractive but the Belle OS puts me off making such an investment, especially now that Nokia has announced the Lumia 920 featuring PureView but powered by Windows Phone 8. Admittedly, the new Lumia has only an 8Mp sensor, but this is surely just the start.
Indeed, with PureView, Nokia seems to have finally found a way to differentiate and deliver some new, exciting products to look forward to. For now though, if you're looking for a quality camera on your mobile, the Nokia 808 PureView is the best you can get. ®
Catherine Monfils is a professional photographer specialising in portraiture, lifestyle and fashion.
All sample images are supplied for quality assessment purposes only. © Catmon Photography 2012.
More Camera Reviews…

Fujifilm
X-Pro1
Nikon
D4
Pentax
K-01
Sigma
SD1 Merill
Canon
PowerShot G1 X
Sponsored: Minds Mastering Machines - Call for papers now open

Just how good is Nokia's PureView 41Mp camera tech?
Nokia's PureView technology delivers a camphone par excellence and gives its own mobile platform a new lease of life.