Motörheadphönes ears-in review
Rock stars
Review It's tempting to see the new line of Motörhead phones - sorry, phönes - as just another entry in the growing list of celebrity branded audio gear triggered by the rise of Dr Dre's Beats line.
And you can't blame Lemmy and co. for telling their roadies to shove their amps and speaker stacks onto this particular bandwagon. In El Reg's recent round-up of celeb headphones there are few if any geared toward Motörhead's brand guitarwork - or, indeed, even more mainstream rock music. They're not all designed for lovers for the finger-stabbing, crotch-rubbing stars of the rap world, but so many of them are you'd be forgiven for thinking they all are.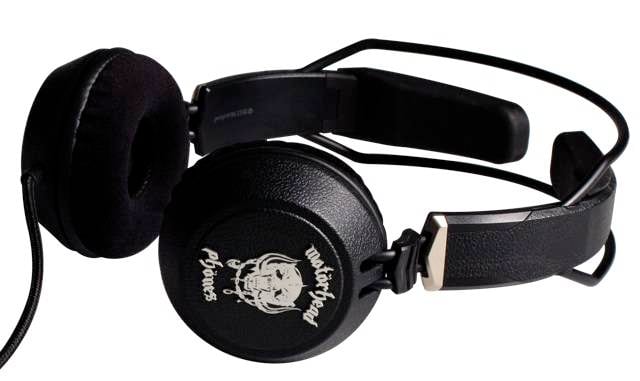 Bomber
That's fine for devotees of hip-hop beats, but these 'phones don't necessarily deliver the best audio experience for folk who like tunes.
According to the guys at Krusell, the Swedish accessories company behind the Motörheadphönes, rap-oriented 'phones focus focus on bass and vocals but do little or no justice to the mid-range where guitars live. They promise their offerings will.
Easy to say, of course, but do the Motörhead-branded cans deliver?
Krusell and co. will be releasing three pairs of headphones and two sets of earphones each named - natch - after a Motörhead track. The earphones are in-canal jobs and are essentially identical: Overkill provides an in-cord control pod which Trigger lacks, but they have the same business ends and the same choice of silver, brass and black metal casings.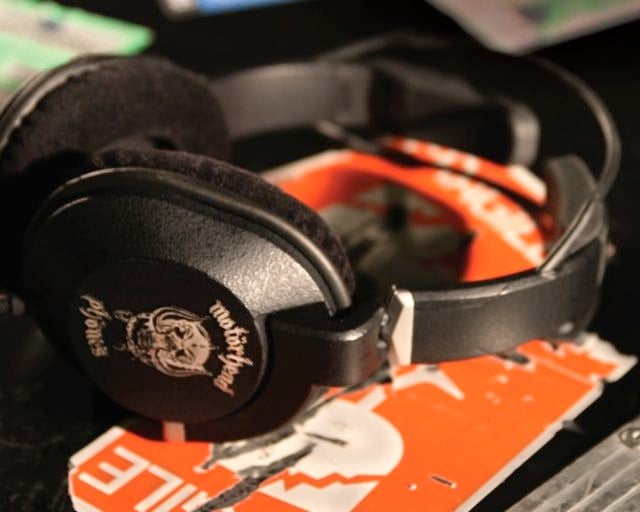 Iron Fist
The three pairs of headphones are Bomber, Iron Fist and Motörizer. The first and last come incorporate a control dongle; Ironfist doesn't. Like the earphones, they feature woven-thread cables, all with a metre-length cord, though Bomber and Motörizer also come with a 2.5m cable.
There's some nice detail in the design. The headbands feel sturdy and feature two solid pads mounted on thick metal rails. You can see from the earphone shots below, they've got bullet cap ends. The larger cans are engraved with the Ace of Spades icon. The earcap War Pig logo is less subtle, and fans of other bands may be wary of cans that pronounce their allegiance so strongly. Don't be put off - these headphones have a lot to offer you, whichever end of the rock spectrum appeals to you.
I gave Iron Fist and Motörizer a try at the 'phones launch last night. Both come with velvet earpads, not the plastic - or, indeed, leather - you might expect because, the Krusell team claimed, it makes for better noise isolation. With a metal meddley loudly throbbing from the small venue's big speakers, I can attest to that. These boys keep out a lot of background noise.
And, yes, they bring forth the guitars. I tried the two pairs out with a selection of old skool 1980s British metal and was very impressed with the clarity of the music. Steve Harris' slapping-a-high-tension-power-cable bass style faring particularly well and revealing why it's so crucial to the Maiden sound. Likewise, lead and rhythm guitars of all the bands I sampled were lifted out of the buzz of the low-frequency sounds where most ordinary headphones leave them.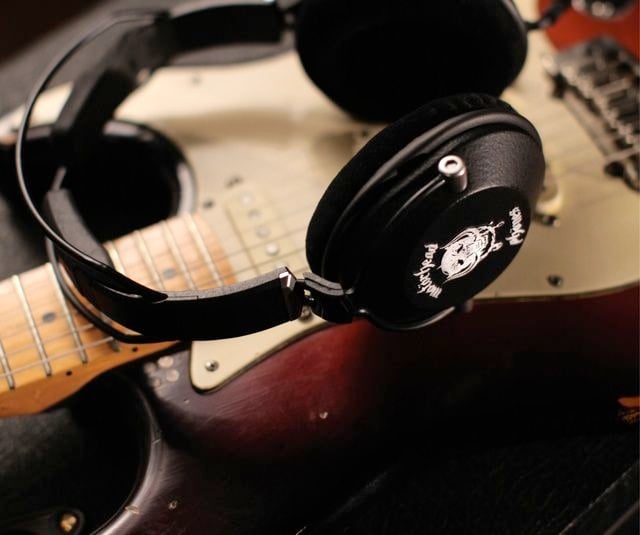 Motörizer
Vocals soar too, from Rob Halford's piercing falsetto to Bruce Dickinson's 'opera with razor blades' tenor. What you gain in the mid-frequencies isn't taken from the high.
And, yes, Ace of Spades sounds bloody good.
It's not just metal that benefits from the phones' audio profile. Pop plays well too, as does indie. Even the folk-rock of The Men They Couldn't Hang gets a lift from that mid-range emphasis. Ditto the guitar-solo style fiddle work of folkie Seth Lakeman. Yet the tub-thumping drums of his signature track The Hurlers lose none of their drive or throb.
And this is with compressed audio - 256Kbps AACs and 160Kbps MP3s - played off an iPhone, not CD-quality audio which will surely sound better still.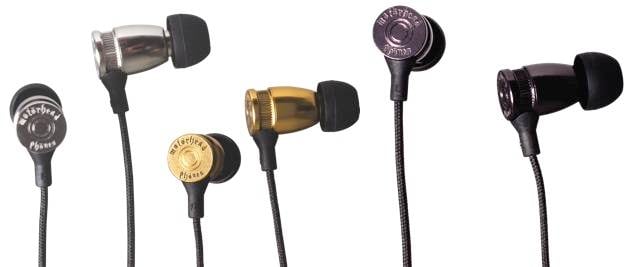 Trigger and Overkill: available in silver, brass and black
Of the two pairs, I preferred Motörizer. Both sets are comparable on mid-range and higher frequencies, but for me Motorizer had a more lively and beefier bass sound than Iron Fist, a difference more noticeable on older tracks ripped from CD rather than those remixed for modern mobile music players.
What makes all this doubly impressive is the price: Motörizer will retail for £130, which a number of colleagues with a greater experience of headphone evaluation than me said was a steal. Iron Fist will set you back £120, Bomber £100. The earphones retail for £40 without a control pod and £50 with. ®
COMMENTS
Re: who knows....
Ah yes, I remember when Motörhead played Guildford Civic Hall. I enjoyed that one.
Mind you, I was in Aldershot at the time.
Other brands.
".....but these 'phones don't necessarily deliver the best audio experience for folk who like tunes."
That explains something I did wonder at. Not too long ago I bought a pair of rather nice sounding Sennheisers. When I bought them I also tried a humungously expensive pair of "beats audio" objects (and quite a lot of other stuff too).
Without a doubt the most overpriced crap I have ever listened to. I had to go into the really cheap shit to find anything that sounded worse. Like a headphone version of a 1980s boom box with the graphic equalizer set to the de rigeur "all the way up at both ends".
Makes me wonder why more producers don't commit suicide, knowing that their carefully worked mix is going to be fed through something like that.
How long will it now be...
...before Iron Maiden release their 'Eddie the Edphones', and the Lars and co release their 'MetalliCans'...
Re: What
It's the Metal Umlaut. Where have you been? See:
http://en.wikipedia.org/wiki/Metal_umlaut
Re: Heavy metal umlaut
Umlauts ain't tildes. Just ask Spın̈al Tap.