New telescope tipped to spot 700,000 galaxies
Australia's Square Kilometre Array Pathfinder opens for business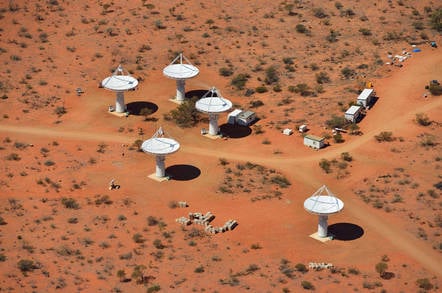 "Please don't attempt to interact with native wildlife … or collect flowers or stones" seems an odd thing to hear at the launch of a radio telescope, but those words were intoned today at the ribbon-cutting function for the Australian Square Kilometre Array Pathfinder (ASKAP) and Murchison Radio-astronomy Observatory (MRO).
The reason for the odd warnings is ASKAP's location at Boolardy Station, a sheep farm near Murchison in a remote part of Western Australia where kangaroos are more prevalent than people.
ASKAP chose the site because the lack of nearby radio sources makes it an advantageous spot from which to peer at the skies. That location didn't make the site quite good enough to be selected as the sole host of the square kilometre array (SKA), but in her speech at the opening CSIRO chief executive officer Dr Megan Clarke declared herself "delighted to work and partner with South Australia and share development of the SKA projects."
ASKAP is an operational radio telescope in its own right, and a powerful one at that. Clarke said surveys that take hours using current facilities will take "ten minutes" with the kit present at the MRO.
"This is a completely new era for surveying the sky," Clarke declared. "We expect ASKAP to find 700,000 galaxies in its first few years." The new facility can capture what Clarke called "panoramas of the sky" she said would cover an area "as large as 150 full moons."
"We will understand how galaxies work and look back to the very birth of our own universe," she added. "ASKAP will look back to incredibly faint whispers sent out when the Earth did not even exist. We will not just be looking at the stars or the galaxies. We will look between the stars, at the magnetic fields, at events that happened in just a few seconds that we will now be able to record."
ASKAP will be able to do so thanks to its 36 radio telescopes, networked into one virtual 'scope. Each node's reflector is 12 metres in diameter.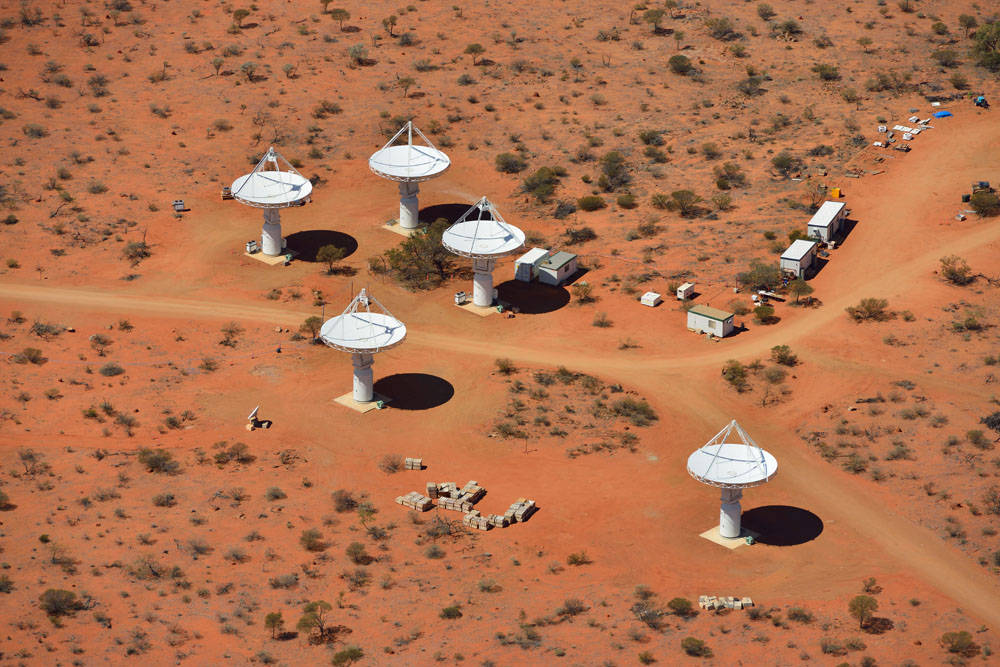 Some of the telescopes comprising the Australian Square Kilometre Array Pathfinder
Today's ceremony was a ribbon-cutting affair, as the MRO has been functional since August when Clarke said the facility was tested and worked "better than specified."
Another 60 dishes will be built on the site by 2016 and the facility will eventually become part of the SKA. ®
Sponsored: Minds Mastering Machines - Call for papers now open