Oracle nudges Sparc T5s back out to 2013
Solaris 11 gets an update, Sparc T4s carry on
Solaris 11 gets a dot one update
It took Sun Microsystems and Oracle from January 2005 through November 2011 to define, code, and deliver the Solaris 11 operating system. That's a little long, but not so much out of the bounds of the normal five-year development cycle for truly different operating system releases – particularly when you consider that Oracle acquired Sun in the middle of that period. Oracle has not made a lot of noise about Solaris in the past year, but as it turns out, the company's coders were working on an update.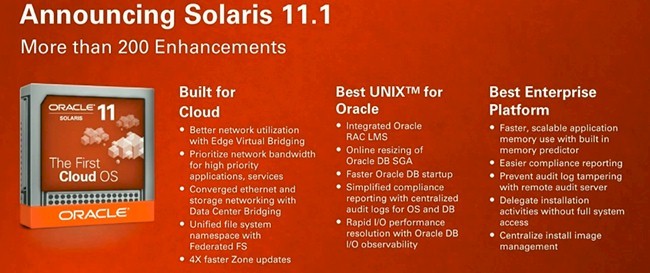 Key features of Solaris 11 Update 1
Solaris 11.1, also known as Update 1, has over 300 new features and performance enhancements, and it will be formally announced on November 7 during an online event, which you can register for here.
One of the big changes is that the lock manager of the Real Application Cluster extensions to the Oracle database has now been moved down into the Solaris kernel, which lowers latency for these locks by 17 per cent.
The announcement also says that Solaris 11.1 can unlock the "full potential of Oracle's latest server systems" with support for 32TB of main memory and "thousands of CPUs." It will be very interesting to see what Oracle is talking about here.
Oracle has also tweaked its Solaris container and VM for Sparc (also known as LDom) virtualization to be faster and use less resources, and has adapted the DTrace dynamic tracing tool that is a key component of Solaris so it can spy on Oracle databases.
Fowler said in his keynote that the uptake for Solaris 11 was good, with thousands of customers having deployed it already. "We had a faster ramp with Solaris 11 than we had with Solaris 10 in years past," Fowler said.
He must have been referring to commercial installations, not downloads, because Solaris 10 had 6 million downloads between January 2005, when Solaris 10 debuted, through November 2006. And it had 500,000 downloads for the Solaris 10 beta.
While Oracle is happy to invest in Solaris, it also is a Linux supplier and it is not going to play favorites. Oracle's senior vice president of engineering, Wim Coekaerts, did not mince words in his keynote on Tuesday.
"We have Oracle Linux and we have Solaris," Coekaerts explained. "I want to reiterate that we are investing in both. We're not favoring one over the other. We are making both work better and you have the choice to deploy either that you want."
That said, there will be some back and forth between the two. DTrace is being ported to Linux, and containers (although not based on Solaris) are coming to Linux. It wouldn't be surprising to see KSplice hot splicing come to Solaris, too. ®
Sponsored: Learn how to transform your data into a strategic asset for your business by using the cloud to accelerate innovation with NetApp