Guild Wars 2 game review
A real Blizzard stomper?
Review I've just been reigning supreme on Tekken Tag Tournament 2 playing Panda and knocking out the advanced bear fighting moves while I wait to play a Panadrian Monk in the mother of all MMOs World of Warcraft. I wasn't planning on playing Guild Wars 2, as I was worried it might become a distraction in couple of weeks when I need to dedicate all my time on leveling. But since its release I started hearing whispers that this was the WoW killer and finally I was convinced to give it a whirl.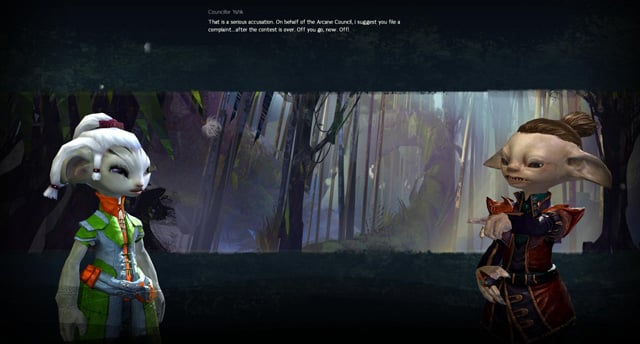 Make a point
Guild Wars 2 is so much more than a distraction and this review will surely just be an introduction to its complex, charismatic world. If you consider yourself in any way a gamer, this should be an essential purchase, but let's start with why you should buy it. For starters, there's no pay-to-play. After playing Guild Wars 2 it will be very hard for me to justify a subscription to WoW or anything like it ever again.
The game takes place 250 years after its predecessor, and the world of Tyria has taken on an epic scale. This is a beautiful world of brush strokes and a triumph of the imagination that demands attention and exploration. The best-looking game of 2012, Guild Wars 2's cities and towns are full of stunning distractions. I'm in love with the expandable minimap and this is just one of the creative flourishes that decorate this game.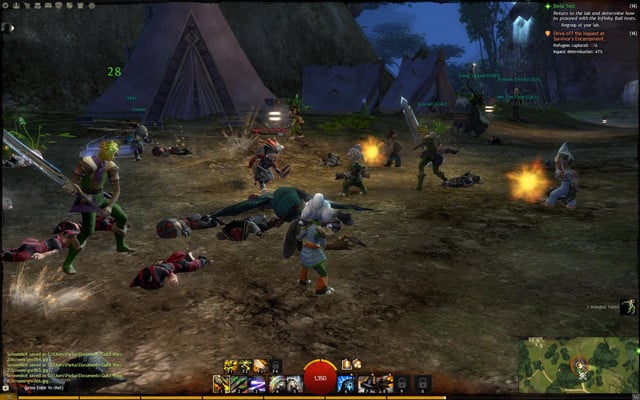 Camp behaviour
The playable races and creature design compare favorably in cartoony realism to WoW's Paladins, pandas and werewolves. The five playable species each have their own rich lore and suitable starter area. I chose to play an Asura because they seemed to be the cutey of choice for every girl gamer.
There are eight professions to mold my skills and a wealth of customisation options. I chose engineering which allows me to spawn turrets and open weapons kits which were extremely valuable for the flame throwers and their short ranged AOE.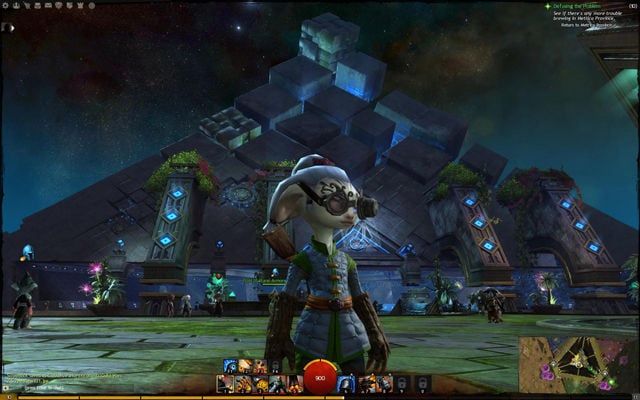 Cube base
COMMENTS
Re: Hmmm
Grind isn't grind unless you're repeating the SAME content because you have to. If you're playing, and enjoying the tasks you're doing, that is by definition, not a grind.
Good example of a grind is doing WoW heroics over and over to get the correct number of badges so you can ride into raids. Not many different pieces of content, but the same pieces of content over and over.
Loving it at the moment
I'm a casual 'casual mmo'er' and I'm loving GW2. While the main game is fun and they've cracked the whole 'other people being in the area is a good thing', it's the little things that have hooked me. Being able to gather all materials is a great start, automatically storing crafting goods in the bank from anywhere is a great point and crafting materials don't use up bank slots is the icing on the cake. They've sat down, looked at the hoops people jump through by creating 'bank alts' and removed them. Very little gets in the way of enjoying the game.
As I get bored of mmo's very easily, the little distractions they've added are great. My aimless wandering now earns XP woot. There may even be a chance I'll have completed the story by the time the first expansion comes out, it's that good. I was only 55 when the burning crusade came out for WoW and I had been playing since day one.
For the more casual player, end game content just isn't an issue. Life is too short to grind away at end game content, and making a continuous chunk of my time available for a raid is not something I'm prepared to do. I want to be able to stop for a cuppa/go to bed when I need to.
For me, the vast majority of my time would be spent on the main game content (before the end game content). It took me at least three months of playing WoW to level a single character to around 60, at which point I stopped playing because it's just too expensive to justify a monthly subscription if you are a casual gamer. Not to mention the fact that everyone else I played with seemed to have levelled way faster, because they put more time in.
When you look at the cost of GW2, and the amount of content it has, it seems like a great proposition for the more casual gamer. It solves a number of problems with the WoW model for me. I just want to have a chat with my brother while mucking about smashing monsters once in a while.
Very tempted (all I have to do now is tear him away from his new panda - he's more dedicated).
There's the usual complaint about 'lack of endgame content'; but what most people miss is that the level counter, in this game, is just a arbitrary number fixed at a cap of 80. even after that, you keep getting XP and skill points as you level further. In a sense, the entire game is the same as the 'levelling' part - which just about everyone agrees is fun as it is.
Most certainly not a game where rushing to level 80 is mandatory. Just sit back, slow down, and have fun. I know WoW trained us all to rush, but this isn't WoW, and it shows. Play it for fun, not as a job.
Re: Trading?
I believe Lucy is referring to the game's lack of a method to directly trade items between characters. You have to use the TP or mail system.