Democratic congresswomen 'less feminine in appearance' than Republicans
The 'Michele Bachmann effect'
Time-rich psychologists in the USA say they have discovered that female Democratic politicians are significantly less feminine in appearance than Republican ones - so much so that it's often possible to tell which party a woman politico belongs to just by looking at her.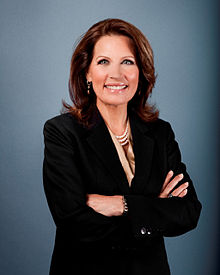 Michele Bachmann (Republican)
"I suppose we could call it the 'Michele Bachmann effect'," says Kerri Johnson, assistant professor of communication studies and psychology at UCLA, who led the team producing this remarkable insight. Ms Bachmann is a Republican congresswoman whose features are rated as highly feminine.
According to a UCLA statement announcing the research, actual computers and stuff were used to figure out how masculine or feminine someone's face is:
[The researchers] started the project by feeding portraits of 434 members of the 111th House of Representatives into a computer modeling program used by researchers in their field. Loaded with a database of hundreds of scans of faces of men and women, the FaceGen Modeler allows researchers to measure how much the details of any one face approach the average for either gender ...

Rosa Delauro (Democrat)

The faces of Republican women rated, on average, twice as sex-typical — or feminine — as those of Democratic women.
And a survey among undergraduate volunteers showed that you can actually tell what party a US lady politico is by gauging how feminine she appears:
In fact, the relationship is so strong that politically uninformed undergraduates were able to determine the political affiliation of the representatives with an overall accuracy rate that exceeded chance, and the accuracy of those predications increased in direct relation to the lawmaker's proximity to feminine norms.
"Female politicians with stereotypically feminine facial features are more likely to be Republican than Democrat, and the correlation increases the more conservative the lawmaker's voting record," adds Colleen Carpinella, a UCLA graduate student in psychology.
We're told that feminine-featured Republican examples include Kay Granger (Texas), Cathy Rodgers McMorris (Washington) and Michele Bachmann (Minnesota). Comparatively masculine-looking Democrat congresswomen include Stephanie Herseth Sandlin (South Dakota), Rosa DeLauro (Connecticut) and Anna G Eshoo (California). The UCLA paper is to be published in the Journal of Experimental Social Psychology.
Perhaps interestingly, Democratic congressmen also appeared more masculine than Republican ones.
"It may be unnecessary for Republican men to exhibit masculinity through their appearance," Carpinella commented. ®
Sponsored: Minds Mastering Machines - Call for papers now open