Intel outs initial Windows 8 Atom tablet line-up
Acer, Asus, Dell, HP in the spotlight
Hot on the heels of yesterday's Atom Z2760 launch - the designed-for-Windows 8 system-on-a-chip formerly known as Clover Trail - Intel has named the first tablets and convertibles that will ship with the new chip when the new Microsoft OS launches next month.
Step forward, then, Acer and its Iconia W510, Asus with the Vivo Tab TF810, Dell's Latitude 10 and HP's Envy x2.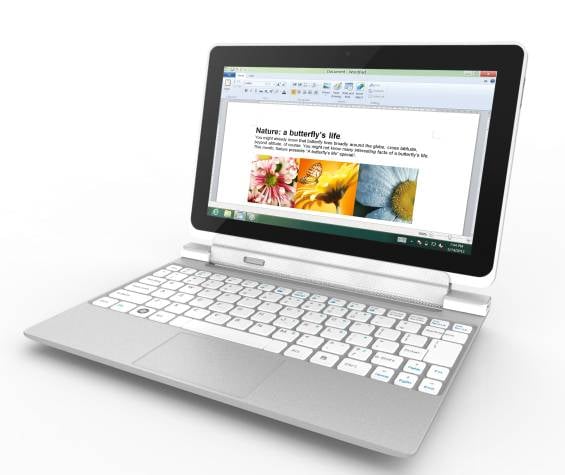 Acer's W510
Not all of them are new introductions. HP showed off the x2 at the recent IFA show, and you can read our hands-on first thoughts about it here.
The x2 is an 11.6in laptop-like machine with a removable display that becomes a tablet, Asus Transformer style. Ditto Asus' own Vivo Tab, an 11.6in, Windows 8-based answer to the company's aforementioned 10in, Android-running slate.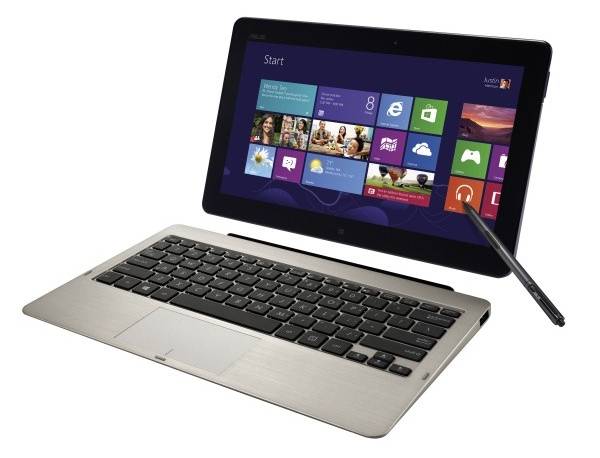 Asus' Vivo Tab
The Acer Iconia is a 10.1-incher and it too comes with a clip-on keyboard. No prizes for guessing the Latitude 10 is a 10in tablet, for which Dell is offering a desktop dock offering Ethernet connectivity as well as the usual USB and SD ports. Aimed at IT Pros, it will ship with Windows 8 Professional.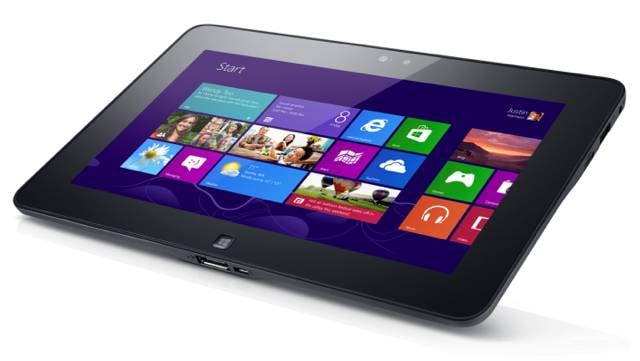 The Dell Latitude 10
Since the Atom Z2760 runs at up to 1.8GHz in burst mode, so should all of these offerings, which among them offer all the customary tablet capabilities, capacities and connectivity. ®
COMMENTS
Funny, I did a bit of googling to get the specs of Dell's offering.
All the usual connectivity etc etc and a powered dock giving no fewer than 4 usb ports. There's a full size usb on the tablet itself and a mini-hdmi. I was getting quite interested and then I saw the screen resolution. Yes, that's right, you guessed it. NFW are they getting a penny piece off of me if the best they can offer is 1366 x 768. Most of the x86 tablets are going to be priced as high-end or medium-high-end kit. Manufacturers who think that they can get away with screens like that at the kind of prices they are likely to be charging can kiss my *******.
Flattery
Wow that Acer looks more like a Transformer than the Asus.
Re: "More would be nice, of course, but it's at least at the minimum level."
That is the point IMO. We have had those resolution specs as standard for how many years? When we take into account what the OEMs are likely going to charge for these devices there is no excuse for a resolution that was "cutting edge" most of a decade ago. I accept that the resolution is "good enough" in the sense of being usable, but if one is going to persuade punters (enterprise or home retail) that they should be willing to blow the dust off their wallets then the OEMs are going to have to do better than this. I am not surprised that MS decided to "benchmark" the market with their "Surface" devices - they clearly had a gut-feeling with regard to what their "partners" could be expected to produce.
:)
AF.
when i see the word atom
Intel really need to drop the atom moniker. No matter how well the new chip performs under windows 8, as soon as I see the word atom I always think underpowered irrespective of how good it may actually be. however, I'll probably pick one of these up just to play around with and then regret not getting a second generation device..
Re: Funny, I did a bit of googling to get the specs of Dell's offering.
1366 x 768 seems to be Microsoft's minimum spec for this kind of tablet. Not horrible, but given I've got 1920x1200 on my new Android tablet, it would be a step backwards.
They're probably under some price pressure, particularly after Microsoft announced their own "Surface" tablets. Microsoft will hit the street with a $50-$100 price advantage over any OEM, and since these are being pushed into the iPad market, they're also competing against Apple and all those Android devices head-to-head.
The Atom has typically been about as fast per clock cycle as the ARM Cortex A9, but usually run much faster. They may have tweaked the Atom a little for the Cloverview SOC, but most of the Android tablets are running much faster these days, as well. And since they're running full blown Windows on this, they're not going to be as efficient as Android or iOS. In particular, while they can run desktop SW, that's going to run about as well as it has always run on a netbook. The Windows 7 Phone apps should very fast, but they're Windows 7 Phone apps.. not very evolved. And the Windows 8 Metro things are still fairly scarce.
With this year's Android tablets going quad core or dual core Krait, this isn't likely to be faster. But it's likely to be on the pricey side, even with all the cost cutting. Power-wise, the new Intel stuff looks better for tablets than phones, but we'll see... all-day runtimes are not negotiable on a tablet. And where's the DDR3? That's both a performance boost and a battery savings over DDR2.
It's also interesting that, while these chips do support x86-64, the full power management runs only on 32-bit Windows for some reason. So all of these tablets are launching as 32-bit products.