Purpose of RFID finally discovered: It's for pairing up socks!
Well, maybe
The dream of 21st-century man, socks that pair themselves, is almost upon us with special hosiery which can find its mate using only an iPhone, an embedded tag and an RFID reader.
The socks come from Blacksocks, and feature a heat-tolerant RFID tag identifying the pair to which the garment belongs. Sadly the iPhone has no RFID reader, so a separate reader is waved over the laundry pile to track down the errant match, the details being reported to the iPhone application, as RFID Journal explains.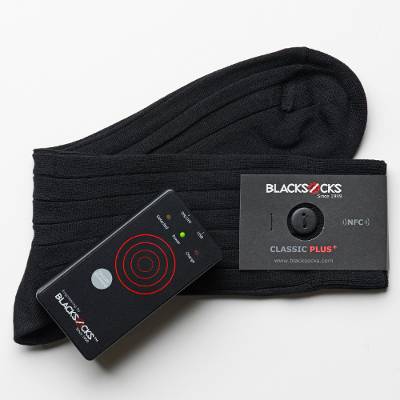 Astute readers will have noticed that if all one's socks are black, and of the same cut, then surely the maintenance of each relationship isn't important, but that would be because such readers aren't in the market for socks which cost £12 a pair (in batches of ten).
It's not just about keeping the pairs together, the iPhone app will also use the camera to judge if your socks are still black enough to continue wearing, though they'll never be as black as proper priests' socks, obviously.
The app will also record how often they've been washed, though this is based in how many times the tag has been read, rather than any temperature monitoring, and (most importantly) let you order more socks at the tap of a button.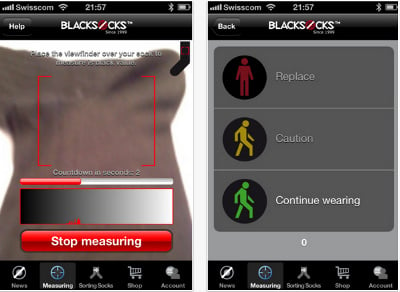 If you have to photograph your socks to see if they're black something is seriously wrong
Mainly this is quite silly, for customers who really do have too much money. Even if the principle were expanded, and made cheap, it really using an aircraft carrier to crack a nut, and what would become of the Oddies if every sock were tracked from production to disposal?
People who hate sorting socks can just wear boots, as your correspondent long-ago decided to do, that way no-one knows if the socks are paired as long as they've not got tell-tale RFID tags embedded. ®
COMMENTS
Active Tracking
I think some form of active tracking device is needed to work out where the socks sneak off to when you can never find one of the pair...
From FaceBook to SockBook
Since most privacy-aware people would never accept carrying an NFC tracking device (e.g. on his ID card/passport), why not devise a way to have the geeks wear them and be proud of them? I wouldn't be surprised if in the near future all kinds of shops gave the socks (or other NFC-enabled clothing items) away as "gifts", since in the long term it would allow the global tracking the owner of the credit card that made the purchase.
An additional benefit is that sock NFC detectors can be embedded in the floor and not be visible. Sniffing socks has acquired a whole new meaning.
First thing Monday morning, I'm going to patent a new generation of shoes lined with tinfoil and gain millions by just licensing the patent!
I'll take the bait!
But, don't you mean 254 shades of grey?
Missing socks turn into wire coathangers. It the only explanation for the shortage of one and the surplus of the other
My wife sorts out my socks
Saves a lot of trouble, and I can certainly recommend this method as it has many other side benefits that may not be immediately obvious.
She says it's relaxing, so I'm happy to leave her be.