Power to weight ratio
So here we are in 2012. This, now the third iteration of the 13-incher, was released this summer and provides a healthy speed boost touting an the same chippery that can be found on the latest Ultrabooks and (at last!) USB 3.0. Otherwise it's visually identical to the model it superseded. No surprises on that count: once Apple has a successful design it sticks with it for the long run.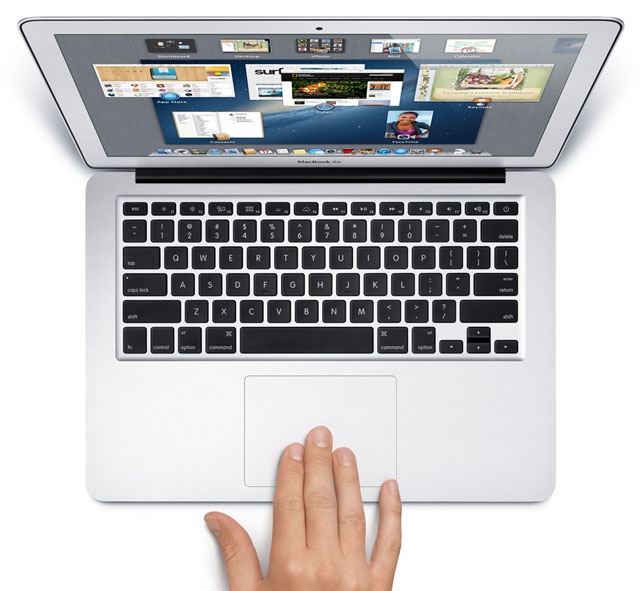 Multitouch gesture support continues to grow
And I'm coming from the perspective of being an 11in MacBook Air user. The smaller Air sibling has a 1366 x 768 display and weighs even less, not much more than 2lbs. It's almost as light as the leather shoulder bag I carry it in, and the weight/performance ratio seems miraculous. But the screen is so dense, it is not a pleasant experience to use for very long.
The keyboard is the same as on the MacBook Pro – and is the same size as the Air – the only difference being the function keys on the Air are the half-height of those on larger models. The Air saw the On/Off key – a feature of Macs in the Eighties and Nineties – return to the keyboard after almost a decade. And it's much more comfortable to use - there's somewhere to rest your wrists.
What's new in this refresh: the Ivy Bridge chipset in the Summer 2012 Air gives around a considerable speed boost. Although available in Intel Core i7-3667U guise too, this no-frills 13in Air, with its 4GB of RAM and 128GB SSD, features an Intel Core i5-3427U CPU and tests running Windows 7 PC Mark benchmark in Boot Camp scored 4351 – a 20 per cent improvement on the Sandy Bridge model it supersedes but not as nifty as the 5422 score of the pimped-up Intel Ivy Bridge Whitebook we tested recently. Even so, the machine feels considerably faster overall.
With USB 3.0 joining the Air family, and with Thunderbolt now standard across all Apple portables, you shouldn't be too hampered for high speed peripheral connections. Even though the promise of Thunderbolt is still largely theoretical. The long-awaited hubs have yet to appear – the closest you'll get to one of these is the impressive array of connectivity found on the back of an Apple Thunderbolt display.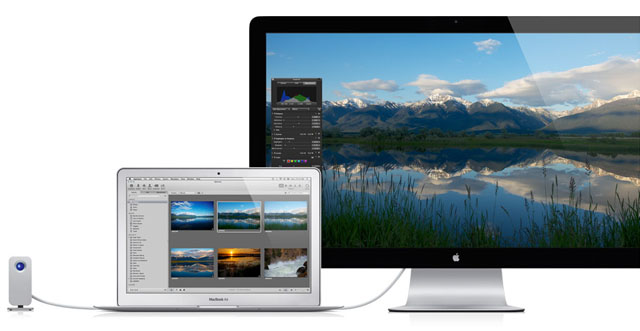 Thunderbolt features across the range, but only a few peripherals have materialised
Battery life was interesting. I can now see why Apple decided to turn off the option of showing "time remaining" in the menu bar: the time estimate fluctuates wildly in Mountain Lion, although the recent 10.8.2 update seems to have improved matters. Some gentle use with the screen at half or one third brightness produces a time estimate well in excess of seven hours on a full (or good) battery charge. But leave a few web pages running, with the dreaded Flash, and it's cut to three and half.
Overall, it's good for its 7 hours typical use estimate.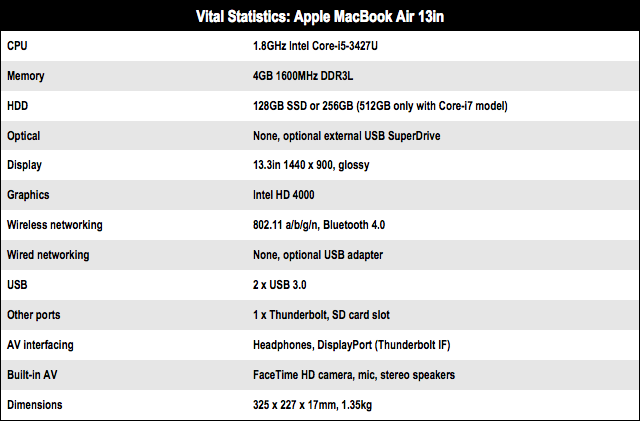 COMMENTS
Got a Macbook Air just over a year ago - have to say it is 'by far' the best laptop (for me) I have ever had and not just saying that because it's the newest. As someone who actually carries their laptop around (rather than being just a desktop replacement) it's been fantastic - so much smaller and lighter but still just as useable.
No I do not need a built-in DVD drive - so it's fine for me - for the few times I do (perhaps 1-2 times in the last 12 months) I have an external drive than is barely larger than a audio CD case. 9.5/10 - for what it is can't fault it - screen res is perfect for it's size, battery life is great, solid state is more reliable / rugged. The whole lot is like carrying an A4 pad and even the power adapter is barely bigger than a plug on a conventional laptop.
I'll admit it was not the cheapest but for what it is it's near perfect - the real test - if I lost it would I replace it - yes immediately.
Re: Expensive flash and no ports .....
hmmmm
just as good = inferior display - what planet are you on?
Think what you meant to say was for your particular use case you were only willing to part with £500 (btw was that real retail - a quick google suggests the online price of the current version is closer to £650).
So in short your comment should read" I have no need for the features the air has over my tosh - therefore I question the value of the Air for my own little world but I fully understand that others need to have a better screen or different OS validates their desire to pay more".
Agree with me or just having a thinly veiled dig at Apple for no real reason?
Re: So like the new iPhone
The MacBook Air (released January 2008) is Apple's take on the Sony Vaio TT (released September 2008)?
How does that work?
@steve78
There are many great features about mac laptops that I love but you are spot on with the trackpad comment. That is obviously your main means of interacting with the device and every single non Apple trackpad I have personally tried hasn't even come close to the muti touch pads used on macs. Worth the premium alone in my opinion.
Re: Did it have a rotten Core?
Yeah because when I've just spent £1000 on a laptop the first thing I do is open it up.
Tinkerers are probably 1% of the market and less than 1% of Apple customers.