Apple MacBook Air 13in review
The other Ultrabook
Two years ago Apple got really serious about thin and light laptops - and did something really quite important. It replaced its original Air model – that was by then almost three years old – with two new designs. The first Air had been widely perceived to be an expensive novelty, over-priced and under-powered, and it didn't look likely to change the industry.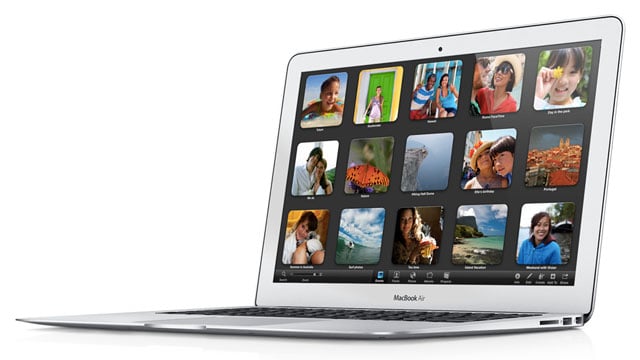 Ivy Bridge on board: Apple's MacBook Air 13in
But the revamp changed all that.
Previously, sub–3lb notebooks – that you could comfortably pick up with one hand – had been seriously compromised. For years, laptops in this category used 11in or 12in displays with XGA resolution (1024 x 768) or, in the case of netbooks, something even lower. Think of the Thinkpad X series – say, this one from 2004. And you'd be hard pressed to squeeze more than two hours out of the meagre battery.
However, if you wanted to do some serious work – software development in a modern an IDE, a professional app such as Pro Tools, or a large Excel spreadsheet – you needed the largest display possible: at least 1400 pixels wide. There were plenty of models offering such generous real estate, but these monsters weighed in at 5lb or more typically, 6lb.
The 13 inch Air was the first Mac to be both seriously portable, at under 3lbs, and offer a decent display featuring a 1440 x 900 resolution. It vindicates Apple's strategy of tinkering away at the margins, perfecting the design, until the price of components comes down enough for it to strike at a much bigger market. The iPod, we tend to forget, was one of these experiments. When it launched in the UK, it didn't leave you much change from £600. The Apple TV might be another.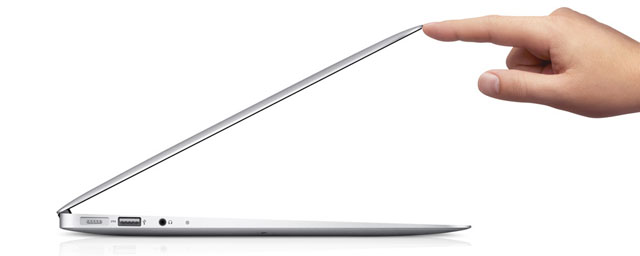 USB 3.0 at last
So why tell you something that's ancient news? Because the 13in Air's combination of one-handed pickup and decent screen size is still the singular characteristic of the MacBook Air 13, and it's what makes it, perhaps, the nicest I've ever used. For years my main laptop was a 15.4 inch PowerBook or MacBook Pro - tipping the scale at close to 6lbs. Now you can have the performance and generous screen in something much more convenient. And what ever else you take away from this review - it's this miraculous combination of screen and weight that overshadows every other aspect of the machine.
Being fussy, it's not perfect, and I'll come to the drawbacks in a moment.
COMMENTS
Got a Macbook Air just over a year ago - have to say it is 'by far' the best laptop (for me) I have ever had and not just saying that because it's the newest. As someone who actually carries their laptop around (rather than being just a desktop replacement) it's been fantastic - so much smaller and lighter but still just as useable.
No I do not need a built-in DVD drive - so it's fine for me - for the few times I do (perhaps 1-2 times in the last 12 months) I have an external drive than is barely larger than a audio CD case. 9.5/10 - for what it is can't fault it - screen res is perfect for it's size, battery life is great, solid state is more reliable / rugged. The whole lot is like carrying an A4 pad and even the power adapter is barely bigger than a plug on a conventional laptop.
I'll admit it was not the cheapest but for what it is it's near perfect - the real test - if I lost it would I replace it - yes immediately.
Re: Expensive flash and no ports .....
hmmmm
just as good = inferior display - what planet are you on?
Think what you meant to say was for your particular use case you were only willing to part with £500 (btw was that real retail - a quick google suggests the online price of the current version is closer to £650).
So in short your comment should read" I have no need for the features the air has over my tosh - therefore I question the value of the Air for my own little world but I fully understand that others need to have a better screen or different OS validates their desire to pay more".
Agree with me or just having a thinly veiled dig at Apple for no real reason?
Re: So like the new iPhone
The MacBook Air (released January 2008) is Apple's take on the Sony Vaio TT (released September 2008)?
How does that work?
@steve78
There are many great features about mac laptops that I love but you are spot on with the trackpad comment. That is obviously your main means of interacting with the device and every single non Apple trackpad I have personally tried hasn't even come close to the muti touch pads used on macs. Worth the premium alone in my opinion.
Re: Did it have a rotten Core?
Yeah because when I've just spent £1000 on a laptop the first thing I do is open it up.
Tinkerers are probably 1% of the market and less than 1% of Apple customers.