Skydiver sets date for 'supersonic' edge-of-space PLUNGE
'Like a parachuting Austrian tiger in a cage'
Vid Balls-of-steel skydiver Felix Baumgartner has set a date for his "supersonic" attempt to break the world's highest space jump record.
The 43-year-old Austrian will fall out of a 22.7-mile-high capsule on the 8 October.
His attempt to shatter the record was delayed after the capsule - a custom-made pressurised vehicle that will be raised by a helium balloon - was damaged during a trial run in July. Word from the launch team is that the device has been fully fixed, and has undergone all the necessary tests to prove it can withstand the high-altitude stresses.
Baumgartner said he was delighted that there was now a date on the jump: "I feel like a tiger in a cage waiting to get out," he said.
The serial skydiver will plummet at the speed of a slowish bullet if his attempt goes to plan, and claims he will hit a top speed of 690 MPH (the speed of sound 23 miles up, according to Wolfram Alpha) and possibly breaking the sound barrier 30 seconds into his dive.
The Austrian will perform the dive in a pressurised suit. If successful, it will beat the previous world record for the highest jump, which was set 52 years ago by US air force Captain Joseph Kittinger who skydived from an altitude of 19 miles.
But even if Baumgartner pulls off the jump, he won't be fastest man to plunge through the air: in 1966, an SR-71 "Blackbird" spy plane cracked up at Mach 3, and its pilot, who survived the accident, is presumably the fastest free-faller ever.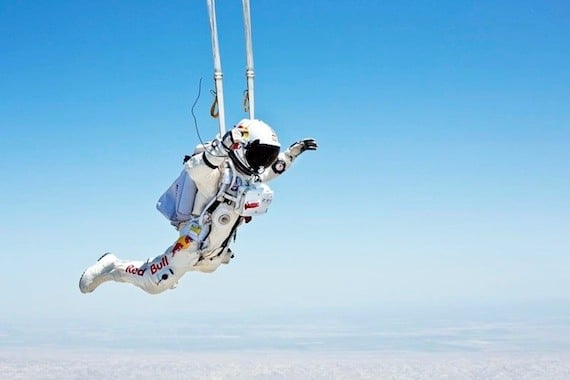 Austrian Baumgartner mid-jump: parachute deploys during a test jump over Taft, CA in June
The stunt is not all about adrenalin, however. A central aim of the Red Bull Stratos project is apparently to collect valuable data for science that could ultimately improve the safety of space travel and enable high-altitude escapes from spacecraft. The vid below shows how the jump in October could play out:
The balloon launch will take place above the desert in New Mexico. ®
Sponsored: Minds Mastering Machines - Call for papers now open