Kindle Fire dowser, iPad price beater
The HD+ will come in a £229 for the 16GB model and £269 for the 32GB version. That's £170 and £210, respectively, less than the equivalent iPad 3s for a very nice tablet with a retina-level display that's only eight per cent smaller in the diagonal. As a comic buff, reading digital comics on the Nook was no less a joy than it is on the iPad's slightly larger screen. It's the first large-format tablet other than Apple's I'd consider buying.
B&N promises there will be plenty of titles available at launch, with all the major and many of the key second-tier publishers included. The company is promising access to more than 2.5 million books too, plus a raft of UK-oriented magazines and newspaper when it launches the UK version of the Nook Store next month. Video is coming in time for Christmas, not only to the Nook line but to iOS and pure Android devices too. A truly novel touch: periodical pages can be 'torn' off and saved for future reference, handy for folk who tear recipes or other clippings out of the papers.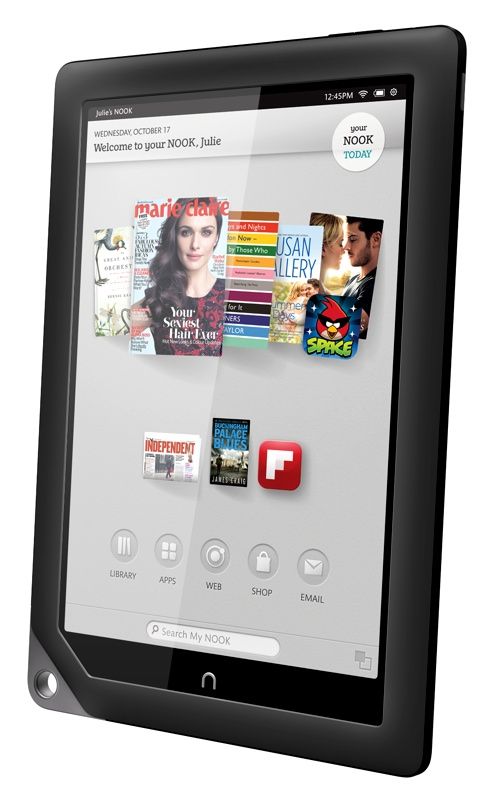 Easy on the eyes, easy on the arms
The Nook tablet UI – Android sits well hidden beneath – is geared very much to the buyer: it's a virtual shopwindow, after all. Me, I like my devices to be less 'Buy! Buy! Buy!' than that, but that's not going to worry most buyers, and there are generic tablets for the rest of us. Nook's magazine UI provides publishers with a range of navigation tools 'for free', so that should encourage more periodicals to hop on board, especially those unwary of investing in native app development. And for parents worried their kids might discover their digital copy of Fifty Shades, the tablets support multiple user profiles – drag down from the top of the screen and tap a photo icon to activate one – allowing a tablet to be easily shared among family members.
The book store is set to go live mid- to late-October, to tie in with the availability here of the Nook SimpleTouch e-book reader. It's a nice device, with the customary 6in, 16-greyscale, 600 x 800 E Ink Pearl panel overlaid with a touchscreen. Unlike the Kindle Touch, the Nook also has physical page-turn buttons. It's cheaper too: the Kindle Touch is £109, the basic Single Touch £79. Of course, Amazon's non-touch Kindle is only £69. As someone not keen to have touchscreen tech on my e-reader, I favour the lower price and thinner casing, as the touchscreen thickens the device and the bezel on both Touch devices. Overall, the Simple Touch is clearly a better-built product, solid but not heavy and not as rattly as my Kindle 4. It's worth the extra tenner on that alone.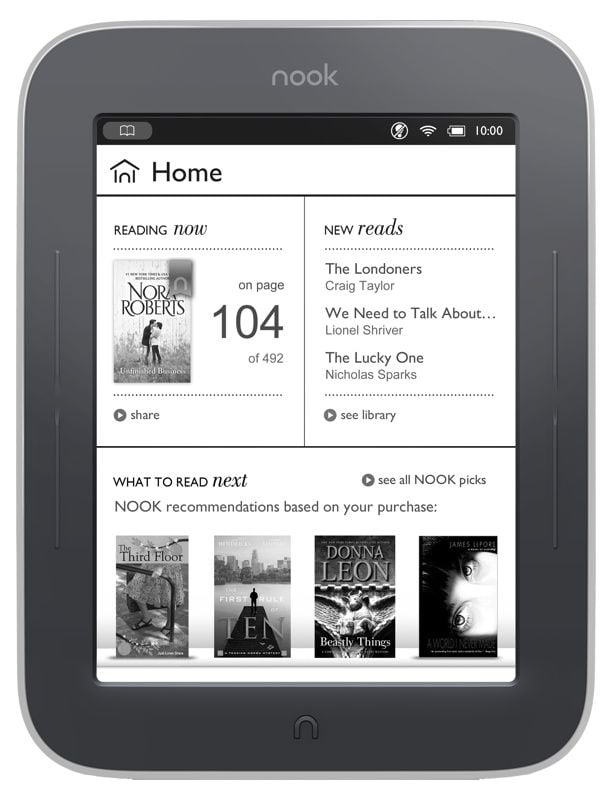 With GlowLight, the Simple Touch makes for a great bedtime reader
Pay £109 – the same as the basic Kindle Touch – and you'll be able to get the Nook Simple Touch with GlowLight. Technically, this isn't a backlight: six LEDs shine down through the top of the screen, set at a patent-pending array of angles to ensure the light reflecting off the back of the E Ink panel comes out as evenly as possible. There's room for improvement, for sure, but it's great to have an e-reader you can easily read in bed. The backlight dims right down, yet the screen remains well readable.
With the light on, you'll get a month's reading out of a full battery charge, B&N says, rising to two months if you just use natural light. Both Simple Touches have on-board 2.4GHz 802.11n.
Verdict
Barnes & Noble is undoubtedly entering the UK e-content market at a gallop. It has four excellent products here – two e-readers, two tablets – that match or beat the best in their respective categories on price and deliver some impressive display technology. Since all devices of these two types are, first and foremost, designed to be looked at, that matters.
As I say, some folk may be put off by the vendor centricity – each device is as much a B&N shop as a content viewer, after all – but for most consumers, that's not going to matter overly. And since B&N supports the ePub format with Adobe DRM, its gadgets are compatible with many existing e-book shops, such as Kobo's and Sony's. Each Nook supports a broader array of other, DRM-less media formats than Amazon's offerings do.
Amazon has, at last, some very strong competition on its hands. And, given the price of the Nook HD+, so does Apple. B&N's only hindrance is Apple's marketing budget – expect saturation iPad advertising in the run-up to Christmas, especially if the iPad Mini surfaces next month – and the investment people who have already gone digital have made in Amazon e-books. B&N may not have Apple's marketing budget, but it will have its kit highly visible in Blackwell's, Currys, Dixons, Foyles, John Lewis, Sainsbury's and Waitrose shops. Even it it doesn't try to convert Amazon's customers – and I'd like to see it come up with some innovative new-books-for-old deals to encourage them to do so – there are plenty of Brits without e-readers or tablets who will love the Nooks. ®
Barnes & Noble Nook HD and HD+ hands-on review
COMMENTS
Re: Radians
Don't be obtuse. Though if you can patent rounded corners...
Re: But what about Kindle books?
And therein lies the rub. Not just with this, but with the Kindle, anything with 'i' at the start of its name, and several other offerings.
I really do think we've gone backwards - back in the 70's there were the Unix wars and other such events which basically revolved around big companies trying to lock-in their customers. Everyone sighed with relief when this all came to an end with the open architecture that was the PC. Even when MS got its claws on it, it's Mickey Mouse OS's were still pretty open and you could pretty much do what you liked.
Since Apple started to rise from the ashes, we have (and still are) inexorably falling back into a culture of lock-in. Except it's arguably even worse now because what is being locked-in is stuff that has previously been open and freely available (and no, I don't mean pirate-able), like music, and books and other media. I'm guessing it will go on for a few years (maybe a decade or so) before someone comes up with another "PC" and suddenly everyone will be sighing with relief at the "new" open architecture that we can pretty much do anything we like with. Until then, it looks like walled gardens (gilded prisons) , lock-in and general control over what we do and what we don't do with stuff we've bought will continue for some time.
Re: If you can't root it you don't own it.
"a satnav which doesn't have the motorways in its database" - a Ferrarri running iOS 6 then ?
"There's room for improvement, for sure..."
On a tech site you can't leave a comment in the air such as the one above without backing it up.
What are the deficiencies of the Nook GlowLight?
Specifically, it would be useful to know how it compares with it's competitors: Kindle Paperwhite and Kobo Glo.
As the Kindle Paperwhite will not be released in the UK until next year (spring?), the Kobo Glo is the main UK competitor.
Other than the Glo having better resolution and the Glowlight having physical buttons, how do they compare?
If you can't root it you don't own it.
Having such capable tablets being locked into the parent companies own app store means you can't use the vast Google Play store without rooting the device, which is like buying a Ferrari that has been speed limited to 40mph with a satnav which doesn't have the motorways in its database - a sad trend indeed.
.
sent from my rooted Nook Tablet