Barnes & Noble Nook HD and HD+ hands-on review
Gorgeous screens and low prices take on Amazon, Apple
Review Giant US book retailer Barnes & Noble is coming to the UK, setting up shop here to sell e-books online rather than finding a foothold in the High Street. Its weapons against established retailers and arch-rival Amazon: the Nook Simple Touch GlowLight 'backlit' E Ink e-book reader and a pair of new tablets able to take the fight not only to the Kindle Fire and the Asus-made Google Nexus 7 but also Apple's dominant iPad.
B&N reckons its USP is the screen technology it's building into the two tablets, and when the company put one of each in my hands this week, I could immediately see why. The specs tell part of the story: the 7in Nook HD sports a screen resolution of 1440 x 900 - the same as my 15in MacBook Pro, for example. That, says B&N, is the highest resolution yet found on a 7in tablet.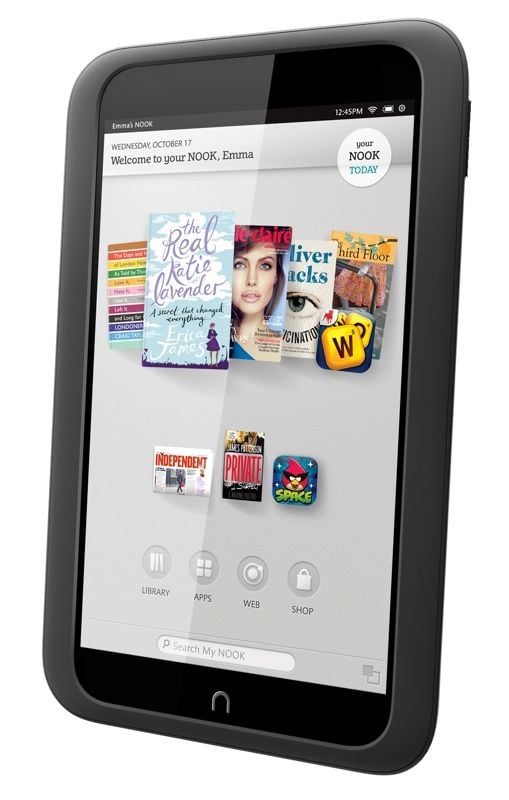 B&N Nook HD: seven-inch smasher
It's certainly knocks the socks off my Nexus 7's 1280 x 800 display. Photos don't do it justice. Text is crisper, obscuring the pixellation I can see on the Nexus, especially on italics. It's also brighter at any given point on the brightness slider control, and colours are much more vivid. It's a gorgeous display – the best I've seen on a seven-incher.
Unlike the Nexus, the Nook HD is powered by a Texas Instruments OMAP 4470 processor clocked to 1.3GHz – the Nexus runs an Nvidia Tegra at the same speed. I wasn't able to play games, but the Nook felt no less responsive in general use than the Google tablet.
Packed within is a 4050mAh battery good, says B&N, for 10.5 hours of reading, though that's with the device's 2.4GHz 802.11n Wi-Fi radio turned off, something most folk won't do, not least because both Nooks are so much handheld shopfronts for B&N goods. Wi-Fi shouldn't eat too much into the battery life while reading, so you're probably looking at a battery life comparable to the Nexus' eight hours.
The Nook HD is slightly shorter and wider than the Nexus, and fractionally thicker, so it doesn't feel much different to hold. The extra width makes for a bigger bezel, if you like plenty of room to grip your tablet. But the B&N machine is noticeably lighter: 315g to 340g. The Nexus is by no means heavy, of course, but weight slowly and surely plays a part when you hold a device for a long period of time. Less it better.
The Nook HD has a pair of stereo speakers with SRS sound enhancement but can do Bluetooth audio too and there's the inevitable 3.5mm port. To me it sounded fine through the Bluetooth speaker B&N had set it up with. It'll do HDMI out, by the way, but only with an optional adaptor connected to its proprietary dock port.
The 9in – 8.9in to be precise – Nook HD+ has a more standard 1920 x 1080 pixel array, close enough B&N claimed, to the iPad's 2048 x 1536 to make no odds. I'm not sure I agree, but I have to say the HD+ display is a worthy alternative to it. Being smaller, it still yields a pixel density of 256ppi – not so very far below the iPad's 264ppi. It's also a very nice screen. Plastic backed, it weighs 515g – 80 per cent of the iPad's 652g. Again, you'll come to appreciate the difference if you hold either tablet for long periods of time.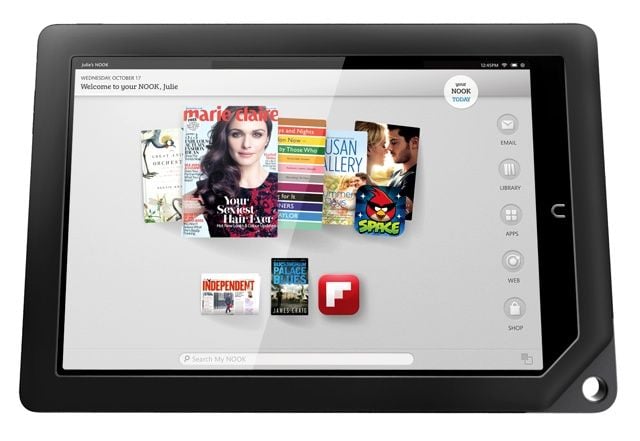 The Nook HD+ offers an iPad-comparable viewing experience at a fraction of the cost
The HD+ internals broadly match those of the HD, though the CPU is clocked at 1.5GHz and the battery is bigger: 6000mAh for a claimed ten hours' no-wireless reading time. How well those claims match reality remains to be seen – the HD and HD+ aren't shipping until November, so it'll be a while before El Reg gets reviews samples to test.
The HD will come with a choice of 8GB or 16GB of on-board storage. The HD+ will have 16GB or 32GB. Users wanting more space can slot in a Micro SD card – both machines have suitable receptacles. You'll easily be able to afford a card or two. B&N said the 8GB and 16GB HDs will retail for £159 and £189, respectively, both very competitive prices, matching the Kindle Fire HD and Nexus 7, both of which present lesser screens. They do have cameras, absent from the Nooks, but I'd say that's a deal-breaker for very few potential Nook owners.
COMMENTS
Re: Radians
Don't be obtuse. Though if you can patent rounded corners...
Re: But what about Kindle books?
And therein lies the rub. Not just with this, but with the Kindle, anything with 'i' at the start of its name, and several other offerings.
I really do think we've gone backwards - back in the 70's there were the Unix wars and other such events which basically revolved around big companies trying to lock-in their customers. Everyone sighed with relief when this all came to an end with the open architecture that was the PC. Even when MS got its claws on it, it's Mickey Mouse OS's were still pretty open and you could pretty much do what you liked.
Since Apple started to rise from the ashes, we have (and still are) inexorably falling back into a culture of lock-in. Except it's arguably even worse now because what is being locked-in is stuff that has previously been open and freely available (and no, I don't mean pirate-able), like music, and books and other media. I'm guessing it will go on for a few years (maybe a decade or so) before someone comes up with another "PC" and suddenly everyone will be sighing with relief at the "new" open architecture that we can pretty much do anything we like with. Until then, it looks like walled gardens (gilded prisons) , lock-in and general control over what we do and what we don't do with stuff we've bought will continue for some time.
Re: If you can't root it you don't own it.
"a satnav which doesn't have the motorways in its database" - a Ferrarri running iOS 6 then ?
"There's room for improvement, for sure..."
On a tech site you can't leave a comment in the air such as the one above without backing it up.
What are the deficiencies of the Nook GlowLight?
Specifically, it would be useful to know how it compares with it's competitors: Kindle Paperwhite and Kobo Glo.
As the Kindle Paperwhite will not be released in the UK until next year (spring?), the Kobo Glo is the main UK competitor.
Other than the Glo having better resolution and the Glowlight having physical buttons, how do they compare?
If you can't root it you don't own it.
Having such capable tablets being locked into the parent companies own app store means you can't use the vast Google Play store without rooting the device, which is like buying a Ferrari that has been speed limited to 40mph with a satnav which doesn't have the motorways in its database - a sad trend indeed.
.
sent from my rooted Nook Tablet