Hobbyist star-gazer cops amazing eyeful of Jupiter's space ball
Anyone can do it with the right kit, enthuses amateur astronomer
An amateur astronomer has captured stunning images of Jupiter's moon Ganymede.
Emmanuel Kardasis used computer kit, a "hobby" telescope, an off-the-shelf camera and his own observing skills to snap the heavenly body, and produce a rough-round-the-edges albedo map of it: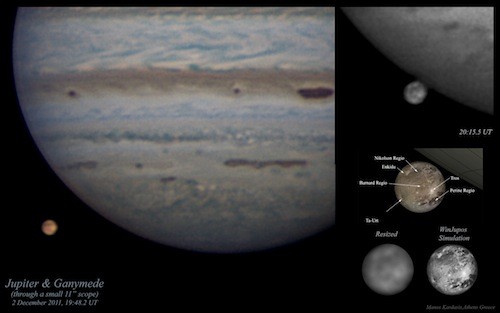 Nothing amateurish about this majestic image. Pic credit: Manos Kardasis
His impressive work will be presented at the European Planetary Science Congress (EPSC) in Madrid, Spain, tomorrow.
Kardasis, who is a member of the Hellenic Amateur Astronomy Association, explained how he was able to create the albedo map that captures areas of reflectivity on an object's surface.
"Ganymede has a tiny disk as seen from Earth so was a good test for my techniques. If the same methods were applied to other worlds, perhaps the volcanic moon Io, we could capture surface fluctuations. Professional observatories may create better images but they cannot monitor our rapidly and ever-changing universe," the astro enthusiast said.
His map strikingly aligns with professional images of Ganymede's surface, the EPSC declared. The photos appear to show features such as Phrygia Sulcus (furrows and ridges 3,700 km across) and the Nicholson region (a low-lying darker area), added the star-gazing boffins.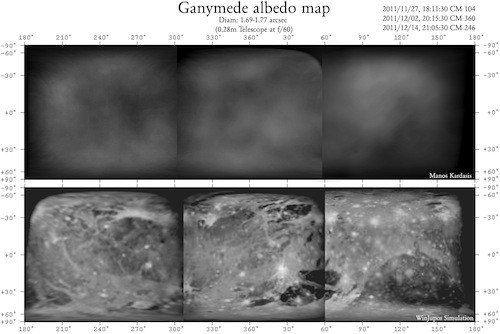 Kardasis' albedo map. Pic credit: Manos Kardasis
In order to create the images, Kardasis attached a camera to his telescope and shot a video of Ganymede. He hand-picked the sharpest frames from the vid that displayed the atmospheric conditions most favourably. He then stacked and aligned those images, before editing and enhancing them with software.
Kardasis said:
Creating useful images of planets requires a telescope with a diameter of at least eight inches. For tiny discs, such as the moons of Jupiter, bigger is definitely better. My Ganymede images were made using an 11-inch telescope. You also need a good motor drive on your tripod, a sensitive camera, some freely-available software, and lots of patience!
The hobby-scientist said he hoped his work would inspire other amateur star-gazers to use the equipment they have to hand to make useful observations of other planets in the solar system. ®
Sponsored: Minds Mastering Machines - Call for papers now open