Meet Shenzhen, tech capital of China
El Reg journeys to the city where much of our tech is made
Heading down to Huaqiangbei
Every major Chinese city has markets, shopping areas and department stores dedicated to high-tech products, but it's in the heart of where most of the stuff is made, Shenzhen, where there is the biggest concentration.
Dongmen shopping district is pretty good for the electro-tourist, and the Luohu Commercial Centre just across the border district of the same name is also apparently bustling with interesting tech.
However, the centre of the tech universe in Shenzhen is undoubtedly Huaqiang North Road (Huaqiangbei Lu) – a palm-tree-lined boulevard a few metro stops from the Luohu border with Hong Kong that runs for about one kilometre from the central artery of Shennan Middle road up to Hongli road.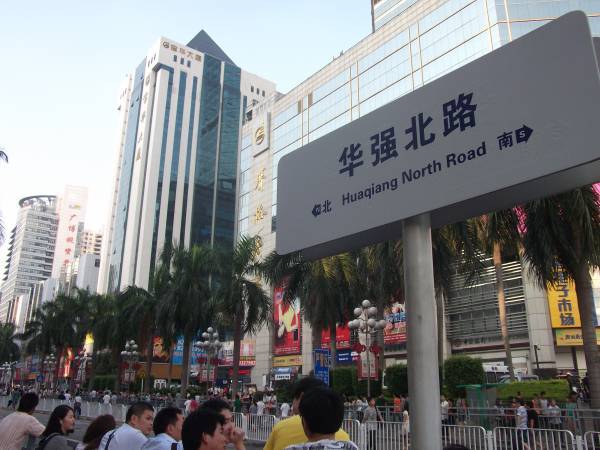 Here you'll find multi-floor department store sized buildings crammed with independent retailers, selling every conceivable item from PCs, to smartphones, batteries to wireless cards, cables, resistors, LEDs, monitors and more. Huaqiang Electronic World, Cyber Mart, the LED International Trading Centre – the list goes on.
Gome is probably the best known and the most likely to offer reputable items, although there's nothing particularly exciting here aside from a few unusual local phone brands such as K-Touch, Doov, TCL and Malata.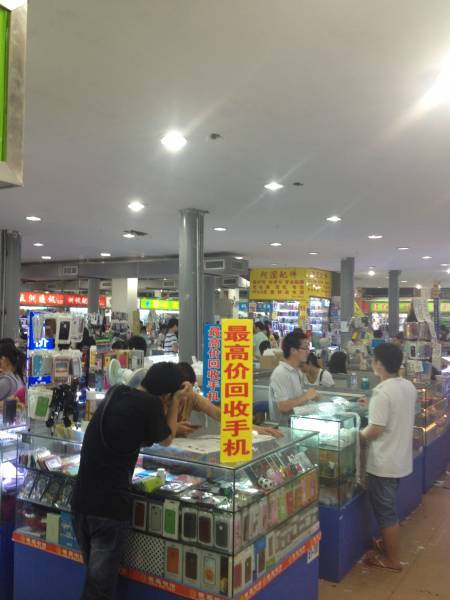 For a true insight into the madness of Shenzhen, poke your head round the door of the mobile mecca of Yuanwang Digital Mall, if your lungs will take it. It's a big, bad, smoke-filled, cavernous warren jam-packed with brash traders who'd rather walk into you then around, and filled with the grating sound of cardboard boxes full of kit being gaffer taped up for dispatch.
The ground floor is filled with booths selling mobile cases and other accessories, white, Apple-style jacks and leads, and, of course smartphones.
All the usual suspects were on display – the latest Samsung Galaxy models, HTC Ones, iPhone 4S (though orders were being taken for iPhone 5s), Motorolas and so on, although we couldn't vouch for their authenticity – as well as more obviously shanzhai items with names like Sunsung.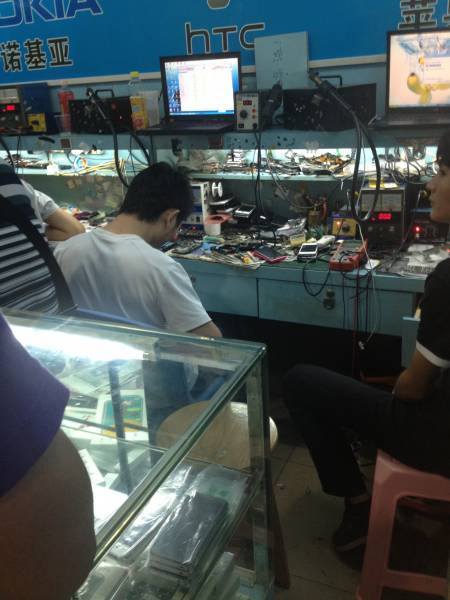 Towards the back, teams of repairmen beavered away under the low monotonous hum of the ubiquitous electric fans.
Upstairs the place gets even busier, with more phones for sale but this time bored looking women with long price lists are taking wholesale orders. Batteries, LCDs, memory cards and other components are being boxed as are smartphones, and the labels being hastily applied to said items makes it difficult to believe that much of it is legit.
There wasn't much doing on the other floors on this visit although we'd expect more of the same on busier days.
Sponsored: Minds Mastering Machines - Call for papers now open