Curiosity rover blasts, grabs and fondles its first Martian rock
Lump of Mars thoroughly investigated in drive-by examination
Mars rover Curiosity has completed its first contact with the Martian surface, successfully fondling a rock with its robotic arm.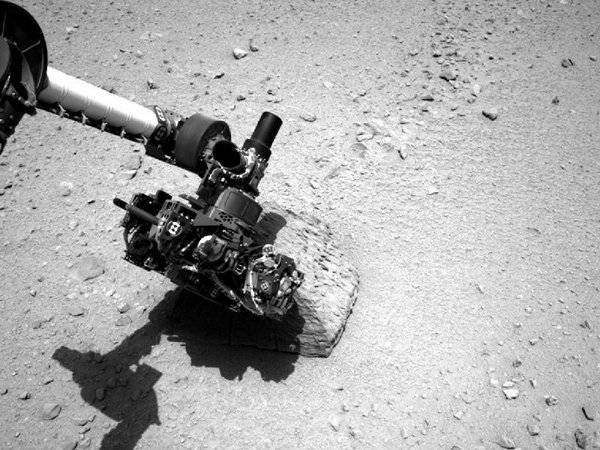 The nuclear truck arrived at the "Jake Matijevic" rock, named after a late NASA engineer, after a short drive and probed the stone with its robotic arm to assess its chemical elements.
As well as getting to grips with the Martian rock, Curiosity also blasted the specimen with its Alpha Particle X-ray Spectrometer, which is on a turret at the end of the arm. The Mars Hand Lens Imager, also on the turret, got a close-up shot of the rock.
The Chemistry and Camera instrument, or ChemCam, shot laser pulses at Jake Matijevic rock from the top of the rover's mast, to help verify the chemical findings.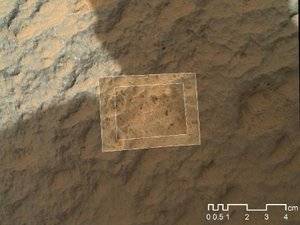 Close-up of Jake Matijevic rock. Credit: NASA/JPL-Caltech/MSSS
The rock won't necessarily give Mars boffins a lot of data to work with, but the football-sized specimen was a good opportunity for Curiosity to test its gizmos and gadgets before it gets down to the serious science at Glenelg.
With the drive-by test-run behind it, the rover has now resumed its journey to Glenelg, where three different types of terrain will give it plenty to do. There it will get to use another of its robotic arm's attachments: the drill.
Before that, Curiosity is keeping its eye out for some likely soil to scoop up and pour into its onboard labs for analysis, as it starts its search for environments that have supported or could support microbial life. ®
Sponsored: Minds Mastering Machines - Call for papers now open