Mophie Powerstation Pro

I'm not too sure why you'd need to ruggedise a portable charger as heavily as this, but with official IP65 rating, the Powerstation Pro is one hefty juice pack.
Two rubber flap-protected ports - a USB out and Micro USB in - are fiddly to access for nailbiters like myself, but you'd be thankful for that if you pulled this one out on a sandy beach. A button on the side engages a quartet of LEDs that line the top to show how much power remains.
The unit will take up most of the space in any pocket it's carried in and is a tad on the heavy side anyway for such use, so is more suited for bags.
The industrial look is awesome, but you do pay for that added protection and charging almost a hundred quid seems excessive, particularly with only a micro USB cable supplied. We found a quarter shaved off that RRP on Mobile Fun, so shop around and you can source a juicy deal.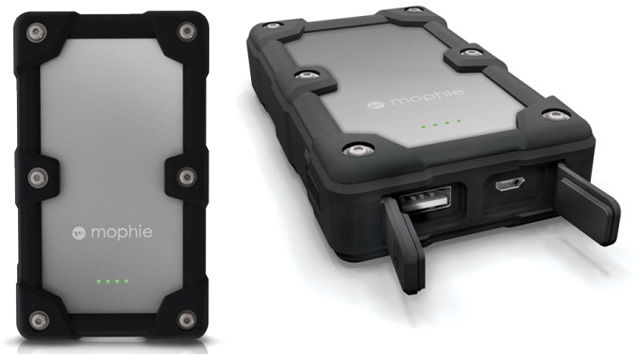 Reg Rating 80%
Price £99
Capacity 6000mAh
More info Mobile Fun
PowerTraveller Solarmonkey Adventurer

Ah, solar chargers. I have yet to be impressed, but I do remain optimistic about the concept. The Solarmonkey Adventurer attaches neatly into its carrycase and could be the ideal companion for long trips in sunny countries, particularly if you've left your Crosskase Solar backpack behind. The water and shock resistant charger comes with a USB adaptor cable and five heads for a range of devices.
The Adventurer is said to fully recharge in 12 hours of "strong sun" thanks to its 3W solar panels. While I'd expect that to take months in most of the UK, perhaps even years in Scotland, the panels' MPPT technology, gives it more efficiency than usual in low light conditions. You can tell when it's all working: the built-in LED glows red when charging and green when at full capacity. You can replenish juice regularly through the mains or USB too.
The 2500mAh maximum capacity feels like it should be higher in a device this big, but I guess that solar tech takes up a lot of room and you obviously pay for the novelty.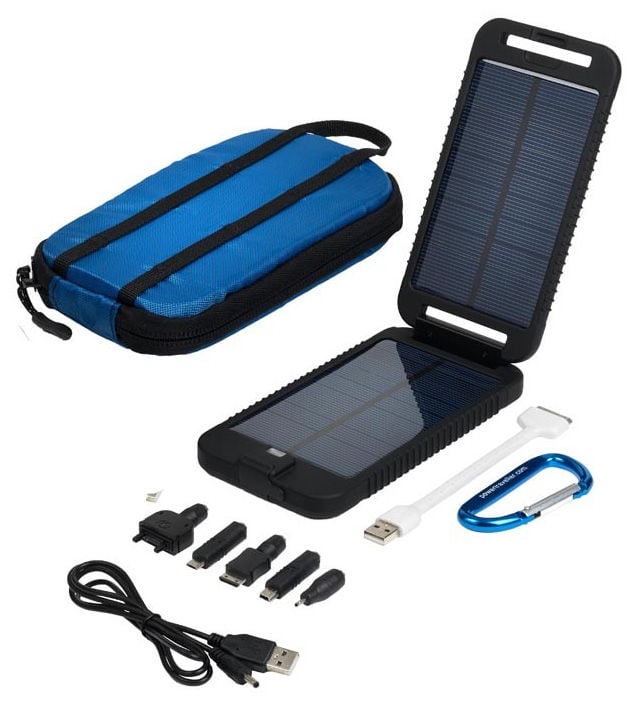 COMMENTS
Product convergence
I was quite happy to put the double size battery and big cover on the back of my Motorola Timeport, back in the 90s.
I think that phone manufacturers are all chasing the one market. I'd have thought that, like the big-button market for older users there was a case for a big-battery market for people like me away from base for days.
I agree that the fact that so many of these external devices exist show the phone makers are being a bit too mee-too in following each other down one road. Lets have some divergence for a change.
erm
There really shouldnt be a market for these things, if only phone manufacturers bundled their phones with a decent sized battery and made them more efficient...
amprere hours
Figures in mAh are pretty meaningless when the things have various different output voltages.
Unless all of them have a single 3.6v Li-ion inside and use boost converters, which is not clear and pretty unlikely (some of them must use more than one cell)
Please quote the energy capacity in watt hours. It would be much more useful.
New Trent chargers
You missed this off completely. It's far better than of of those listed and half the price. I purchased the 11000mAh one for my trip around Europe and it was superb. The new one is now 12000mAh with dual USB outputs. For the current £37 on Amazon this makes it cheaper than anything else here for power per pound!
Crummy selection
Pretty useless selection of products I'm afraid reg. do a search on Amazon between 20 and 30 quid and there's loads. Personally I went for the powergen 8400mAh which I can vouch for as providing enough juice for two iPhones heavy usage for three days (festival last weekend) and only cost £23
And it's got a built in torch!