iLuv Mini Portable

This lightweight pack will go unnoticed in your pocket, but whether it'll be much benefit is questionable. Four blue LEDs indicate the remaining charge but that fourth light doesn't get much action. After charging fully from the mains, the portable battery barely boosted my Razr Maxx at all and depleted unusually fast in comparison to its rivals here.
The iLuv apparently provides an additional six hours of talktime to an iPhone 4, and the company highlights its Apple compatibility all over the packaging. Ironically, it only comes with a micro USB cable for connecting tech, though. Perhaps its ineffectiveness is the reason behind iLuv's decision to drop the price by 60 per cent online. For a tenner it's not that bad a buy.

Reg Rating 50%
Price £25
Capacity 1250mAh
More info iLuv
Innergie Pocketcell

This pack looks like it should be a Nintendo Wii accessory and its small joystick-like shape is great for travelling. The unit has a reassuring weight and a capacity significant enough for a couple of smartphone charges.
A clever, three-in-one cable comes supplied, with USB on one end, and a system that incorporates both mini and micro USB tips, as well as a 30-pin iDevice connector, on the other. Four blue LEDs hidden behind the plastic indicate battery status and there were no heating issues while in use.
In fact, the only downside to this little beauty is the price, which feels far too excessive for a pack of average capacity. There is a definite feel of quality here, though.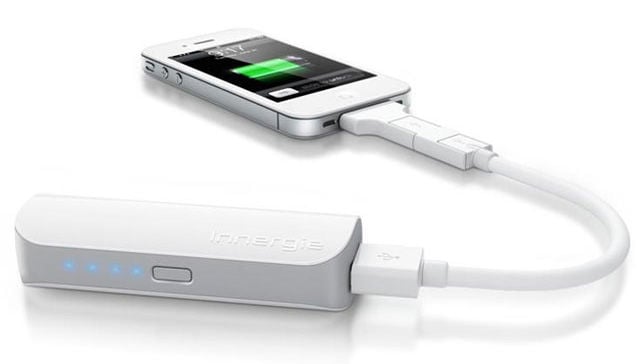 Reg Rating 65%
Price £80
Capacity 3000mAh
More info Innergie
COMMENTS
Product convergence
I was quite happy to put the double size battery and big cover on the back of my Motorola Timeport, back in the 90s.
I think that phone manufacturers are all chasing the one market. I'd have thought that, like the big-button market for older users there was a case for a big-battery market for people like me away from base for days.
I agree that the fact that so many of these external devices exist show the phone makers are being a bit too mee-too in following each other down one road. Lets have some divergence for a change.
erm
There really shouldnt be a market for these things, if only phone manufacturers bundled their phones with a decent sized battery and made them more efficient...
amprere hours
Figures in mAh are pretty meaningless when the things have various different output voltages.
Unless all of them have a single 3.6v Li-ion inside and use boost converters, which is not clear and pretty unlikely (some of them must use more than one cell)
Please quote the energy capacity in watt hours. It would be much more useful.
New Trent chargers
You missed this off completely. It's far better than of of those listed and half the price. I purchased the 11000mAh one for my trip around Europe and it was superb. The new one is now 12000mAh with dual USB outputs. For the current £37 on Amazon this makes it cheaper than anything else here for power per pound!
Crummy selection
Pretty useless selection of products I'm afraid reg. do a search on Amazon between 20 and 30 quid and there's loads. Personally I went for the powergen 8400mAh which I can vouch for as providing enough juice for two iPhones heavy usage for three days (festival last weekend) and only cost £23
And it's got a built in torch!