Ten external battery packs
Worth the charge?
Product Round-up Everyone with a smartphone knows how frustrating it can be to reach the afternoon with diminishing batteries. While it may be a relief to lose access to your phone when you're away on a camping trip, for many it's an inconvenience we could do without.
However, with the price of external juice packs falling quicker than smartphones themselves, theres's little excuse not to avail yourself of a back-up power source.
Here's a look at some of the external packs on the market and how much they charge - both financially and in terms of phone replenishment.
Avantree Universal Portable Power Pack

This tube of juice comes with a purple felt carry bag, a retractable cable with various connections for a range of phone ports.
A small green LED hidden behind the plastic end - the body is aluminium - glows when in use and flashes when in charge mode. It was lit when I took it out the box and unfortunately the tiny power button alongside failed to function. Even on charge, pushing the pin did sod all.
The tube gets hot fairly quickly when charging too. On the positive note, this means it does double up a decent hand-warmer for those British winters. It's comparable in size to a pack of Trebor Extra Strong Mints as well, so slots in the pocket with ease.

Reg Rating 50%
Price £25
Capacity 2200mAh
More info Mobile Fun
Energenie Chargegenie 200

Green-focused energy management firm Energenie has started to roll out external chargers and to mix it up a bit, I thought I'd throw in its super high-capacity pack, the Chargegenie 200.
The hardback book-sized block comes with a snazzy neoprene zip bag, an AC transformer power plug to charge from the mains, and two adaptor cables with practically every connection under the sun. While it is obviously rather heavy, the high capacity means this beast will replenish laptops too, and with two output ports, can boost other devices at the same time.
A small blue LED display shows how much power remains, as well as information such as how many volts it's pumping. This can be adjusted to suit your tech, pushing the power button to switch between a range of voltages: 8.4V, 9.5V, 12V, 16V, 19V and 24V.
Of course, a charger of such magnitude is more of a camping accessory than an everyday companion, but it will sit in laptop bags comfortably and could come in extremely handy for long stretches of time away from power sources. It does seem like a high price to pay, but I have yet to see any other chargers out there with such a mental amount of power.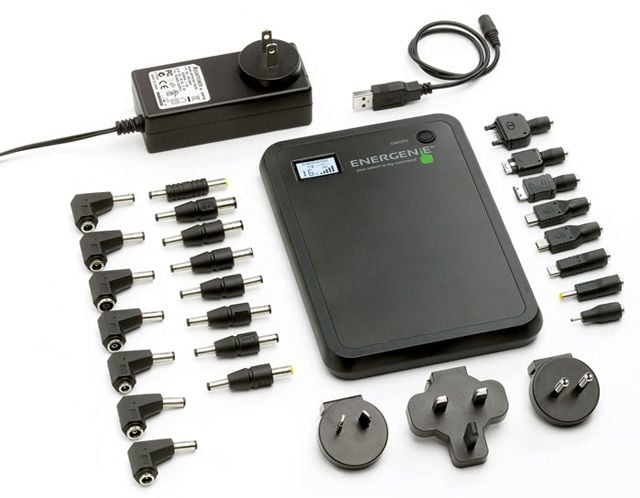 Reg Rating 80%
Price £159
Capacity 20,000mAh
More info Energenie
COMMENTS
Product convergence
I was quite happy to put the double size battery and big cover on the back of my Motorola Timeport, back in the 90s.
I think that phone manufacturers are all chasing the one market. I'd have thought that, like the big-button market for older users there was a case for a big-battery market for people like me away from base for days.
I agree that the fact that so many of these external devices exist show the phone makers are being a bit too mee-too in following each other down one road. Lets have some divergence for a change.
erm
There really shouldnt be a market for these things, if only phone manufacturers bundled their phones with a decent sized battery and made them more efficient...
amprere hours
Figures in mAh are pretty meaningless when the things have various different output voltages.
Unless all of them have a single 3.6v Li-ion inside and use boost converters, which is not clear and pretty unlikely (some of them must use more than one cell)
Please quote the energy capacity in watt hours. It would be much more useful.
New Trent chargers
You missed this off completely. It's far better than of of those listed and half the price. I purchased the 11000mAh one for my trip around Europe and it was superb. The new one is now 12000mAh with dual USB outputs. For the current £37 on Amazon this makes it cheaper than anything else here for power per pound!
Crummy selection
Pretty useless selection of products I'm afraid reg. do a search on Amazon between 20 and 30 quid and there's loads. Personally I went for the powergen 8400mAh which I can vouch for as providing enough juice for two iPhones heavy usage for three days (festival last weekend) and only cost £23
And it's got a built in torch!