Ramping up for 1983
Micro Marketing would become one of the few sellers of add-ons for the Ace. The promised Ram pack failed to materialise, likewise the games and applications software that, Jupiter suggested, would hit the market in early 1983. Micro Marketing put out a 16KB memory extender in March of that year, and third-party software house were beginning to release apps around the same time.
Vickers and Altwasser, meanwhile, focused on developing the Ace range, initially revising the original model and then developing a new version, the Ace 4000.
The 4000 would sport a better-quality, injection-moulded case of the kind favoured by its competitors. Despite a new motherboard, the 4000 matched the spec of the original, ensuring "full software compatibility", but added a "Rom-deselect feature, enabling the internal Rom to be switched out and external Rom modules to be plugged in". It also gained sound output through the connected TV monitor. 16KB and 48KB Ram packs would be offered too to augment the 3KB built in.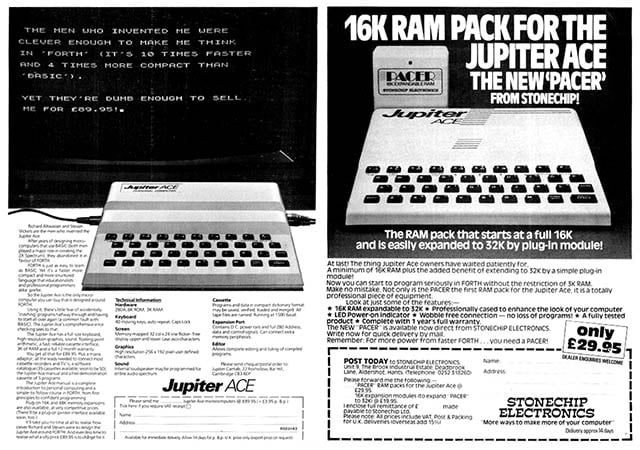 By Spring 1983, third-party add-ons were appearing
But Brits wouldn't get to see them - the 4000 was intended solely to support Jupiter's entry into the US market, company documents reveal. The 4000 was made in the UK, with Stateside sales and logistics being handled by Oxford, Pennsylvania-based Computer Distribution Associates, "not to be associated with Jupiter Systems of Berkeley, California", the 4000's box warned in big letters.
"There was a definite period when our long-term forecasts were of selling lots of machines in the States," says Vickers. "We had lots of transatlantic phone calls where they were telling us how many zillions of Aces they were going to sell, but unfortunately there were always delays - among then genuine delays around getting kit into America and getting approval for the electronics - but basically the US market just never happened."
No more than 800 units are thought to have been shipped over the Pond. In the UK, fans were offered the Ace 16+, a regular Ace bundled with a 16KB Ram pack. It was announced in June 1983 as a replacement for the original machine. The priced remained £89.95.
But it wasn't enough to encourage further sales. Both Altwasser and Vickers recall big orders coming in from a dealer only to find the reseller couldn't then be persuaded to take the units they'd agreed to take.
By the end of October 1983, Jupiter Cantab had formally ceased trading. The writing had been on the wall since the summer. In July, Altwasser decided he not longer wanted to be involved in the venture and quit - "in order to spend more time with his family", press reports put it at the time.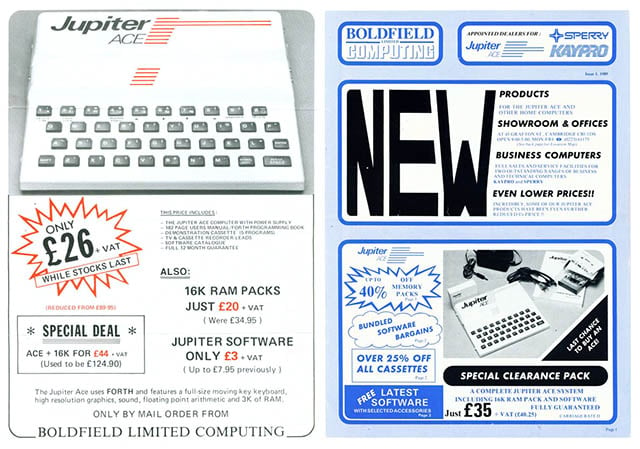 Selling off the Ace: Boldfield was offering cut-price machines through the mid-1980s
Looking back, Altwasser says he was simply less convinced about the company's ongoing fortunes than the more optimistic Vickers. "I think it's fair to say Steve had very bullish views and estimates for where the company and the product could go, and I though it was best not to hold Steve back with my more conservative, less optimistic views," he says.
For his part, Vickers clearly understands the pressure Altwasser, as the head of a new, very young family, was under to seek a more stable form of employment than "seeing out a failing company".
Jupiter desperately needed a more powerful follow-up machine to replace the first Ace, which was behind the hardware curve when it was launched let alone a year on. But without the company's hardware guru, Richard Altwasser, out of the picture, where would the 'Ace 2' come from?
COMMENTS
I.
Want.
My.
Childhood.
Back.
It came out of Tangerine.
I worked closely with Barry Muncaster and his team. He made his money making meters for taxis. I used to write articles and the problem page for Oric Owner.
I also helped debug the version 1 ROM (actually and eprom in the early versions)
Shame the 6502 faded away. It had brilliant instruction set.
Re: I saw a complete Ace only once
Being an "old fogey" - proud of it, too, blowing fuses in proms in 44-bit wide microcode to make a spectrum analyser (Nicolet 440). Youth of today. Don't know they're born.
(Finishes pint, gets on bike, rides 100 miles to lick t' motorway clean.)
Luxury....
Vickers' ZX Spectrum manual remains one of the best computer books I've read, and probably the one that taught me the most.
I do enjoy reading these mini epitaphs for the British computing industry. I am wondering if we are going to be treated to one on the Oric 1 in due course? ISTR that effort had the obligatory interesting Cambridge-based back story and stellar demise. Oh, and it came with Basic and Forth.