LONDON iPHONE 5 MADNESS: 'You must be CRAZY to buy Apple'
High-fiving shoppers spark bewilderment from normal folk
"I want it NOW!", fangirl shrieks
At the front of the queue there were the usual scenes of religious fever as customers escaped from their waiting pens and waddled the final metres into the store, some with arms raised to the heavens, along a path lined with Apple staff whooping, high-fiving and ushering them up a staircase to the tables of iPhone 5s.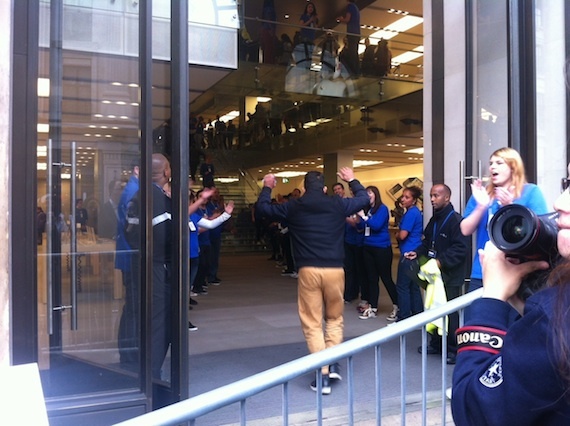 Customers raised their arms above their heads in worship as they entered the store, cheered on by lines of Apple employees
A man in a panda hat was among the first to be let in, along with a guy with crutches, a young family complete with a baby buggy, although the queuers were predominantly young men.
An older woman explained she was queueing for her teenage son. "Can we talk to him?" your humble hack asked.
"Oh no, he's very shy."
We spoke to a husband-and-wife couple, who had been there since 6.15am.
"Why don't you just order online and wait a few weeks?" we asked.
"I want it now!" the woman beamed.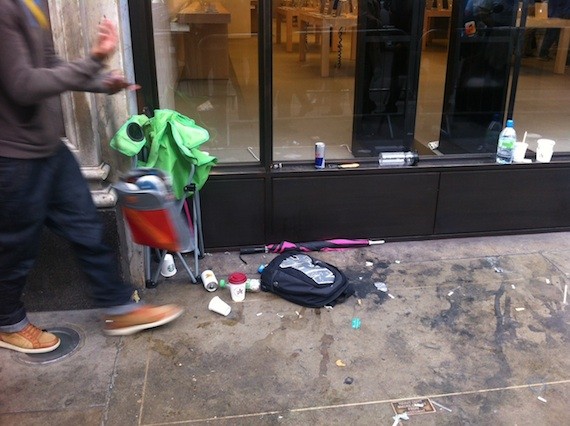 Debris left from the hardcore front-end of the queue
Moving up the line, Hassan, 24, said he needed to get the iPhone 5 today - the day it goes on sale - and said that he couldn't possibly wait for it.
"Not even two days," he added. We put it to him that some might consider waiting in a queue to go into a shop crazy.
"Apple is crazy, you have to be crazy for Apple," he said.
Another bloke, Kays, also 24, said he uses all of Apple's products, and was upgrading his 4S to an iPhone 5.
"I like the iPhone," he said. "This is a happy day." When we asked why he was queueing for it, Kays replied: "But it's not work, it's enjoyment."
Just to prove it wasn't just Londoners going bonkers, here's the scene outside Glasgow's Apple Store at 9am today: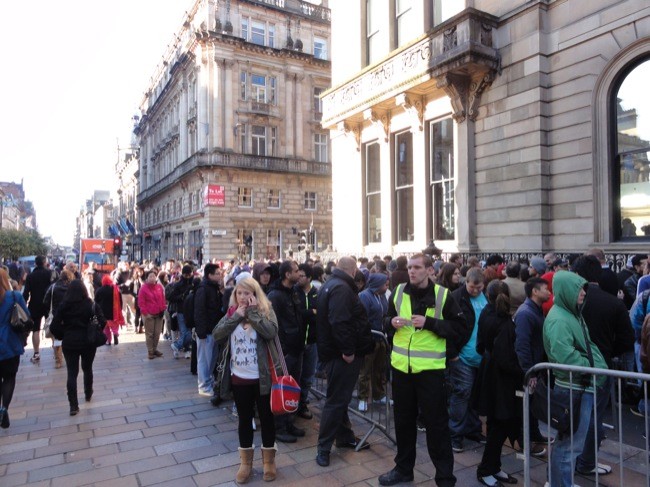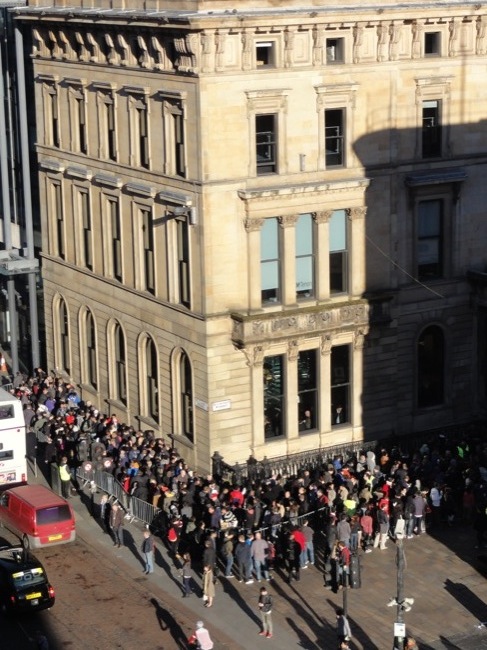 Fanbois and fangrrls massing in Buchanan Street outside the Glasgow fruit shop Credit: Joseph Heenan
®
Sponsored: Minds Mastering Machines - Call for papers now open