Heated decisions
The shape of the raft is calculated by the Replicator software to carry the completed structure and the extruder head traces around the outline and fills in the shape, building the model up layer by layer. The white plastic we used made it look like piped icing, and you can see why there are people working on chocolate printers.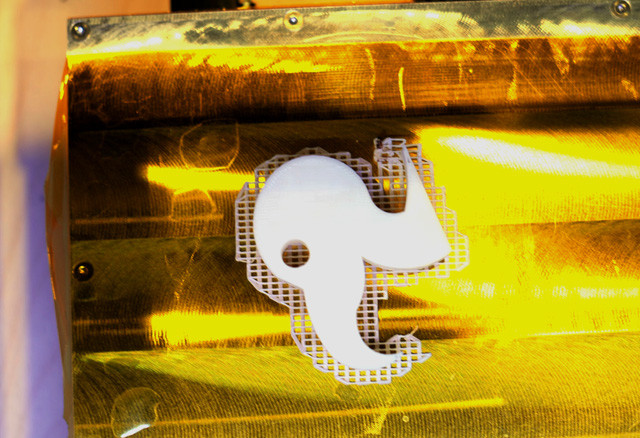 Making a mesh of things
Our El Reg vulture didn't hatch the first time. Indeed, there are well-documented issues to do with keeping the model stuck to the platform. Taking on board the advice in the Makerbot FAQ, we put a piece of printer paper over either end of the machine to stop through-drafts. We didn't seal off the front because we wanted to be able to poke at the extruder if it got gummed up – a problem we'd seen with previous models – and you'd need to put a box over the top to encase the tubes which feed the extruders with plastic.
The first attempt suffered a blob of plastic forming on the extruder and attaching itself to the model. This hardened and when the extruder hit it the next time around it knocked into the model, which started sliding around the platform. The second model worked a bit better but the raft started to heat and curl, eventually losing grip on the platform and sliding around. The third attempt was a success, presumably because everything was up to a good operating temperature. The raft lifted slightly but not enough to lose grip.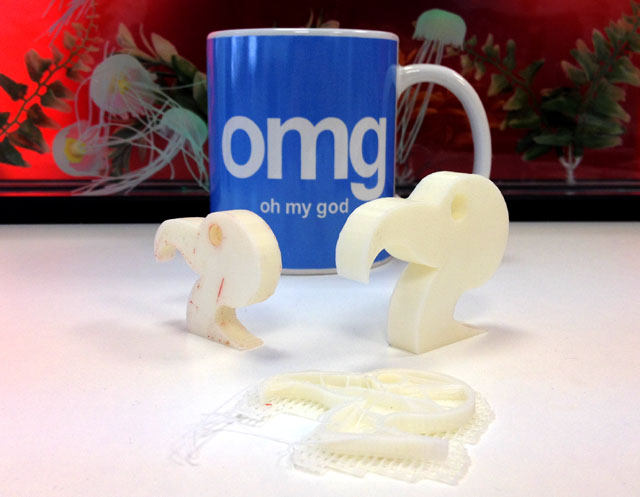 White chocolate vulture, anyone?
Emboldened by this we decided to try a larger one, once again taking the FAQ advice and raising the platform temperature to 115°C in order to reduce the chance of the raft curling. The increase of 15°C doubled the heating time. This temperature change is a bit of a hack as the GCode has to be edited by hand within the ReplicatorG software. It did however work well and we can now reliably produce a colony of Vulture heads should there be a sudden groundswell in demand.
Currently, the main use for 3D printing technology is prototyping. The dummy phones manufacturers take in to show corporate customers before they've started making models, phones which are just a support to PowerPoint, cost thousands of pounds. An injection mould costs many thousands – sometimes tens of thousands of pounds – to make. Yet the combined cost of the plastic in the two successful El Reg vulture heads plus the two failures totalled a little more than twelve pence.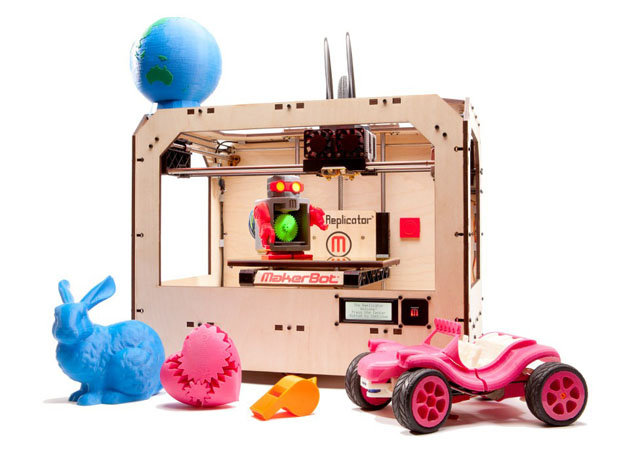 Here's something we prepared earlier
Undoubtedly there is a tremendous sense of achievement holding something you've modelled and made but, ultimately, what you've got feels like it's come out of a Kinder egg. You can change the colour because the plastic comes on spools, there is even a glow in the dark plastic available. Our Makerbot has two heads so you can print two colours at once, what you can't do is mix the plastics so that black and white would make grey or red and yellow orange. This is promised for a later firmware update.
Looking at the online libraries of available things there is very little, gun parts aside, that is actually useful and most of those are probably best bought in a shop. Of course, those of us old enough remember our relatives looking blankly at our shiny new Commodore VIC 20 and saying "A home computer, yes, but what's it for?" will probably see that today 3D printing is pretty much at that stage. One day, perhaps in the not-too-distant future, there will be one – or something much like it – in every home. Hmm, now that I think of it, perhaps I should go and print out a new case for my VIC 20… ®
COMMENTS
Re: Christmas crackers and cornflake packets
Metal support is already here.
I was at one of the trade shows a while ago, there is at least one company doing additive manufacturing with metals. The machine uses a different process, fusing a bed of powder with a high-power laser (no sign of any sharks in the model I saw, sadly). This allows for some fascinating light-weight metal structures to be made.
I think the company I spoke to are only leasing machines currently, and they are at the eye-watering, if-Sir-needs-to-ask end of the cost range, but they do exist.
GJC
Even home 2d printing isn't all that great
3d printing used to be known mainly as "rapid prototyping", it's now being used ever more for "rapid manufacturing" and this makes a lot of sense for low volume products.
Various parts of the media, from geek websites to the FT, have been putting forward the notion that 3d printing will revolutionise manufacturing by putting a 3d printer in everyone's home and allowing for decentralised manufacturing. I don't see how this is even remotely plausible.
I always think of home inkject/ laser printers when the notion is put forward. Would anyone seriously consider printing and binding a book at home to be preferable to ordering it online and having it delivered the next day. Consider the cost, time, reliability and hassle. Even for a custom book you would still be better off going with something like blurb.co.uk (think about the difference in quality, TCO and cost of you own time). And this is with technology which is fundamentally a lot simpler to 3d printing and has had decades to mature and become dirt cheap.
I can imagine industrial scale 3d printers, which would be the equivalent of the printing machinery used by the likes of blurb, being used more widely for spare parts and such but the notion of it being done at home seems fanciful to me.
Re: Useful?
An obvious example of something useful would be the spare parts that white goods manufacturers charge for... A door latch component on our tumble-drier failed, it has warped in the heat (poor material choice). The Whirlpool website was very slick, and smoothly offered to take £18 off us a replacement latch, a part that really could have cost no more than 20p to make.
Were 3D printers more common place, this business model (be competitively priced at retail, charge plenty for spares) could be dented.
I gave a shout to Ben Heck the other day, (in relation to an article about Valve exploring new games controllers) and I will do so again: he routinely uses 3D printers and CNC machine for a variety of projects that I am sure Reg readers will approve of (such as a C64 style case for a Raspberry Pi), and produces videos about his exploits. You can do worse than Google his name and check out his website.
Re: Metal
Home printing destroying the Christmas Cracker industry!
I miss the days of Tomorrow's World crazy technoutopianism.
I miss Phillipa Forrester...