Crash and burn?
When the script file is generated a number of parameters can be specified, one of which is Infill - The model is not solid - the software constructs braces within it to give it strength. The more infill you have the stronger the model but this requires more material and takes longer to print.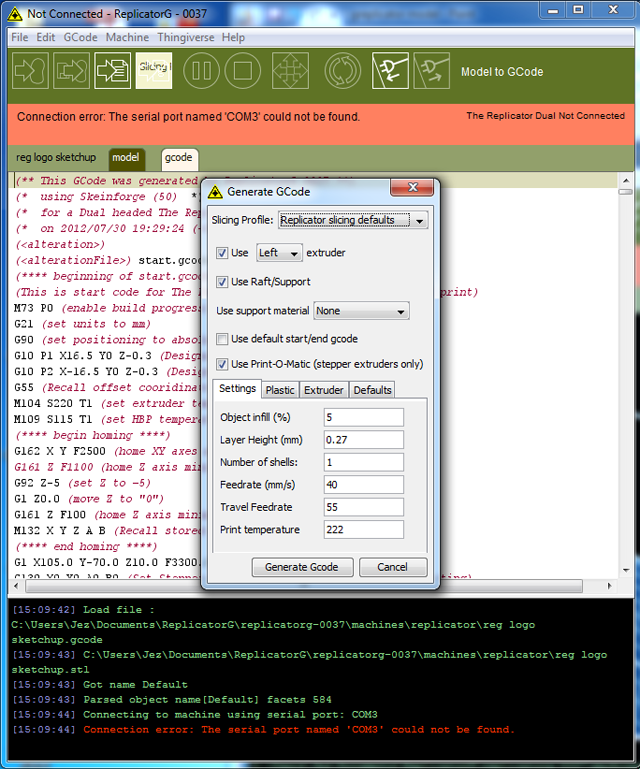 Greplicator model parameters
Printing is a slow process, so rather than connecting the Makerbot to a computer and risking a crash or reboot, instead, we saved the script to an SD card and plugged it straight into the Makerbot. The Replicator's plywood chassis contains three sets of stepper motors, two of which control the X and Y axis of the print heads, which in the world of 3D printing are called Extruders. The third raises and lowers the platform to give the model height.
The platform has to be level and setting it up is pretty low-tech. The platform needs to be covered with a film, (called Kapton) which needs to be applied bubble-free. The extruders are then moved to various points around the platform with a piece of paper held between the extruders and the film.
You slide the paper to make sure there is just a little grip. If there's too much you turn a screw to lower that part of the platform, no grip at all and you raise it. Since this is a machine that chugs around and gets hot and cold it's definitely not a set-and-forget process.
The hot and cold bit is extremely important. Melting plastic needs something very hot and there is a lot of metal to heat in the extruders and platform. The extruders run at around 220°C and the platform has a default temperature of 100°C. The "Burn, crush and Cut Hazard" warning labels on the front of the device aren't just there for show. Heating to takes a little over 10 minutes – which should make you a little less impatient the next time you're tapping your feet waiting half a minute for your shopping list to be spat out of the laser printer.
A raft of possibilities
The first stage of the printing process is laying down a raft. This is a mesh which grips the Kapton and provides some plastic for the model to be built upon. It's mostly necessary for models which don't have a flat-ish bottom and might not have been necessary for our Vulture head.
COMMENTS
Re: Christmas crackers and cornflake packets
Metal support is already here.
I was at one of the trade shows a while ago, there is at least one company doing additive manufacturing with metals. The machine uses a different process, fusing a bed of powder with a high-power laser (no sign of any sharks in the model I saw, sadly). This allows for some fascinating light-weight metal structures to be made.
I think the company I spoke to are only leasing machines currently, and they are at the eye-watering, if-Sir-needs-to-ask end of the cost range, but they do exist.
GJC
Even home 2d printing isn't all that great
3d printing used to be known mainly as "rapid prototyping", it's now being used ever more for "rapid manufacturing" and this makes a lot of sense for low volume products.
Various parts of the media, from geek websites to the FT, have been putting forward the notion that 3d printing will revolutionise manufacturing by putting a 3d printer in everyone's home and allowing for decentralised manufacturing. I don't see how this is even remotely plausible.
I always think of home inkject/ laser printers when the notion is put forward. Would anyone seriously consider printing and binding a book at home to be preferable to ordering it online and having it delivered the next day. Consider the cost, time, reliability and hassle. Even for a custom book you would still be better off going with something like blurb.co.uk (think about the difference in quality, TCO and cost of you own time). And this is with technology which is fundamentally a lot simpler to 3d printing and has had decades to mature and become dirt cheap.
I can imagine industrial scale 3d printers, which would be the equivalent of the printing machinery used by the likes of blurb, being used more widely for spare parts and such but the notion of it being done at home seems fanciful to me.
Re: Useful?
An obvious example of something useful would be the spare parts that white goods manufacturers charge for... A door latch component on our tumble-drier failed, it has warped in the heat (poor material choice). The Whirlpool website was very slick, and smoothly offered to take £18 off us a replacement latch, a part that really could have cost no more than 20p to make.
Were 3D printers more common place, this business model (be competitively priced at retail, charge plenty for spares) could be dented.
I gave a shout to Ben Heck the other day, (in relation to an article about Valve exploring new games controllers) and I will do so again: he routinely uses 3D printers and CNC machine for a variety of projects that I am sure Reg readers will approve of (such as a C64 style case for a Raspberry Pi), and produces videos about his exploits. You can do worse than Google his name and check out his website.
Re: Metal
Home printing destroying the Christmas Cracker industry!
I miss the days of Tomorrow's World crazy technoutopianism.
I miss Phillipa Forrester...