VMTurbo sucks up apps and blows them into clouds
Operations Manager control freak pushed to 3.2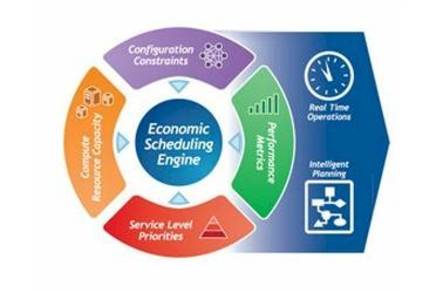 VMTurbo, the startup that created a control freak that uses Adam Smith's invisible hand to allocate resources on public and private clouds, is now applying the same economic scheduling engine to application onboarding – the act of bringing applications from the physical world or another cloud into your own or into public capacity you acquire.
El Reg explained the economic scheduling engine behind the Operations Manager tool in-depth back in February when release 3.0 came out. Basically, it assigns prices for CPU, memory, storage, and network capacity and creates a free market for those resources, raising the price as they get scarce and lowering the price as they become abundant. The applications with the biggest budgets are the mission critical ones, and therefore get the resources they need.
VMTurbo put out a 3.1 release in May with some nips and tucks, and with Tuesday's 3.2 release the company is expanding out to not only control the allocation of resources on public and private clouds, but also to automate the process of bringing applications onto clouds and deciding, based on its "money that matters" methodology, where and when those applications go based on how inexpensive or costly resources are and how much budget they have.
"We're closing the gap between the team that plans and builds applications on the one side of the IT shop and the other team that installed and operates those applications on the other side," says Derek Slayton, VMTurbo vice president of marketing.
IT services giant and semi-public cloud operator CSC and a number of other service providers have chosen VMTurbo to help them run their clouds and get applications running on them for just this reason. And the customer count continues to grow, says Slayton, as companies try to figure out how to better manage the virty infrastructure they already have. Back in January, two releases ago, VMTurbo had around 50 customers, says Slayton, and as Operations Manager 3.2 comes out the company has over 200 customers running its software in production.
To puff up applications in the cloud, Operations Manager is perfectly happy to take control of tools such as DynamicOps (now part of VMware and also used by Dell in its Virtual Integrated System cloudy control freak), and to deploy applications based on their templating system but adhering to its economic allocation methods for infrastructure. If you don't have pre-existing templates for applications, you can create them in Operations Manager as well, and then automagically onboard them to public or private clouds.
Given the linkage between DynamicOps and VMTurbo's Operations Manager, it's a wonder that VMware has not bought VMTurbo to complete its set of virty tools. The bigger wonder is why Dell, with all of its software aspirations, did not beat VMware to the punch on DynamicOps and has not already acquired VMTurbo. Microsoft could have used both tools as well, as could have Red Hat and Citrix Systems.
With Operations Manager 1.0, which came out in October 2010, the control freak only knew how to order around VMware's ESXi 4.0 and 4.1 hypervisors. With the 2.0 release in July 2011, Microsoft's Hyper-V hypervisor was tamed, and with the 3.0 release earlier this year, VMware's vCloud Director cloud control freak was instructed to learn some economics and listen to VMTurbo's tool.
The XenServer 5.6 and 6.0 hypervisors were also supported with the 3.0 release, and with the 3.2 update, Red Hat's KVM hypervisor – specifically, the commercial-grade Enterprise Virtualization 3.0 implementation of KVM – is now supported.
Interfaces to take control of the CloudStack cloud fabric championed by Citrix came with the 3.1 release of Operations Manager in May, and Slayton tells El Reg that the 3.2 release can hook into and take control of resource allocation on OpenStack clouds on an ad-hoc basis today, with formal support for OpenStack coming in a future release. No doubt after OpenStack has settled down a bit, since it is changing so fast.
With Operations Manager 3.2, the tool can now do auto-discovery of Linux applications running on systems and virtual machines, much as it has been able to do with Windows-based applications since it was announced. The updated tool can also find Java applications and rein them in as well, something that had to be done manually before.
Operations Manager itself is a virtual machine appliance, which can run inside of an ESXi or Hyper-V virtual machine. Operations Manager has been tested to scale to 10,000 concurrent VMs under management, and VMTurbo has the goal of scaling that up to 100,000 VMs over time. With the 3.2 update, VMTurbo is on its way to that scalability limit by allowing the federation of Operations Manager consoles.
Operations Manager Community Edition is a freebie version, used by more than 4,000 companies, providing basic monitoring and reporting. The Enterprise Edition includes capacity planning, dynamic workload orchestration and resource allocation, and proactive performance resolution features; it costs $499 per server socket under management per year (that's up $100 per socket since earlier this year). The Cloud Edition integrates with vCloud Director or CloudStack, and adds multitenant features such as role-based access as well as support for multiple hypervisors from one console; it costs $799 per socket under management per year. ®
Sponsored: Minds Mastering Machines - Call for papers now open