Acer takes fight to Nexus 7 with seven-inch Iconia tablet
Taking aim at the Asus-made slate
Acer has announced its take on the Asus-made Google Nexus 7: the Iconia Tab A110.
The debt it owes to the Nexus is clear. The A110 has an almost identical spec, from its Tegra 3 core to its OS, Android 4.1 Jelly Bean, but Acer has addressed the Google slate's limitations by adding a Micro SD slot, a micro HDMI port and upping the front-facing camera resolution to 2Mp.
The downside: the A110 is 50g heavier. But at 390g, it's hardly a wrist-strainer.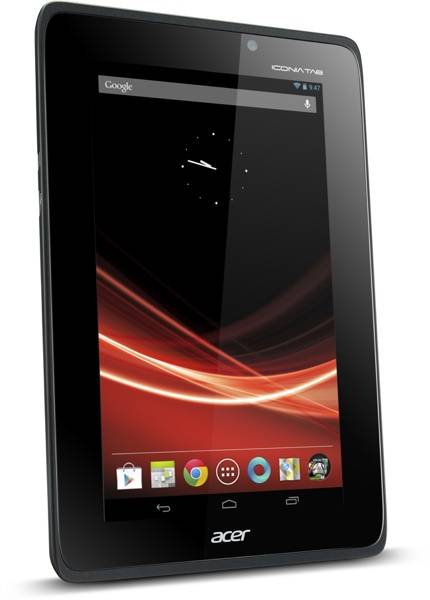 It may be a purse-strainer, mind. Acer hasn't yet said what the A110 will cost over here, but with the 8GB Nexus 7 retailing for £159 and the 16GB Kindle Fire HD costing the same, Acer's executives would be daft to price the A110 significantly higher. Acer's announcement at the Computex show in June suggests it'll be a cheapy.
Quiet about some details today, Acer back then pointed to a 1GB of Ram, 8GB of Flash device, and said the screen resolution will be 1024 x 600, a lot less than the Nexus' 1280 x 800. ®
COMMENTS
I want HDMI and microSD so I started to get excited until I saw the screen resolution.
1024 x 600 Screen resolution - fail.
This is a last-gen tablet. Nexus 7 and Kindle Fire HD have beautiful 1280x800 screens and both sell for $199. This thing will have to sell for $149 (or less) to begin to attract an audience.
Re: hmm
Once you root it then bloatware is no longer an issue for any device. I don't know why anyone wouldn't root their android device, it opens up so many more apps/features.
That said I am firmly in the Nexus camp with my phone and tablet, and the regular OS updates mean I doubt I'll change. Waiting for a manufacturer to port their skin to an OS update sucks, especially when a newer OS update arrives before they get around to updating you. Vanilla android is polished enough now to not need a skin.
Re: hmm
I rooted my HTC desire at last and it's running Cyanogenmod but while it's free from crapware it has to be said that the UI of the 2.x Android is pretty workman like. I miss some things from Sense although I'm getting by without them.
Looks like it contains nift
..but I just can't get past "Acer". Too many hours of my life wasted digging dust bunnies out of horribly-built beige PCs with that badge on the front..