I spy: Drug drops and foxy couples
The joys of snooping with digital binoculars
Narcotics anonymous
For example, be stunned by the banality of me zooming into shadow at a wildlife park while the camera compensates in real time. I think this feature is clever and well implemented (note that I've downsampled the quality from the original).
Wildlife fans with cash to burn would probably love it but they'd have to be happy with chunky tech gear sitting on their battered old tripod. It might appeal to someone who thinks like Bill Oddie but looks like T2-era Arnie. I can also see how home movies featuring mountains and landscapes would be less wrist-slittingly dull when shown in 3D to reveal dramatic spatial depth, especially at HD and captured with quality lenses.
Nosy people and semi-professional snoopers might get a kick out of the DEV-5 too. Watch as I spy on a potential drug drop in the centre of Villefranche-de-Conflent before zooming back out to admire the scenery (again, downsampled from the original).
Just imagine if you could buy an off-the-shelf directional microphone to match this kind of distance. For me, filming my neighbours through the gap in their bedroom curtains could be just the beginning of a thoroughly rewarding (if potentially criminal) new hobby.
The weirdest thing, though, is the dislocating effect of seeing far-away things in the stereoscopic digital viewfinder. At first, it reminded me of that scene with the binoculars and cows from Top Secret
What it actually feels like, though, is a gigantic View-Master. Now that was a boy's toy to reckon with. All I need to complete the illusion would be to use the DEV-5 to film an Adam West and Burt Ward cosplay party.

Boys' toys – so little has changed
Ultimately, the Sony DEV-5 is a brilliant set of digital recording binoculars but not a terribly convenient camera for back-of-head specialists like me. It costs around £2,000.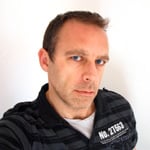 Alistair Dabbs is a freelance technology tart, juggling IT journalism, editorial training and digital publishing. As a child, his family owned a classic red View-Master but also a late 1950s heavy black Bakelite model. Along with campy Batman, his favourite discs featured an inconceivably sunny Disneyland.
Sponsored: Minds Mastering Machines - Call for papers now open