Peugeot 508 RXH estate car review
High-riding hybrid
Hybrid hideaway
Keeping an eye on what the diesel motor is up to in any mode is made more difficult by the absence of a rev counter. Instead, you get a power meter banded into Charge, Eco and 0-100 per cent power increments. Maybe I'm old-fashioned but I'd have liked a simple tacho to show me the engine's actual RPM.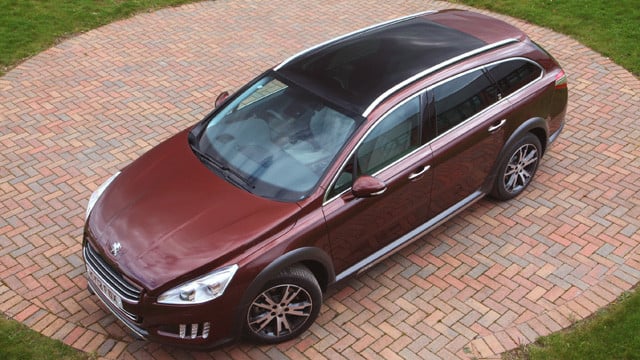 Now that's what I call a sunroof
The 508's practicality hasn't suffered in any meaningful way from hybridization. Thanks to HYbrid4's compactness, all the internal dimensions – including those of the rear load area – are the same. There's a decent 423 litres below the luggage cover and aft of the rear seats. The only thing you lose is some of the underfloor cubby, which is now smaller to accommodate the hybrid battery pack.
With all the bells and whistles including a full-length panoramic glass roof, caress-to-lock/unlock front doors and automatic just-about-everything, the RXH will set you back just shy of £34,000, which, I grant you, is a lot for a Peugeot.
But it's not far north of the smaller and much less well equipped Audi A4 Allroad and nearly ten grand cheaper than the basic A6 Allroad. The Peugeot is also more economical than either of the Audis and a darned sight more clever. Prettier too in my opinion.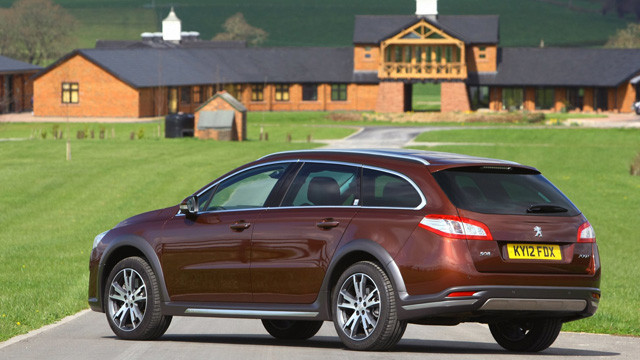 Macho styling unique to RXH version of the 508
Verdict
Peugeot's 508 estate makes a lot of sense when combined with the clever HYbrid4 drivetrain. It's big, practical, fast and – if driven with a degree of care – very economical. It's also a comfortable, well sorted and enjoyable car to drive, which, given the body style and jacked-up ride height, came as something of a surprise. The 'leccy manual gearbox still leaves something to be desired but it's not a deal breaker. ®
More Car Reviews

Volkswagen Up!
Vauxhall Ampera
Hyundai Veloster
Renault Twizy
Renault Mégane
265 Trophy 2.0
Sponsored: Minds Mastering Machines - Call for papers now open

Peugeot 508 RXH estate car review
Hybrid estate car