Microsoft leads from behind on Windows 8
Slow burn on The Road Ahead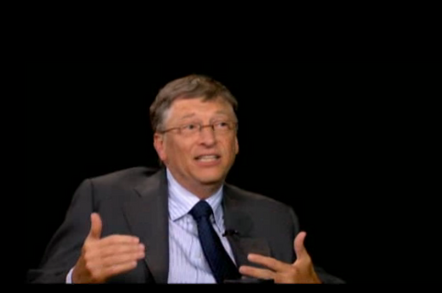 TechEd Australia While attending Microsoft's TechEd Australia this week, I've been reminded of the fact that in 2001 I worked for a PR company that did Microsoft's work in Australia. I therefore worked on the periphery of the team that launched Windows XP.
One of my most vivid memories from that time is of Microsoft folk telling me Windows XP was expected to re-invigorate the PC industry, a statement made without the tiniest quantity of doubt or sense it was in any way preposterous to suggest the software tail could wag the hardware dog.
You could say that sort of thing at Microsoft back then without anyone raising a cynical eyebrow, if only because Bill Gates was the planet's de facto head of state for all things to do with technology. In 2001 Gates hobnobbed with popes and prime ministers, penned prophecies (who remembers The Road Ahead?) and emitted an utterly anodyne Q&A column that newspapers across the globe nonetheless clamoured to put into print.
Gates' status and the extraordinary growth Microsoft had experienced in the preceding decade made Microsoft an exemplar of American innovation and capitalism.
In Australia, the senior managers who had risen from lowly roles in support or administration to wealth and influence spoke volumes about Microsoft's wealth creation and self-improvement templates. Bright young folk clamoured to work for the company in the hope that one day they, too, would vest their options and acquire one of the several BMW convertibles dotting the car park of Microsoft's new Sydney headquarters (the beemers were rumoured to have been fast-tracked to Microserfs as a way to show off the marque).
While Windows XP was therefore the subject of a mighty launch effort, it was also expected to achieve colossal success and cement Microsoft's dominance.
Plenty went right for Microsoft after Windows XP. The PC industry did shift a lot more boxen as punters clamoured to upgrade from the poor Windows 98 and Windows ME. Windows Server did convince CIOs of its utility, as did the flock of server products that sprang up around it.
But Windows XP's poor security also caused Microsoft its first significant stumble. We all know that several other mis-steps followed. Shoe-horning a desktop interface into mobile devices failed for years. Windows Vista tried to address Windows XP's security mess by becoming the world's most interfering helicopter parent. Almost all of Redmond's efforts to do things online sucked so much cash they attracted the interest of physicists hoping to model black holes.
And it has been a long time since we heard about any options-vesting millionaires.
While Vanity Fair's recent declaration that Redmond has endured a lost decade is not entirely fair or accurate, the company is certainly nowhere near as cocky as it was in 2001.
And that humility was certainly on show here at TechEd Australia this week. The keynotes didn't proclaim Microsoft's destiny or hold up The Microsoft Way as an example of anything. Development environments were described as tools to unleash creativity, not expressions of Microsoft's own. JavaScript was demoed, not downplayed.
Start-ups and dreamers (Halo-creators Bungie among them) are held up as exemplars of success, not Microsoft. In two days of proceedings, Bill Gates has not been mentioned once. Nor has Steve Ballmer, in my presence at last.
Even Windows 8 has been mentioned in hushed tones, as if its success is not assured. Metro is spoken of as something that will take time to be appreciated, rather than Microsoft showing the way.
It all adds up to a feeling that Microsoft is leading from behind. Its influence is still enormous. Its sales will still be extraordinary. It will still set agendas.
But at TechEd Australia, Microsoft is not saying so. Instead it's asking politely for our attention, knowing that Apple will likely grab it later on Wednesday. ®
Sponsored: Minds Mastering Machines - Call for papers now open